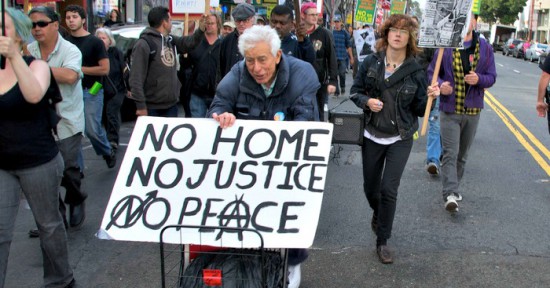 As negotiations rage over the future of Europe and the lives of the Greek people, another less conflictual debate was happening in Athens. Europe's housing movements gathered to discuss the way forward across the continent, and build the relationships of trust needed to underlie any international movement. For once, there is some small linkage between these meetings. With some activists now working for the state, Greek left movements are finding it easier to influence their government than in living memory – just look at the coming referendum on the moneylenders' austerity. It can be an uneasy relationship, as strident interventions from some autonomous squatting communities demonstrate, but it gives hope to all of us visiting from more hostile climates.
The European Coalition for the Right to Housing and the City began to meet at sites of struggle two years ago in response to the worsening crisis across the continent. Despite the huge array of issues and contexts, conveyed in Athens both through a public conference and a two day internal meeting, there are remarkable similarities in the 16 participating countries. Spiralling rents, evictions, state funding of the private sector, and the criminalisation of homelessness are occurring all over, but so are peer support groups, blockades of the banks and courts, and the squatting of empty buildings to house migrant families. This sharing of tactics and strategies has given a huge motivational boost to participants, including the three of us attending from London's Radical Housing Network.
We hosted the coalition's last meeting, during which we briefly shut down the MIPIM real estate fair's first venture to London, and held a counter conference of 1,000 people in a squatted social centre. Along with some inspirational local campaigns and the mass March for Homes, this gave us the confidence to start speaking of a housing movement and not just a struggle. Organising on a European level has given perspective on our power, with mass movements in Spain, Greece and France amongst others winning concrete gains, often in the face of stiff opposition. Opportunities to learn the detailed organisational strategies behind these successes are few and far between, rarely featuring in mainstream or even independent media reports. Meanwhile there is a surprising amount of interest in the London scenario, as a grim taste of the hyper-financialised Europe to come. With booming London house prices giving George Osborne most of his much-vaunted GDP growth, policies will continue to escalate our crisis over at least the next decade. We need all the help we can get.
It's not just solidarity for our local and city-wide struggles we're exploring though, but also the potential for common action. We will be campaigning against the privatisation and financialisation of public assets at this year's MIPIM property market in October, before it skulks back to Cannes in March 2016. And from October 10-20th this year we'll be taking concerted European action on the issue of homes standing empty while evictions abound. These disgraceful policies forcibly break up communities and lives on the whims of profit-makers, while developers land-bank and empty out estates, and buy-to-leave investors laugh the short distance all the way to the bank. As the Focus E15 occupation of the Carpenters estate demonstrated so forcefully, these homes need people, and these people need homes.
It's not just the problem that's a common European one, it's also the targets. With huge transnational landlords controlling hundreds of thousands of units across borders, the potential for effective international action and solidarity increases. As states begin to say no to international financiers, and researchers begin to get organised too, we're slowly putting in place the conditions for an international social movement to emerge.