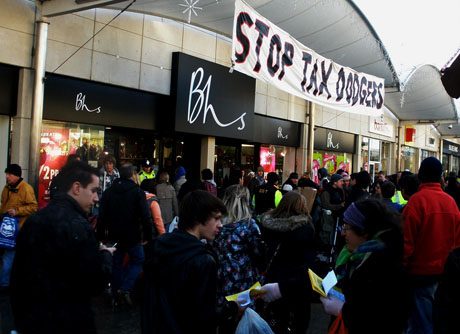 What is most remarkable about UKUncut's protests at tax dodgers like Philip Green and Vodafone is how easy it is to explain them to passers-by – and see them not only agree with you, but join in.
In the aftermath of today's successful day of action, right wingers are trying to whip up a predictable panic about lefties standing in the way of shoppers on the last Saturday before Christmas.
"The main victims of this form of protest are the people trying to buy Christmas presents for their loved ones," cries arch school privatiser Toby Young at the Telegraph.
And if you'd never been to one of the protests, as I'm sure those retweeting such sentiments haven't, you might think that was the reality.
But at the protest in London today, inside the Oxford Street Topshop, what I witnessed was in fact a spontaneous outpouring of solidarity, or at least sympathy, from ordinary 'shoppers' who had known nothing about the cause.
The initial sit-in, in the jewellery section of the store, attracted lots of attention from passers-by. Most took leaflets. Many discussed the cause with the occupiers. And some – to my, to be honest, near-disbelief – proceeded to sit down and join the protest.
Again and again, I came across people who knew nothing of Twitter or direct action, but had simply come across the sit-in and decided it looked like a good idea. "Where did all the money go? He sent it off to Monaco," chanted a young woman who admitted to being dressed head-to-toe in Topshop clothes.
"It's only fair, isn't it," one elderly man said to me. "The rich should pay their tax like anyone else. I'm just glad someone's doing something."
And it wasn't just the hardcore activists who started booing when security guards started manhandling people out of the store.
"What are you doing?" shouted someone who was queuing to pay. "They're not doing anything. Stop it!"
Later, after I'd been thrown out of the shop myself, a woman ran up to me, holding shopping bags from several other stores. "What's this all about?" she asked excitedly.
I searched around for a leaflet, before just explaining that Philip Green had avoided paying any tax on a £1.2 billion payout to his wife in Monaco, and we were here to make the point that if the rich paid their tax there'd be no need for cuts.
"Brilliant!" she replied. "You're absolutely right." She almost jumped into the crowd, suddenly joining in the chants: "Pay your tax! Pay your tax!"
Are these isolated incidents? No. Every activist who was on one of the protests today will have stories like these.
What I'm yet to come across, though, is any tale of someone coming up to the protest and being annoyed that it's stopped them from doing their sacred Christmas shopping.
In the right wingers' imagination, the masses are outraged that some "a bunch of red-faced students" (Toby Young again) would come between them and the great temples of consumerism.
But in reality, the vast majority really do want the rich to pay their damn tax.
UK Uncut: www.ukuncut.org.uk