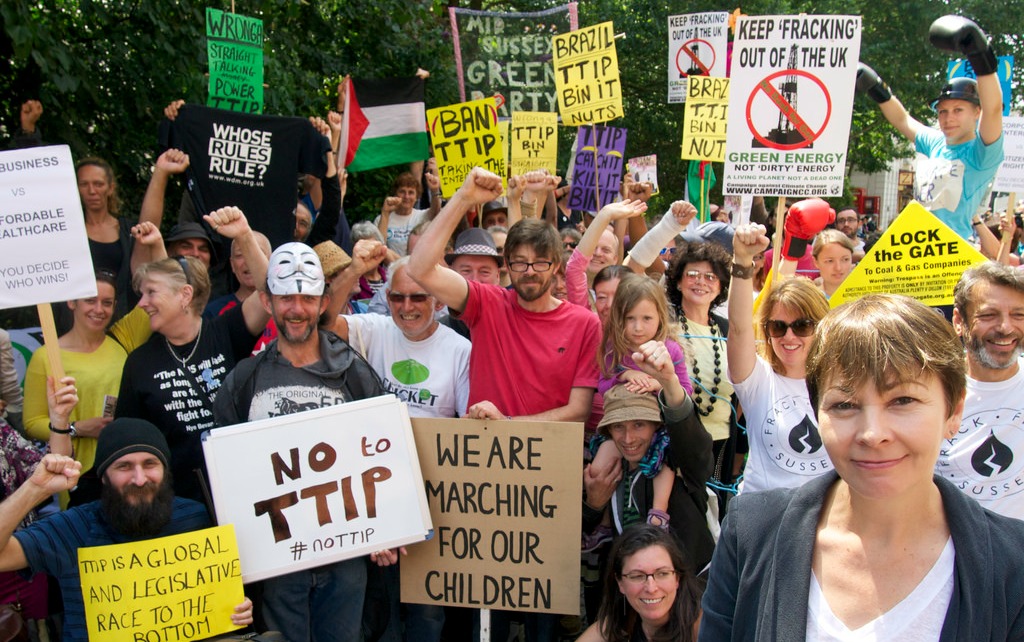 (photo by Global Justice Now on flickr)
This election threw up all sorts of surprises, but one key story was the squeeze on small parties and how their results gave extremely different outcomes.
The DUP were rewarded richly for their 292,316 votes. Despite garnering over 200k fewer votes than my party, they have ten MPs in Parliament and a deal with the Government sweetened with over £1bn.
Sadly I've been left with no new Green colleagues in Parliament, moreover a cut in the Green Party's overall vote – in part because of my Party's decision to stand aside in some marginal constituencies to push for a fair voting system and so many local members wanting to help beat the Tories – means the funding for my office has been cut.
That funding cut means jobs in my office are at risk – because the amount of money my office receives correlates with the number of votes the Green Party gets through a system called 'short money'. Less money means my ability to hold the Government to account is constrained. My staff work behind the scenes to skewer Ministers with Parliamentary Questions. Just this week they helped me drag information out of the Government over a report which is said to show Saudi Arabia funding extremists here in the UK.
My staff scour Government files looking for wrongdoing. They keep an eye on the frackers, the tax dodgers and the arms companies. Without my staff, there would, quite literally, be no English party resources dedicated to questioning the logic of endless airport expansion or opposing plans to plough billions into Trident nuclear weapons.
Think for a moment about how much money the Government has to force through their policies. They're backed by billionaires already – and have the power of the civil service at their fingertips. Holding Ministers like Gove and Johnson to account on issues like environmental protection and Saudi Weapons deals is already a case of David Vs Goliath, but with fewer staff it'll be even harder.
I don't just oppose bad Government policies – I also try to bring new ideas into Parliament. In the coming weeks and months I want to push forward on issues like the Universal Basic Income and a shorter working week – using my position in Parliament to push for truly radical ideas that would transform this country for the better.
As MPs from other parties know I am also willing to work across party lines on campaigns. That's why I'm fully behind Jeremy Corbyn in his campaign on public sector pay, it's why I worked with Stella Creasy last week on the Northern Irish Abortion amendment and why I team up with the SNP in defence of freedom of movement.
But whether I'm ploughing a lone furrow or working with a cross-party team I need my team around me to help.
And that's where you, the readers of Red Pepper, come in. I know that many of you won't have voted for the Green Party in the last election. But I hope that you'll consider giving my office a small donation so I can be a sharp thorn in this this Government's side – focussing on issues that really matter, but are sometimes ignored by others.
I want to hold the Government to on Brexit – ensuring our environment and workers are protected.
I want to visit Yarlswood detention centre, and expose the injustice there.
I want to scrutinize every single major Government policy on the environment.
I want to force Britain to the table on talks to ban nuclear weapons – and I want to build an alliance to stop Trident replacement.
I want to be constantly standing up to this Government and ultimately I want to be part of a movement that replaces these tired Tories with a progressive alternative.
If you share my politics, even if you're not in my party, please do consider donating here.