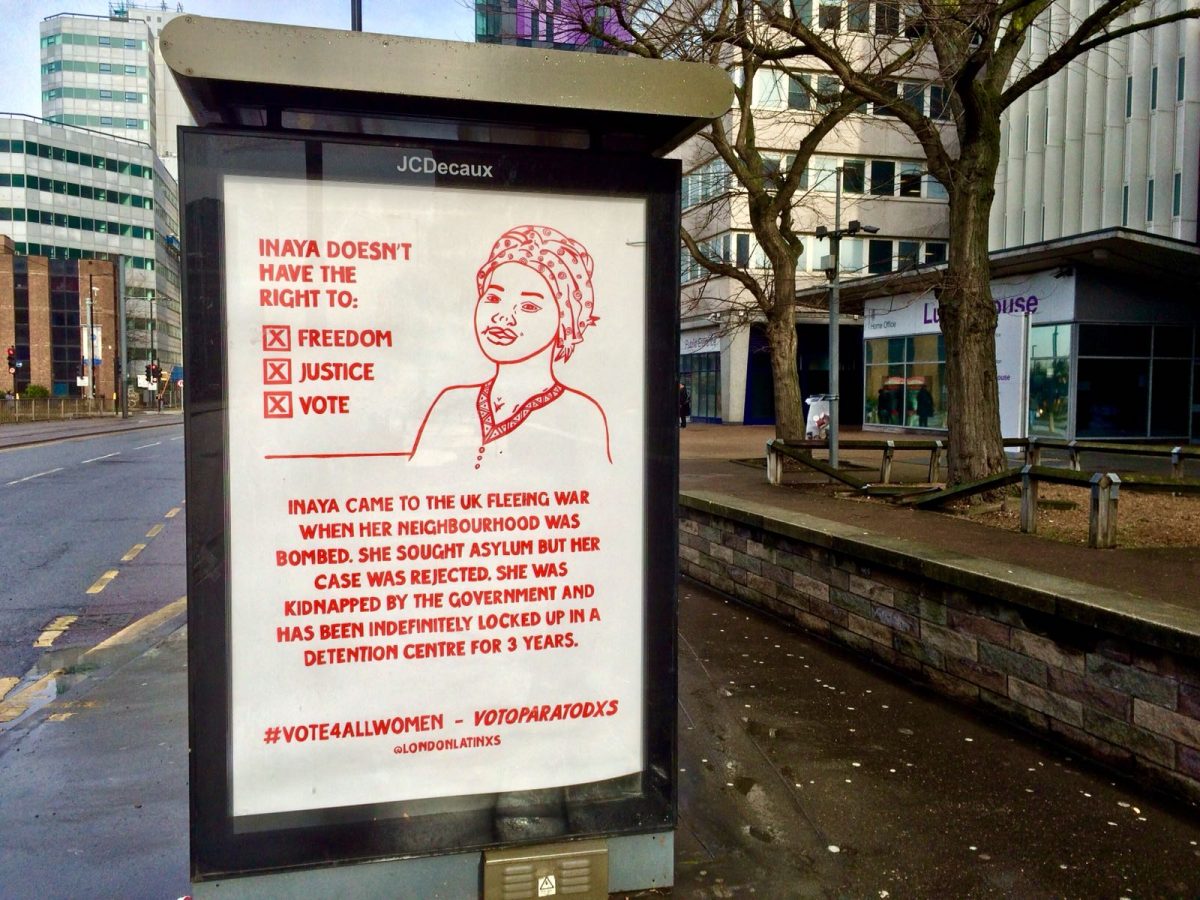 Today, London awoke to posters telling the stories of four migrant and refugee women. These are women who we want to honour on International Women's Day; women who have no right to safety, justice, freedom, family, health, or vote – because they are women, but also because they are migrant women.
Their names are Carolina, Dora, Inaya, and Navya; and in each of their stories live hundreds, thousands of different stories. Some of these women are us, some may be you, some are in immigration detention centres, some are in hunger strike, some have been deported from the UK in charter flights. Regardless of who and where they are, they are resisting. And they are not alone.
This creative action was a collective effort of our group The London Latinxs, an intersectional feminist group of Latin American activists, and here are the 5 reasons why we are calling #Vote4AllWomen on International Women's Day.
Because not all women can vote
This year all across the UK people have been celebrating 100 years of the Suffragette movement, a 100 years since some women got the right to vote. What is too often forgotten is that not only were working class women left out of this victory, but today migrant and refugee women are still being left out. They do not have access to vote, and are also being denied basic rights. Today, a coalition of mostly migrant and refugee women organisations will be in the parliament demanding that their rights to safety, dignity and liberty be respected because #AllWomenCount. We want to echo their voices. Migrant and refugee women are the new suffragettes of today and this is why we demand #Vote4AllWomen.
Because women are still forced to go on hunger strike for their freedom
100 years ago, hundreds of imprisoned suffragettes like Marian Wallace Dunlop and Emmeline Pankhurst went on a hunger strike to campaign for women's right to parliamentary vote. This past couple of weeks, 120 women in the infamous detention centre of Yarl's Wood started a hunger strike demanding their basic rights be respected. In their hand-written demands, they included the access to healthcare, the end to indefinite detention and the end to the government's 'hostile environment' towards migrants.  Migrant and refugee women incarcerated in inhumane conditions in detention centres, have had to resort to the same tactic, taking back control over their bodies, challenging a patriarchal and racist government – and in so doing, politicising their cry for freedom.
Because we have an economic crisis – and migrants aren't to blame
Supported by some media, the UK government has been running a racist and xenophobic campaign which focuses on blaming people from migrant and refugee backgrounds for the current economic crisis. To 'resolve it', the government is implementing a set of hostile policies that have already seen the expansion of policing powers in schools, workplaces, health centres. It is also escalating the criminalisation of migration and the mass incarceration of people of colour in detention centres alongside other inhumane measures like charter flights, tags and wage slavery, just to name a few.  The UK government manufactured a migrant or a refugee crisis to cover up the real crisis we face. Our action today, remind us that migration is not a new phenomenon, it is in fact a key element for the evolution of our humanity. What we are experiencing is a systematic crisis, a crisis of war, a crisis of exploitation, a crisis of climate change, and one of inequality powered by a system that has never worked for most people, especially if you are transgender person, a woman, a non binary person, black or brown person.
Because not all women can say #MeToo or Times Up on perpetrators
In the Global South, indigenous, black and brown women are victims of gender-based violence as part of on-going processes of western colonialism. This continued violence manifests itself in practices of land dispossession, violence against the body and culture erasure. We are then, forced to migrate, in order to say #MeToo, to be believed, to say: I am too a survivor of patriarchal colonialism. As we arrive in this country, as asylum seekers, refugees, migrants, the UK government turns its back on us. In its eyes, we are not women or survivors of this same gender based violence, but immigration offenders. Campaigns like Step Up Migrant Women and All Women Count demand these protections to be applied to all migrant women, as a basic human right.
Because we believe another world is possible
Our unapologetic and unafraid black and brown bodies are the legacy of the resistance we have been putting up for hundreds of years. We are creating a pluriverse through the relations we make and maintain; like the Zapatistas say, we are creating a world where many worlds are possible, a world where we look after each other, thrive, love and enjoy ourselves in community.  We have learnt that the future is only a succession of present moments, so we are living our utopian future and winning through every action we take. Living as we think human beings should live: living our utopia.