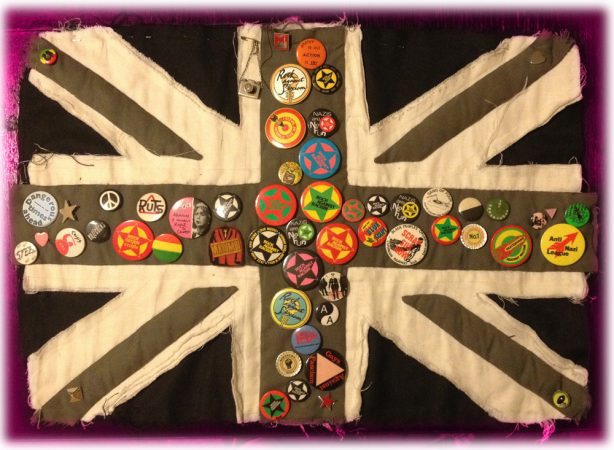 'No turning back,' the new exhibition at the Migration Museum, could not be more timely. As its co-curator Aditi Anand explains, "Brexit was a moment in our migration history, in the history of our national identity and our borders."
The organisers focus on seven migration moments that changed Britain: the expulsion of the Jews in 1290, the arrival of the Huguenots in 1685, the voyages that led to the British Empire, the first attempt to restrict immigration in 1905, the earlier moments of jet-powered aviation, Rock Against Racism, and the 2011 Census.
The choice of artworks is at times compelling. To illustrate the expulsion of the Jews in 1290, Hormazd Narielwalla has designed six posters in yellow (the colour of the felt that Jews were forced to wear in Britain after 1274) and blue. They show the families of Narielwalla's Jewish friends, photographed, cut up, broken tin pieces like shards of discarded pottery.
Portraits of the Bayleys, a British family who worked for the East India company or lived in India, reminds us the anti-black racism of white Britons in the 1950s and 1960s was the product of centuries in which white people had been the overseers and beneficiaries of Empire. The history of the Aliens Act 1905 is illustrated by photographs from the Illustrated London News, showing the 'invasion' of Jewish refugees from Tsarism and the poverty of the new arrivals.
A photograph donated by Stephen Sedley showing his grandfather's lace shop in 1913, his grandfather prospering in a three piece suit. It adds to the picture to know that the 4 year old boy in the picture, Sedley's father, would grow up to be a soliciitor whose firm Seifert Sedley represented such client as Arthur Scargill, Ken Livingstone and Anna Mendelssohn of the Angry Brigade. A flotilla of paper sailboats invites visitors to add their own vessels.
Among the hardest works of art to curate are those relating to Rock Against Racism, the 1970s campaign against the National Front led by the likes of the photographer Red Saunders and the writer David Widgery. This was a movement of designers and artists. Its posters were printed in electric pinks and vivid blues. RAR has been the subject of three books just in the last two years and the people who contributed to this part of the exhibition, including Andy Dark, Kate Webb and Lucy Whitman faced a real challenge to make the campaign seem visually new.
The most compelling image in this section and, for me, the star of the whole exhibition is a hand-sewn Union Jack in frayed grey black, made by Ruth Gregory and decorated with badges that were given to her by her friends and lovers in the RAR campaign. It is a visual reminder of the ebullience of her generation and the range of campaigns to which they contributed. The last words belong to to Aditi Anand, "There is no turning back to a time when there wasn't migration to Britain.'