Earlier this year, Red Pepper and Open Democracy invited Radical Yes Campaigners to London to share with us what was happening on the streets of Scotland. We suspected there was much more to the Yes campaign than mainstream media coverage would suggest. The public meeting swayed many attendees from uncertainty to support of the Yes vote and several of us decided to travel up to Scotland to find out more and support the grassroots campaign.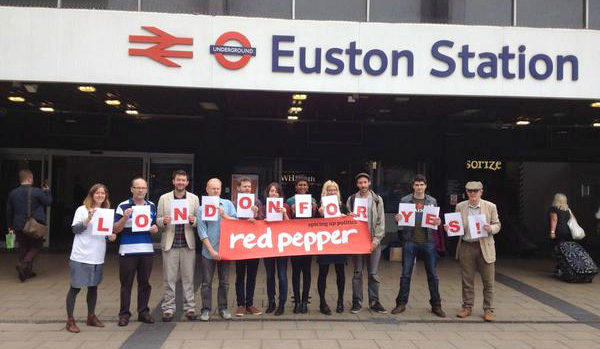 From the windows of the train, the first propaganda message we saw was a 'No Thanks' board in one of the huge green rolling fields across the border, which later stood in contrast to the many Yes posters filling urban tower block windows. Arriving in Glasgow, we received a wonderfully lively and warm welcome from the Radical Independence Campaign (RIC).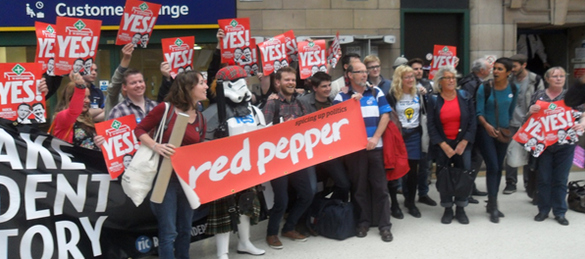 The city really is alive with political passion and debate. Taxi drivers, bouncers, pub goers, and shoppers; it seemed that everyone was ready to volunteer an opinion or share an anecdote. This spread beyond the city centre, for instance in Paisley we met 19 year old Mhairi, who has been campaigning tirelessly every evening after work. 'Would you rather have uncertainty with power or uncertainty without it?' she asks: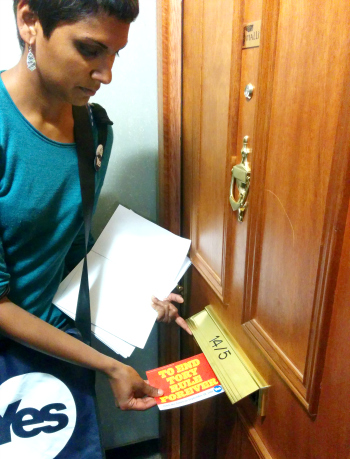 What was everyone talking about? Poverty, equality, austerity, the bedroom tax, energy, housing, the Tories, corporate rule, the lack of choice until now and enthusiasm for change. The No voters that we met tended to be worried about employment and have connections to the defence industry.
On Sunday 7th September we supported an event called The People United which explored the internationalist and socialist case for independence, watch the video here. Amongst other speakers, Mika Minio-Paluello from energy think-tank Platform, talked us through the secret figures behind North Sea oil. Ewa Jasiewicz revealed the deadly truth about fuel poverty in the UK.
Jonathon Shafi from RIC emphasised the importance of a UK wide anti-capitalist and anti-nationalist network to push for change. We heard that the Yes campaign has built support by organising on the streets and in housing estates, gradually building support despite 36 out of 37 local newspapers being against them. The campaign has attracted a broad coalition of groups such as Women for Independence, Polish Scots for Yes and Scots Asians for Yes.
They recognise that a Yes vote would just be the beginning of a much greater struggle to secure a progressive future for the country, and they call for support from the left across the UK to help make that happen.
By the end of the weekend our spirits were high but our bodies protested – we had tasted just how exhausting the fast pace of the campaign can be, but we found rest in the Yes bar:
A few other pics from the weekend:
Yes shops coordinate leafleting, canvassing and distribute posters in their local areas: