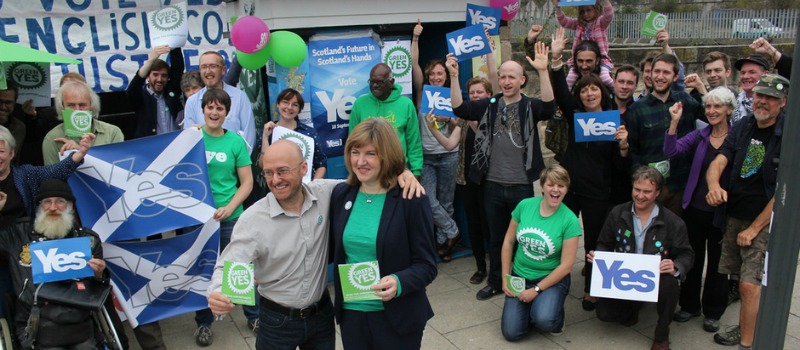 I'd heard talk of how engaging, inspiring, and positive the 'Yes' campaign was and my experience of being on the campaign trail on Monday supported this entirely, here are some highlights from the day.
For many hours I was based at the 'Green Yes' police box on Leith Walk, where I encountered dozens of members of the public who are enthusiastically supporting independence. They gave thumbs up, shook our hands and shouted support. The day was filled with smiles and friendliness, both amongst the campaigners and between campaigners and members of the public. In fact, the line between campaigners and public was blurred because so many people shared such a strong commitment to the cause. Probably my single favourite expression of the public enthusiasm came when, amongst all the cars that had driven past beeping to show their support, a fire engine loudly honked us with all the firefighters inside putting their thumbs up.
Plenty of people, both 'Yes' supporters and those who were undecided, took the time to stop and talk to us as well. One of these was an English ex-soldier who wasn't sure whether to vote even though he lived in Edinburgh. Part of the reason was that he was concerned about the future of the military and wondered what kind of force Scotland would have if it goes independent. As a pacifist this was not my natural campaigning territory but I could honestly reassure him that the country would not be without a military and that soldiers in the force would arguably be better looked after than their counterparts in the rest of the UK because none of the military budget would be used to support the (at best hypothetically useful) Trident nuclear missile system.
This seemed to be a point that he was particularly open to, and he went away saying that he'd been swayed beyond 51 per cent in favour of independence. This isn't the reason for me counting the conversation as a highlight though. Instead, it was a heartening interaction because it was open, honest, and nonjudgemental. He hadn't stopped because he wanted to argue, and he wasn't expecting to hear a particular answer. He told me when he wasn't convinced by what I was saying but he was still open to hearing more. Likewise, I didn't feel defensive and I was very happy to listen to his different point of view and his concerns. This is how political discussions should be, and what's remarkable is not only its quality but the fact that it wasn't a one-off. This kind of public engagement is an incredibly valuable thing regardless of the outcome tomorrow.
Another of the people who stopped to talk to us was a young man who'd only been convinced of the case for 'Yes' (by his mum) the day before. He wanted to pick up materials because he was on his way to a friend's to convince them of the case. The fact that someone who has only started supporting a campaign the day before is immediately becoming active in it is remarkable in itself. Again, this was not a unique experience; plenty of people came to pick up materials not just to convince their friends and families but also their colleagues. This speaks of people being empowered, realising the opportunity for change that is in their hands, and actively taking responsibility for it.
This was also reflected by a pair of teenage lads who slightly sheepishly approached the stall to ask for some 'Yes' stickers for their skateboards. When I enthusiastically handed them over they didn't leave straight away but instead struck up a conversation about how they wanted to convince their friends to vote 'Yes', and how they felt it was their responsibility to do so. Then, just as they were about to leave, one of them looked at me and said that, because of the referendum, he'd gone out and got a job. He said that he didn't want to be on benefits any more, not because of some stigma but because he felt like there was a future for his country and he wanted to contribute to it. This was a wonderful moment for me, and represented the perfect manifestation of all the positivity that has been poured into the 'Yes' campaign. That positivity is already being reproduced.
I stayed in Edinburgh to join what I suspected would be an amazing 'Yes' campaign and I wasn't disappointed. I encountered enthusiasm and positivity in the streets, met lovely campaigners, and caught up with great friends. Whatever happens in the vote, I'm so happy that I've been able to share in a campaign that represents the beginning of something so good.
(Thanks to Ric Lander for the photo)
This post was originally published on Joe's personal blog.