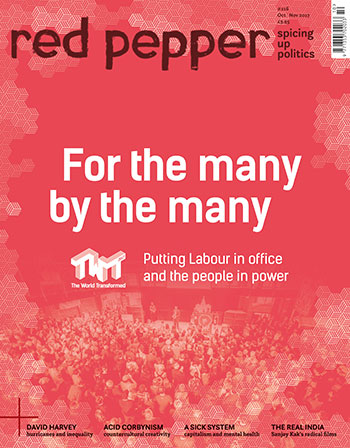 Red Pepper's special issue, guest edited by The World Transformed's organisers, contains a range of articles looking ahead to the debates and discussions at the event. Look out for it in Brighton.
Saturday
Dangerous Deals in the Dark: Trade After Brexit Saturday, 13:00-14:40, 68 Middle St
As they prepare to leave the EU, the UK government is pushing for dodgy trade deals with Donald Trump – and it's all happening behind closed doors. This session, organised by Global Justice Now, will shine a light.
Black Journalism Fund open editorial meeting Saturday, 15:00-17:00, 68 Middle St
The Black Journalism Fund, launched by Red Pepper early this year, has produced a series of great articles including 'Theresa May's tough line on immigration punishes British children' and 'The violence of coltan: purchase of a global silence', as well as our 'Empire will eat itself' special issue. Now it's branching out and holding its regular open editorial meeting as part of TWT – come and hear from participants and get involved. (People of colour only.)
New Technologies, New Politics Saturday, 17:30-19:10, Sallis Benney Theatre
If you're interested in the work of radical geographer David Harvey, here's a rare chance to see him talk tech, looking at whether technologies from computing to synthetic biology open the way to a new society. He'll be chatting with 'fully automated luxury communist' Aaron Bastani and technology writer Alice Bell.
Hello to the Working Class? Saturday, 19:30-21:30, Brighthelm Centre
Is class politics back? What does it mean to be working class today? Gargi Bhattacharyya – who recently took on the myth of the 'white working class' in our pages – speaks alongside Laura Pidcock, the new MP who shook Westminster by saying parliament 'reeks of the establishment'.
Party at the Synergy Centre Doors open 20:30
The Saturday party features Shay D, Feminist Jukebox DJs and more.
Sunday
Cultural Democracy: Relaunching Arts for Labour Sunday, 15:00-16:40, Fabrica
'In every child there is a poem…' Jeremy Corbyn told the crowds at Glastonbury. What would a truly radical Labour Party cultural policy look like? Drawing on the traditions of Jennie Lee and Raymond Williams, this session re-launches Arts for Labour.
'Politics of a Parallel Reality': Understanding Corbynism Sunday, 17:30-19:10, Fabrica
The commentators said support for Corbyn is a 'cult of personality', or an outbreak of 'virtue signalling', or dozens of other ridiculous explanations, only to claim after the general election that no one could ever have seen Corbyn's popularity coming. Join some of the few journalists who did try to understand the movement – including Alex Nunns, Red Pepper political correspondent and author of The Candidate – for a discussion about two years of Corbynism.
The role of the political artist Sunday, 17:30-19:15, Synergy
The general election saw a range of artists helping to drive home the message that change is possible. But for many, the political function of art is deeper than drumming up votes – and political obsession can make for dull art. So how can artists be both radical and relevant? Ken Loach and Lowkey are joined by Barby Asante and Rhiannon White, with Red Pepper co-editor Ashish Ghadiali.
Mental Health Sunday, 19:30-21:10, Synergy Arts Cafe
This session will ask where the mental health crisis comes from, what the effects are of poverty and inequality – and might there be something about capitalism itself that makes us sick?
Monday
Pop-up Think Tank on Trade Unions Monday, from 11:00, Synergy (six sessions)
Throughout the day, TWT's 'pop-up think tank' examines the state of the trade union movement, and the challenges ahead, including precarious work, new forms of workplace organising, the uses and abuses of technology and the role of trade unions in the Labour Party – and vice versa.
Cultural democracy: writing the manifesto Monday, 11:00-13:00, 68 Middle St
In the second of the sessions on cultural democracy, drawing on the previous day's discussions, this session puts participatory tools to the task of writing a manifesto that puts culture at the centre not the margins of our social and political lives. Bring your ideas.
Hegemony or One More Heave? Building a Progressive Bloc for Transformative Change Monday, 15:00-16:40, Fabrica
Red Pepper co-editor Hilary Wainwright is one of the speakers at this session, looking at the value of pluralism in progressive politics, while trying to take the idea of 'progressive alliances' away from being a question of unlikely deals with the Lib Dems, towards including grassroots groups and civil society. Labour MPs Lisa Nandy and Clive Lewis join the panel.
Governing From the Radical Left Monday, 19:30-21:30, Synergy
A question gently hangs over this year's Labour conference and TWT: what happens if Labour wins the next election? Shadow chancellor John McDonnell joins Paul Mason to talk about the challenges ahead, at home and internationally. Theano Fotiou, a minister in Greece's Syriza government, will be there to give some advice (or perhaps warning).
Acid Corbynism Monday, 21:15-00:30, Fabrica
It's like Corbynism… on acid. Jeremy Gilbert explains himself in this evening of theory, music and drinks, inspired by the idea of Acid Corbynism, and organised in memory of radical writer Mark Fisher.
Tuesday
Arming Repression Tuesday, 11:00-13:00, Synergy
The recent DSEI arms show was a reminder that the UK sells weapons to brutal regimes the world over, where they are used to commit torture and war crimes. This session, organised by War on Want and Campaign Against the Arms Trade, brings together activists campaigning to end the deadly deals.
Corbynism From Below Tuesday, 13:00-14:40, Synergy
How can we help to deliver on the promise of Labour's manifesto, working inside and outside of government? Organised by new online publication New Socialist, the discussion will include The Corbyn Effect contributor Maya Goodfellow and former Corbyn spokesperson and Twitter trail-blazer Matt Zarb-Cousin. (And it's another chance to hear Red Pepper's Hilary Wainwright.)
The End of Neoliberalism? Tuesday, 15:00-16:50, Komedia Studio
What is neoliberalism, how has it shaped society over the last 30 years – and if it is falling apart, what comes after? Featuring Red Pepper co-editor Ruth Potts, whose Aug/Sep issue of the magazine called time on neoliberalism, in discussion with Postcapitalism author Paul Mason and others.
Party at the Synergy Centre Doors open 20:00
Tuesday's closing gig not only brings you Horse Meat Disco and more, but also a live edition of Novara Media's online debate show The Fix. Or, if you're feeling tough enough, you might prefer to go to the TWT pub quiz hosted by none other than Ed Miliband, starting at the same time in Komedia Main Space.
You can see the full The World Transformed programme here, including full venue info, or download a printable version.