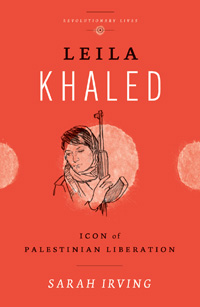 The highlight so far of Pluto Press's 'sympathetic but not sycophantic' Revolutionary Lives series, Irving chronicles one woman's role in the Palestinian resistance movement and offers a valuable history lesson for the younger generation. Drawing extensively on recent interviews conducted with Khaled, the book reads like an oral history delicately framed within a political history of the past 65 years.
The book raises an impressively wide range of issues for a small tome, from Khaled's attitude towards different tactics of resistance to the western media's obsessive objectification of her. Perhaps the most interesting discussion concerns the debate over whether Khaled's involvement in what some see as a 'male mode' of resistance – armed struggle – signified a limited feminist consciousness. She explicitly prioritises national liberation over social liberation, saying that the first and most direct form of oppression is the Israeli occupation, but does not take women's rights for granted as an automatic follow-on.
Khaled tells Irving that becoming a mother prompted her and others to push for internal changes within the PFLP, which at the time had lessons to learn about facilitating women's participation despite being one of the most progressive forces in Palestinian politics. We're told that despite initial ambivalence to the women's movement, Khaled learnt much from her involvement in the General Union of Palestinian Women (GUPW). Through attending international conferences as a GUPW representative, for instance, she encountered new and alien concepts – such as anti-Zionist Israelis – that although she was initially hostile to, Khaled came to appreciate.
Humorous anecdotes occur in unlikely places in Khaled's account of her life. But there are also many tragic moments, particularly early memories of her family fleeing Haifa in the Nakba and, later, the effects her notoriety had on some family members.
Telling Khaled's story is not simple. Just as her 1973 biography attracted a legal challenge in the US, Irving's book, due to launch at Blackwell's bookshop in Manchester, was also targeted by Zionists, forcing a venue change. This is a defiant and determined addition to a very limited literature and helps to demystify and humanise the woman behind the symbol.