Tolpuddle village – you know, near Briantspuddle and Puddletown, in the Piddle valley of Dorset – seems an unlikely place for a political rally, with its pristine cottages and their bounteous hanging baskets. But every year thousands of socialists arrive to remember six farm workers who fought one of the earliest trade union battles in the 1830s.
The workers and their families faced starvation when their wages were cut to a measly six shillings a week; at the time an average family needed nine shillings a week for bread alone. The men began to organise their resistance before being arrested on trumped up charges and deported to Australia. It wasn't illegal to form a union at the time, but fear of widespread revolt lead to the heaviest punishment possible being invoked for mutiny involving an oath.
Protests swept the country including a march of 100,000 people on Parliament and the burgeoning trade union movement roused enough public pressure to bring about their return within three years. The tiny Dorset village has been a place of pilgrimage for trade unionists and socialists ever since the Martyrs' came home in triumph.
The festival is markedly different from other events listed on the West Dorset District Council's calendar, which this summer includes: songs of praise on the marine parade; a quilt and flower festival at Abbotsbury Church; fossil polishing; and a jazz brunch at the old tithe barn.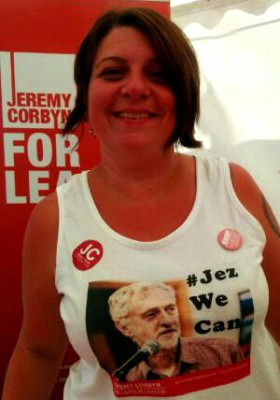 Several things differentiate this festival from any other:
The Martyrs' Marquee blends traditional fête activities with niche hard left stalls. This year you could take a punt on the name of a large fluffy toy dog or support the Worker-Communist Party of Kurdistan's call to unite against Isis. There was a controversial, albeit brief appearance from Bournemouth Action for Israel, and the most popular stall generated enough JC propaganda to rival a Christian camp, in this case promoting Jeremy Corbyn's bid to become Labour leader.
Billy Bragg sang to one of the few audiences around who know the words to The Red Flag, and there was a notable array of political t-shirts, (pictured).
During the same month the government announced its greatest crack down on the unions in 30 years, it was heartening to join Sunday's proud procession through the village with dozens of beautifully embroidered banners and more than one brass band.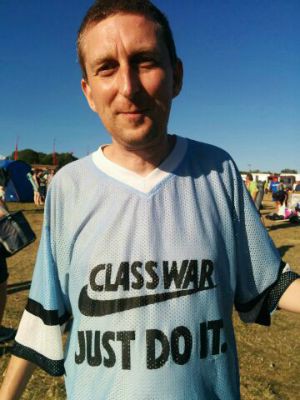 We passed the old Sycamore tree, where the six were alleged to have taken the fateful oath. We passed the grave of James Hammett who wasn't present at the initial meeting under the tree, but accepted arrest on behalf of his newly-married brother whose wife was due to give birth. Wreaths were laid and his ancestors paid tribute.
The Tories claim to support working people while attacking the organisations that by definition exist to represent worker's rights. (See Red Pepper's trade union mythbuster). This celebratory gathering was a reminder that the roots of the trade union movement run deep and although the institutions themselves are not faultless, there's a spirit that won't be broken.
In prison, one of the Martyrs George Loveless scribbled the words that formed the slogan of the weekend, 'We raise the watchword, liberty. We will, we will, we will be free!'