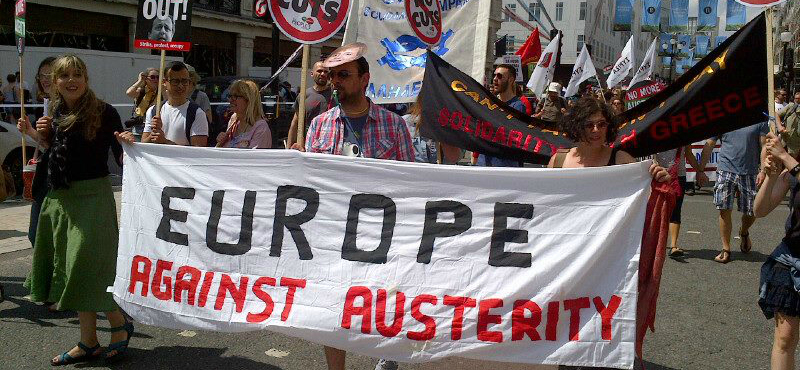 Living conditions in southern Europe have become intolerable. In Spain a family is evicted every fifteen minutes for failing to meet mortgage payments – this in a country with enough empty properties to house all of Europe's homeless. That's just slightly longer than it will take to read this article.
There are thousands of Greeks without electricity, existing in conditions not seen in living memory. The Greek state has been in terminal retreat, with citizens taking on the role of providing medical care, food and social services to the needy.
This drop in living standards is caused by austerity policies, leading to a wave of protests such as Spain's 15M movement (or indignados). Professor Ricardo Blaug of Westminster University labels this phenomenon a 'democratic breakout', where 'speech becomes animated, and debate heated'. But this resurgence of democracy is not only confined to the 'periphery' of Europe, as shown by the recent Scottish referendum. The ability of the Yes campaign to spark popular interest and alarm the UK establishment might alert us to the fact that politics is changing.
So what drives these new movements? One thing that unites new political animals such as Syriza, Podemos and Scotland's Radical Independence Campaign (RIC) is their ability to capture and mobilise young people. The charge that the Facebook generation are apathetic and apolitical doesn't hold here. To be sure, unemployment is a key factor in Spain and Greece. Condemning a generation of well-educated young people to the scrap-heap means the cleverest and most restless sector of society start to dream of how things could be different. As Marx once wrote, 'Time is the room of human development.'
Why 'peer-to-peer populists'? Because the young people who form the backbone of these new movements have grown up with the internet and peer-to-peer file-sharing: they know the difference between a torrent and a tweet, a byte and a block chain. Peer-to-peer networks also require no intermediate authority – the users themselves maintain, propagate and repair the network. Power and responsibility is decentralised to the hive. What is more, by downloading the latest Hollywood blockbuster these young people produce value from nothing. All that is air, melts into solid.
Powered by a younger generation tired of austerity and neoliberalism, the 'peer-to-peer populists' are responding to the economic crisis and shaping a new political project.
From a void to a new culture
The political scientist Peter Mair diagnosed a void in European party politics – an empty space where politics once lived. One reason for this is that as decision-making power moves upwards, away from national parliaments to international and global institutions, citizens have less of a 'stake' in politics.
He also noted that as politics as a practice becomes more professionalised, general interest in the political wanes. The reduced scope of left-right politics post-1989 only intensifies this trend. As a result, we see a steep decrease in electoral turnout and in the membership levels of mainstream political parties across Europe. Moreover, the endless scandals that afflict politicians and their parties do not kindle the faith of the voting public. According to a 2013 Eurostat survey, the proportion of Europeans who 'tend to trust' national governments is now 23 per cent, down from 41 per cent in 2007.
These factors create an army of disenchanted voters, making elections more volatile and unpredictable. For politicians and bookmakers this is a nightmare; for the electorate, and those who believe in progressive politics, it's an opportunity. For what the perceived loss of sovereignty and the depoliticisation of politics does is to change the incentive structure for groups at the periphery.
At this periphery until recently, and positioning themselves as the saviours of national sovereignty, were Front National in France, Golden Dawn in Greece and UKIP in the UK, among others. Yet what we see now is the emergence of left-wing groups who are challenging incumbent political orthodoxy – and, in some cases, winning.
These groups have achieved considerable success. With this week's general election victory Syriza has effectively turned Greek politics upside down. Podemos managed to grab five seats at the Spanish European parliamentary elections in May 2014, despite being only months old as a party. The Radical Independence Campaign (RIC), as part of the Yes coalition, narrowly lost the Scottish referendum but managed to engage a formerly disinterested public in the vote with a turnout of nearly 85 per cent.
What differentiates these groups from previous left-wing groups and organisations? Also, in the long and winding story of left-wing failure, what explains their success? The answers to these questions are both practical and theoretical. Practically, the toolkit of the 'peer-to-peer populists' includes: casting off the rhetoric of classical Marxism, communicating a populist message, the strategic use of social media and using non-hierarchical, decentralised forms of organising.
Theoretically, these groups aim to create and occupy a new political space. They share the realisation that the classical Marxist project is exhausted. Yet using Gramsci's concept of hegemony – the premise here being that ideas are drivers of dominance and control – they are creating a new culture, not just new political parties. But where does this theoretical thrust come from, and how is it used?
Common sense and Agonism
In Hegemony and Socialist Strategy Ernesto Laclau and Chantal Mouffe proposed a reshaping of the left project. For the left to move from opposition to construction what is required is 'the construction of a new "common sense"'. This is directly influenced by Gramsci's notion of hegemony and embodies the belief that ideas are just as important as structures in forming societies. This new common sense necessarily involves articulating a message people want to hear in a language they can understand.
In her own work, Mouffe also proposes creating a political space based on 'agonism'. This involves a struggle between political adversaries (as opposed to 'antagonism' – a struggle between political enemies). She draws a line between her radical form of democracy and more liberal solutions to the 'void' in European politics which are based on readings of liberal theorists such as John Rawls and Jürgen Habermas. Liberal democratic theorists argue that involvement in politics increases if voters are given the chance to deliberate on political issues – a kind of reboot of Tocqueville's 'town hall' meeting. But there are two problems here. Firstly, this process of deliberation does not come with an increase in citizen power. Secondly, if a citizen is confronted with a poverty of choices, then what good is deliberation?
How do these ideas play out with the 'peer-to-peer populists'? At the 2014 Radical Independence Campaign conference the Podemos representatives spoke about building this kind of hegemony:
'We can summarise this new common sense as based on getting real democracy instead of the fake democracy we have right now, getting sovereignty for the people and not for the markets, not for the banks, and protecting the public services as guarantors of citizens' rights.'
Within Scotland's Radical Independence Campaign (RIC), we can see several elements whichtie in with Laclau and Mouffe's idea of building a 'new common sense'. This includes the creation of new media (see Bella Caledonia and National Collective), the creation of new institutions (the 'think-and-do' tank Common Weal) as well as a policy proposal of physical 'Common Spaces' where new ideas and positions can be articulated. All of this is held together by a left-wing populist message: 'All of us first.'
Decentralisation and public learning
But merely creating new political positions cannot fully account for the success of these groups. To find a possible cause here, we need to combine the idea of a 'new common sense' with decentralisation. Both the Radical Independence Campaign and Podemos have radically decentralised power within their organisations with important consequences.
During the referendum campaign, local decentralised Radical Independence Campaign (RIC) groups from all over Scotland played a vital role. These groups organised mass voter registration drives in working-class areas, the second mass canvas on 6 August 2014 involving 600 volunteers in 42 locations. They also arranged events and convened meetings where people could debate issues surrounding possible independence. The referendum turnout of 84.59 per cent would seem to indicate the success of local, decentralised groups in both engaging and informing the public. Speaking after the referendum vote, Robin McAlpine, the director of Common Weal, stated:
'The other thing that we are going to do is recognise my biggest learning point of this whole campaign – which is, the centre does not control effectively when you have a movement like this.'
As a result of the indignados or 15M movement in Spain, groups of people organised themselves in weekly assemblies in local squares to discuss problems and propose action. This decentralised form of organising still occupies a central role in Podemos. Supporters are encouraged to join local circulos ('circles') where local grievances are discussed; these groups can also vote on Podemos policy through various decentralised tools such as the party's Reddit forums.
Another key component in the success of the 'peer-to-peer populists' is a process of public learning. An informed citizenry was once considered a key element in a functioning democracy. However John Stewart, professor for public government at Birmingham University, writes that 'the polities of the post-war era neglected the need for public learning'. What these decentralised, non-hierarchical and horizontal forms of organisation and decision-making do is foster a culture of public learning by providing a place for debate and deliberation.
Switching on the light
So the void in European politics has led to the rise of right-wing populists claiming to be the guardians of national sovereignty. But we also see the emergence of a new breed of left wing groups – the 'peer-to-peer populists'.
What is the difference between a 'void' and a 'space'? A void is negative, an absence. A space is positive: it has potential. What the 'peer-to-peer populists' want to create is a democratic space with potential.
The message they are sending out into the world is simple. To adapt Alan Bissett's phrase, switch on the light and see what democracy can be.