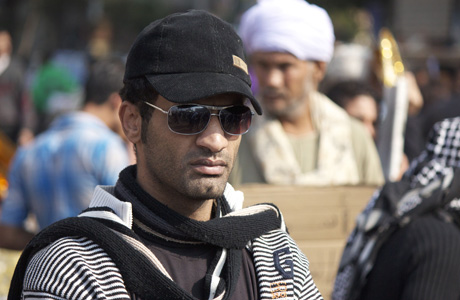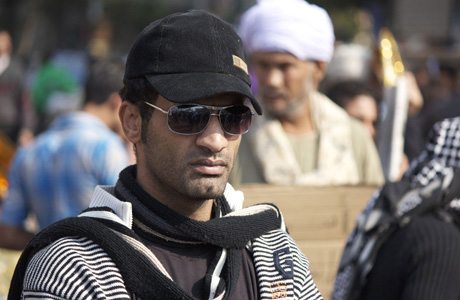 Abu Yazan Photo: Tom Dale
Gaza Youth Break Out came to global attention in January 2011 with a controversial manifesto that began 'Fuck Israel. Fuck Hamas. Fuck Fatah.' Some dismissed them as a Facebook phenomenon but nothing more. Two months later, on 15 March, they brought tens of thousands of Palestinians onto the streets to demand an end to squabbling between the factions. Hamas and Fatah appeared to give way, and signed a unity accord in May. However, as in the other countries where elites have appeared to give ground to the Arab Spring, there has been resistance to real change. Abu Yazan is a leading member of GYBO.
Were you ever in trouble with the authorities before last year?
I'm not the kind of person who knows how to shut up.  In 2005, me and some trusted friends wrote a manifesto talking about the Palestinian Authority and the way it rules us.  It caused some trouble.  I didn't put it out under any name, but the Palestinian intelligence found out.
They arrested me and two other friends.  They took us to their leader.  He started telling us, "what you did is dangerous, you're gonna be killed, executed."  We told him, whatever: as long as we believe in what we're doing we're gonna keep doing it.  They took us to prison and they left us there.  Our families did not know anything about us for 45 days.
What about when Hamas took over in Gaza?
We still had a corrupt regime, and we had a stupid situation.  Gaza is one country and the West Bank is another country.  One is runby Hamas and one is run by Fatah.
We needed to change that situation.  And if you look at any youth in Gaza when they graduate they never get a job.  And if ever they gets a job, it's not really well paid.  And you never have a dream, to think of the future.  So you either leave the country or you start thinking, how do I change this situation?
I started reading books about non-violent resistance, Mahatma Gandhi, Nelson Mandela, all these people.  I had a new understanding. And I talked about it with my friends.  We were sitting in a coffee shop, we started thinking about GYBO, how to do it.  We wrote the manifesto in 30 minutes.  We put it online.  Then we started planning for the future.
Before the creation of GYBO, before March 15, we had this phenomenon in Gaza: you never criticise the political movements.  If you criticise Hamas you're always gonna be called a collaborator.  If you criticise Fatah you're never going to have a job.  If you criticise Israel you'll never be able to leave Gaza.  You never criticise anyone. But when we created GYBO we thought of breaking this wall of silence.  To say what we have in mind without taking into consideration what other people think of us.
What was the importance of the 15 March demonstrations?
We had a revolution in Gaza.  We were able to get almost 100,000 people on the street on 15 March.  And this revolution was for the reconciliation between the political movements.  Our message, to our leaders, was to stop looking at their narrow political interests and look at Palestine.  Fatah and Hamas were created to serve Palestine, not the opposite.  But today they're using Palestine for their own interests.
We started planning how to do it, when to do it, where to do it.  We started studying scenarios of what Hamas's reaction is gonna be.  Where we need to move if Hamas attacks us, how we need to move. We started gathering all the plans we needed until we put them into operation on the 15 March.  We put a lot of pressure on.
Our movement lasted until the 30 March.  They attacked us on the 15 March, so we didn't continue that day.  But every 2 days we started going out from universities, from markets, from hospitals.  Talking about the situation, saying "we're not satisfied people, we need to end this division, we need to have reconciliation."
Hamas and Fatah signed a reconciliation agreement after a few months.  But we paid a very great price for that.  Many of my friends got arrested by Hamas. I got arrested several times.  Every time they arrested me they used to ask me 'who's Abu Yazan?'  Abu Yazan is my fake name, it's not my real name.  They didn't know me.
In August, after you returned from a media conference in France, you were arrested by Hamas after they discovered that you were 'Abu Yazan'.  What happened?
They sent a notice saying that I should come right away to the internal security office.  They left me for four or five hours without asking me any questions.  I was sitting in a small chair, facing the wall, and I couldn't even move.  If I did, I was gonna have someone hit me, so I didn't move the whole time, for 5 or 6 hours. They gave me water and food, but the first day when I ate the food I threw up, it was really disgusting.  So I just didn't eat.
They started asking me about the activities of GYBO.  And I always gave them stupid answers.  Because I know how this goes.  Either you give them no information or you give them lots of information.  They interrogated me for three days.  But there was a huge campaign outside the jail against the arrest.  Many people started calling Hamas leaders asking for my release, as fast as possible, as soon as possible.  And I got released after that.  But they never left me alone.  I used to get interrogated every two days or three days.  They send me a note, I go to the internal security, I have this stupid interrogation then I go back home.  Every once in a while, for 5/6 hours a day.  It was really bad for me, especially the last month before I came to Egypt, so I had to leave.
They never used violence against me.  Because they know what's going to happen next if they do.  They know that I'm not the kind of person who shuts up.  I'm gonna tell everyone about what happened to me.
So what do you think about Hamas now?
Hamas people think that they're superior, that they came from God, that they're senators of God on earth.  If anyone stands against them, they won't mind killing him.  Your cost is only a bullet to them.  If they feel that their movement is at risk, if they feel that they're in danger, they won't mind killing people.  We saw that in 2007, when the clashes happened between Fatah and Hamas, they killed 700 people.
But Fatah is not better than Hamas.  Fatah is corrupt and they were killing inside Gaza before Hamas.  And that's what forced me to vote for Hamas when the election happened in Gaza.  Because I wanted to get rid of the dirty forces, the corruption of Fatah.  And now I've lost faith in everyone, in Fatah and Hamas.
The problem in Gaza and the West Bank is the regimes.  They're international hands that are meddling in our cause.  The leaders of the movements in Gaza and the West Bank are not following their own faith they're following demands they get from the outside.  For example, Hamas in Gaza is following the demands they get from Syria, Iran, and lately from the Brotherhood in Egypt.  And Abbas is getting his orders from America, from the US, from whoever gives him money.  So… our situation is really desperate.
Given your criticism of both Hamas and Fatah, is unity between two such compromised factions really what you want?
I'm looking for the election, the chance to vote.  It would give us a chance to vote to get rid of all these dirty faces.  I mean, we might have people from both sides, from Fatah and Hamas, but the clean people, not the dirty ones.
So what has become of the unity agreement, in practical terms?
Nothing.  I've been arrested since the signing of the unity agreement.  I mean, I was arrested before, but I got really screwed up after the unity agreement.  They found it amusing to arrest me every once in a while.  And nothing concrete on the ground.  I mean, the only thing that has changed is you can see a Fatah flag waving inside Gaza now, which had been banned for four years.  But some people are speaking up.  And if some things do not change on the ground, you're going to see a revolution very soon in Gaza.
You think there will be an election?
No.  No way.
But then if people take to the streets, Hamas is going to beat the people with sticks, at the least…
Let them come with their sticks.  People are depressed to the extent that they don't care about what's going to happen next.  They won't mind being hit with a stick, because they're hitting a dead body.
Most people in Gaza don't have a life.  The only thing that is covering their pain is the walls that they have around them.  They don't say anything.  But at some point they're going to explode and say everything that's inside their minds.  All this frustration is going to explode.  They'll say, 'no, we're not going to listen any more, we're gonna say whatever we want, we're going to act against you, against Fatah, against all this corruption.'
They can't finish us off.  GYBO became an idea more than a movement, for many of the people.  It gave us the right to speak up, to say what we have in mind.  We broke the wall of silence at last.  Now, people can criticise Hamas inside the Hamas internal security building.  They can tell them, "you're wrong."