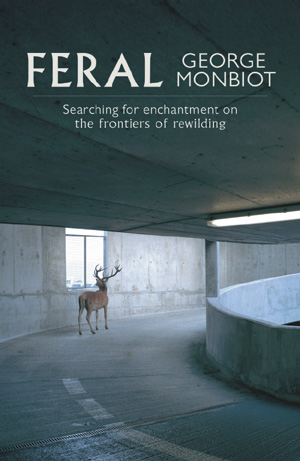 This is a gem of a book. Taking as his starting point a certain late-capitalist ennui (though he doesn't call it that), Monbiot builds a case for 'rewilding' parts of upland Britain. Not just as an environmentalist imperative, but in order to return to us a kind of elemental excitement that comes from encounters with a fully robust natural world.
The totem of the rewilding movement is the wolf, which has already started returning of its own accord to parts of France. The absence of this kind of predator from Britain, Monbiot argues, knocks upland ecosystems out. The Scottish Highlands are overrun with deer to an extent that pleases game-hunting estates but means tree saplings are chewed up before they get a chance to establish themselves. The uplands of mid-Wales, meanwhile, are promoted as a natural landscape despite being one of the least biodiverse areas of the country as a result of 'sheepwrecking'.
Monbiot draws on historical evidence, and the experience of accidental rewilding as a result of depopulation in places such as Slovenia, to argue that given a bit of latitude and the return of a few 'keystone' species (not just predators but others, such as beavers), ecosystems can find a new balance that allows for the resurgence of a huge diversity of animals and plants. And if that's true on land, then it is doubly so for the seas.
Rewilding is not without its progressive critics. Writing in The Land magazine, the farmer and writer Simon Fairlie has argued that it does not always sit well with an ecologically sustainable food system and food sovereignty for the UK, which would require the extensive (as opposed to intensive) use of marginal land for food production and related processes. However, he is not, in the end, very opposed to Monbiot's cautious, thought-through and consensual proposals.
The book draws on an entertaining mix of ecological science, history, reportage and personal anecdote to convey a vision that is the very opposite of the financial 'valuation' of nature currently in vogue in some quarters. Rich in both passion and sharply argued insight, it is a rewarding read.