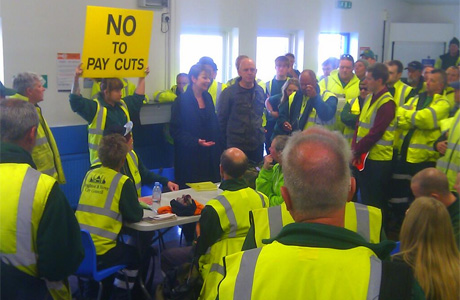 Caroline Lucas speaks to occupying Brighton bins workers
Everywhere you look on the web today, there are appeals for solidarity with GMB union council staff in Brighton & Hove, some of whom face the prospect of huge pay cuts. It seems to be a bizarre situation. How is this possible with a Green-led council that has campaigned harder than any other council in the country against public sector austerity in general and for fairer pay for the low paid in particular? The council was after all one of the first to be accredited as a living wage employer, and just this week became the first council to pledge officially there will be no evictions resulting from the bedroom tax.
It's a long story and one that is difficult to write for lots of reasons. Let me start by saying unambiguously that I oppose and have consistently argued and campaigned against the stance taken by some senior officers who advise the Green-led council on this pay issue. So has Caroline Lucas, our local and the UK's only Green MP. So has the local Green Party itself. And so have almost half the local Green councillors, including the deputy leader Phelim McCafferty. But at the same time, it is not as 'black and white' as it has been painted in the progressive/left media.
The background
Brighton & Hove City Council was formed in 1997 from the merger of Brighton borough, Hove borough and parts of East Sussex county council. Pay and conditions had to be harmonised. Pay was eventually sorted out, but the allowances have not been. In addition, like dozens of councils up and down the country, Brighton & Hove has had to assess past pay and condition settlements in the light of more recent equal pay legislation. Many councils have found themselves facing bills running into tens of millions of pounds – Birmingham famously faced an £800m+ bill. Almost every council has now sorted out the mess of past settlements but previous Tory and Labour administrations of Brighton & Hove had failed to do so – fearing the financial consequences, and threats of industrial action.
Into this situation came the new Green Party-led council, elected in 2011 – the first ever council with Greens at the helm. It was keen to clear up the mess left behind by previous administrations and to look at past deals the previous councils had struck with the local trade unions.
Note the Greens are a minority administration, as they were elected with 23 councillors out of 54. They can't simply decide on measures without consulting with other parties. I understand that there are some legal deadlines for sorting out these issues that means the core agreement needs to be signed by autumn 2013. So far, so good. But then, senior council officers intervened, and since then it seems to have gone off the rails, as the council leader Jason Kitcat has accepted at face value – naively in my view – the advice that officers have provided. So what happened?
I do not know exactly the content of council officers' advice to councillors about what they found about the existing pay and conditions packages at the council – because that advice has remained a closely guarded secret. And the council's legal advice was that councillors should say absolutely nothing in public about it. Personally, I think this advice was fundamentally wrong. And it has led to councillors being unable to explain what the dispute is about – with disastrous consequences, especially for staff morale, and allowing the media to manipulate the dispute.
My interpretation is that Brighton & Hove council probably found, like most other councils in the country, that some past allowances were at least questionable under the new equal pay laws. Its officers probably found that the sums involved to put things right were huge, and could bring the council to the verge of bankruptcy, adding to the existing budget pressures that the council was already facing due to the government's cuts in council grants. With looming legal deadlines, and understandably hoping for cross-party support for a solution on such a crucial matter of staff pay, the council leaders passed over responsibility for negotiating a deal with the unions to senior officers. Apparently, this was done with no brief from the Green group of councillors, and no commitment to bring back any offer to councillors for approval before being submitted to staff. I think this was a big mistake.
Green Party members in Brighton & Hove are rightly proud of the council's achievements on the living wage and its commitment to reducing the gap between the highest and lowest paid. They understandably assumed that any change to allowances would mean levelling pay up with no losses for other groups of workers. It soon became clear that officers were pursuing a different tack – trying to pay for upgrading those whose allowances historically had been too low by reducing those whose allowances had been 'too high'. This had the effect of pitching one worker against another in a one-off change rather than introducing them over a longer period of time.
There can be little doubt that the sums of money are very high and the temptation for officers to strike such a deal was strong. Rumours suggest that upgrading the allowances would add £30m to the annual council wage bill. Some councillors have voiced fears of 'financial meltdown'. But I think it was a mistake to let senior council officers take this approach. And it was a huge mistake not to let council staff and others in the city know what the real motivation was for the changes being proposed.
The role of the unions
Frankly, the local trade unions have not exactly covered themselves in glory either in this dispute. Of course, unions rightly fight for their members' best interests. But much of the publicity and campaigning from the unions has been deliberately misleading and in my view has taken on a politically partisan pro-Labour and anti-Green bias.
The unions have portrayed the dispute as the Greens wanting to reduce the pay bill by cynically attacking the lowest paid. Indeed that is what many of the rank and file staff now sincerely believe – partly because the council has been so useless to communicating with them. But it isn't true. Equal pay is entirely absent from the union's narrative. So is the fact that it is low paid women workers who will gain the most from any settlement. So is the fact that the council's wage bill will go up, not down, as a result of the proposed settlement. The GMB is playing a crafty game with Labour locally, who have pulled out of the initial cross-party consensus trying to resolve the issues.
However, none of that changes the view held by myself, Caroline Lucas and the local Green Party that the stance of the administration is wrong and very damaging.
What has been proposed
A 'final offer' – which has never been approved by councillors! – has been put to staff. Nine out of ten staff are unaffected. Some low paid, mainly women workers in Unison, stand to gain significantly. And a few hundred manual staff, mainly male GMB workers in the refuse and street cleaning department, stand to lose. The amount varies – for most it is less than £25 a week. But for a few it is much more.
A compensation package has been proposed which offers for example someone who loses £1,000 per year around £3,500 in a lump sum. The text of the offer is not entirely clear but it seems to imply that if it is not accepted, that the council will impose it – presumably by sacking staff and re-employing them on the new conditions.
The local Green Party has held two packed general meetings of its members to discuss this issue. This is a sovereign decision-making forum for the local party. The arguments of the council leader and his supporters were roundly defeated at both.
The first meeting opposed any attempt to sack and re-employ staff on worse conditions. The second meeting condemned the offer to staff for including significant pay cuts to low paid workers. Myself, Caroline Lucas and around half the Green councillors supported the stance taken by the local party. We have argued that any settlement cannot include threats to sack staff and cannot include pay cuts to low paid workers.
The issue now has become critical for us. Our candidates in last week's elections were asked why some of our councillors were attacking the low paid. Allies and supporters locally and nationally are deeply troubled by what the council may be doing. And local Green Party members are wondering what they have to do to get councillors to follow national and local Green Party policy, and to withdraw the 'final offer' and the sacking threat.
By all means send your support to the GMB workers threatened with pay cuts. I have. But please note that the story is more complicated than it first appears. And it looks increasingly like the story that has been played out in many radical parties here and abroad; it is a conflict between those who want to manage the system better, and those who want to change the system altogether. The story is not yet over.