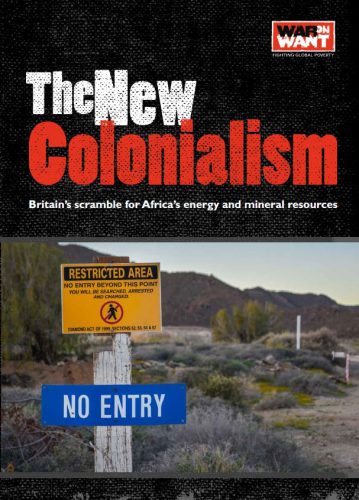 In recent years we have witnessed a new 'scramble for Africa' as governments and companies seek to control the continent's valuable resources and cash-in at the expense of people and the planet. A new report by War on Want, 'The new colonialism: Britain's scramble for Africa's mineral resources,' reveals that as many as 101 companies listed on the London Stock Exchange (LSE), most of them British, have mining operations in Africa.
The 6.6 billion barrels of oil, the 3.6 billion tonnes of coal, the 80 million ounces of gold, the platinum, the diamonds, the gas and much else: combined these companies control a booty worth in excess of $1 trillion.
Wreaking havoc
Mining routinely disrupts and destroys people's lives and livelihoods—it forces people from their land and devastates the natural environment on which they depend. More often than not, the expansion of mining and resource extraction by large corporations brings with it violence and intimidation. While the scale and scope of the UK's involvement in the exploitation of Africa's mineral resources is staggering, so too is the environmental and social damage left in its wake.
Take Rio Tinto: headquartered in the UK and listed on the London Stock Exchange, its operations in Fort Dauphin on the south east tip of Madagascar have proved devastating.
The fourth largest island in the world and one of the poorest countries, Madagascar is famous for its biodiversity. Yet, the QIT Madagascar Minerals (QMM) project (80% owned by Rio Tinto, 20% by the Madagascan government) is wrecking lives and livelihoods and doing irreparable damage to the area's rich and unique natural environment.
The QMM mine is extracting ilmenite, used in titanium and as a pigment in toothpaste, paint and sunscreen. Already thousands of people have been affected by the mine, in many ways, including being forced from their land. Farmers and fisherfolk have seen their livelihoods disrupted as agricultural land has been flooded and subjected to dust pollution. Meanwhile, precious coastal forest habitat will soon be lost to dredging.
Predictably, mining companies talk about 'safeguarding' the local environment, yet at the same time their bulldozers are lined up, ready to trash precious natural habitats. At Fort Dauphin, the local communities already affected by the construction of the mine are now confronted with a 'conservation zone,' denying them access to the natural resources of the forest on which they depend for food, firewood, and much else. A way of life passed down for generations is being destroyed.
A fractured fight back 
The local community and environmental activists are fighting back. The last remaining fragments of coastal forest in Madagascar are under threat and won't be given up easily. But the challenge is tough. QMM's modus operandi has been to pay off those who complain, intimidate and vilify critics, hire and so neutralise potential 'troublemakers', and ultimately divide the community. Communities affected by mining had brought a class action against Rio Tinto to claim compensation: the British mining giant responded swiftly with cash payouts.
Grievances around the QMM mine run deep. Public demonstrations against the mine have seen the military step in and protesters met with tear gas and brutal beatings, making a mockery of Rio Tinto's 'Community Relations Programme.' Meanwhile, having failed to rein in companies such as QMM, the British government is actively championing them through trade, investment and tax policies. Successive British governments have been fierce advocates of giving corporations what they crave: liberalised trade and investment regimes allowing them access to African markets.
They have also consistently opposed African countries putting up regulatory or protective barriers, while being major advocates of policies promoting low corporate taxes. Add to this the promotion of voluntary rather than legally binding mechanisms to address corporate human rights abuses committed abroad, and it is patently obvious whose side the government of the day is on.
And let's not forget the well-oiled 'revolving door' between Whitehall and the mining companies. Many senior civil servants leave their posts for directorships on the board of these companies. Rio Tinto is no exception. Vivienne Cox has been one of the Department for International Development's two non-executive directors since 2010 yet was until recently a board member of Rio Tinto, while Lord Kerr, a civil servant for 36 years and former permanent under-secretary at the Foreign Office, was a non-executive director of Rio Tinto from 2003-15.
Today, the African continent is facing a colonial invasion in many ways as devastating in scale and impact as the one it suffered in the nineteenth century. African countries are being treated as mere enclaves, subservient to a global economy that favours business and the super-rich ahead of ordinary people and our fragile planet. Africa's wealth in natural resources is being seized by foreign, private interests, and there is no sign of this stopping anytime soon. This is the 'new colonialism,' and it's time British companies and the British government were held to account.
Ross Hemingway is a spokesperson for War on Want. 'The new colonialism: Britain's scramble for Africa's mineral resources' can be read here.