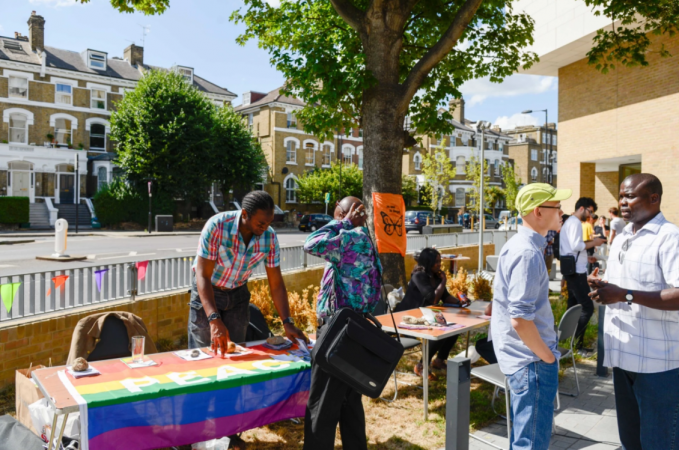 The Akwaaba migrant social centre. Credit:Akwaaba
"What can I do to help?" Over the past two years, migrants' rights issues have hit the headlines and this question has been asked by many good-hearted people wanting to get involved and change things. But at the Migrant Connections Festival, we would like make this question redundant. We believe that "How do I get to know people?" is a much better place to start. If your close friends are going through the migration system, by default you will know a thousand ways to help.
On March 4 & 5 at Praxis Community Projects and the Bethnal Green Working Men's Club, we will bring people going through the migration system together with those who would like to show solidarity with them. Doing so in a constructive way is tricky; relationships need to be based on an understanding that we don't all have the same life advantages, such as a British passport. We'll be working with Brighter Futures, a self-advocating migrant youth group, to ensure that the first session raises these discussions.
We aim to build on the heartening mass mobilisation of recent weeks, where people took to the streets in solidarity with migrants and Muslims. We would like to help people take this further by engaging on a more personal and concrete level. Attendees will hopefully leave our festival with practical action points on people to meet, places to go and actions to take.
North East London Migration Action, who are running a session at the festival, have an excellent model. They run an accompanying scheme where trained volunteers accompany destitute migrants, often families, to local council to help them demand accommodation. They complement this with protests outside the council to encourage more systemic change. Crucial to their work is their association the migrant social centre Akwaaba, which a relaxing and welcoming space where people can get to know each other.
Now more than ever we need to change the migration system completely. It will only happen through mass movements demanding it. At the heart of a strong mass movement is solidarity based on empathy, understanding and commitment. Creating spaces where these qualities can grow is at the heart of the Migrant Connections Festival. Tickets are free, lunch is provided and if you are going through the migration system but can't afford to come, we can cover travel costs. We will be delighted to see you there.
For more information click here. Get your free Saturday day, evening and Sunday tickets.