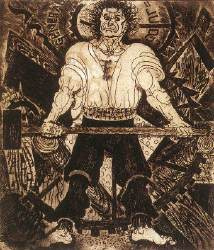 Legendary Yorkshire radical folk band Chumbawamba have a hilarious song satirising conspiracy theories, called 'Everything you know is wrong'.  But if we're talking about the Luddites, textile workers from Yorkshire, Lancashire and Nottinghamshire, who in 1811-13 smashed machines which were destroying their jobs, it's probably true.
Nowadays most people think that the Luddites were ignorant vandals opposed to progress in, but this is a myth, invented in the 1950s.  It's a history written by the victors: in fact, the Luddites opposed only 'machines hurtful to Commonality' ie. to the common good.  When they went into mills with their massive 'Enoch hammers', they smashed only those machines that were destroying their trade, whilst leaving other machines untouched.  Unlike this summer's rioters, they even punished those in their ranks who stole small items during the raids.
Although their uprising was repressed by massive state violence, (50 people were hanged and more transported to Australia), the Luddites' spirit lives on, for example in the highly successful anti-GM food and anti-nuclear campaigns. 200 years later as the industrial capitalist system they were fighting has led to global warming, exhaustion of natural resources and biodiversity collapse, as well as huge exploitation and injustice, their sceptical approach to its mythology of 'progress through technology' looks more and more relevant.  Can we discard that mythology but still go forward, not ignoring the benefits of some technologies, but creating a world in which technology development is democratically controlled?
There are more parallels.  In 1812, Britain was in deep recession, caused by trade blockades that were part of the Napoleonic Wars.  Bad harvests had sent the price of bread through the roof, and unemployment often meant starvation.  Then, trade unions were illegal, but the workers had repeatedly petitioned Parliament to enforce existing laws banning machines that destroyed jobs, with no success.  In 2011, as part of the strategy to cut public-sector jobs, librarians like Paul Walker from Bristol are being told that they are no longer needed, due to the introduction of self-service machines.  Insanely, even coastguards are being replaced by communications technology.  The Economist recently came as close as it ever could to admitting the so-called 'Luddite Fallacy' that economists like to talk about is not a fallacy after all.
Luddites200 is a group of technology politics campaigners, trade unionists, scientists, engineers, artists and others, who have come together to challenge the lies about the Luddites.  We want to open a real debate about which technologies are appropriate in a transition to a sustainable and just society.  Two days before the Leeds Summat we're holding a benefit gig at TJs at which Boff and Phil of Chumbawamba, as well as Seize The Day front man Theo Simon and Yorkshire folk singer, Gary Kaye will be supporting our call to celebrate the Luddites' 200th anniversary.  We'll also have a bunch of younger Leeds acts like Dan Audio, Raphael Attar, Docterre and Halifax punks Three Sheets t' Wind.  We hope you can join us, or come to our workshop at The Leeds Summat to learn about the real story of the Luddites and their relevance today.