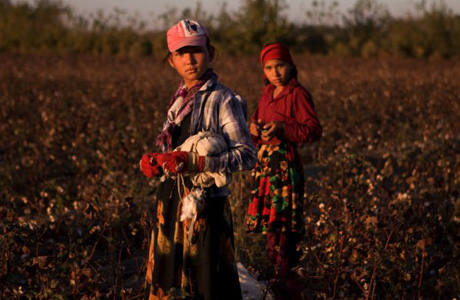 Children picking cotton in Uzbekistan – part of the global supply chain
Since news of the 'horsemeat scandal' first broke a few weeks ago, there is no doubt that vegetarians have been smirking. The one feature which all dimensions of this scandal shared was that they involved the production, processing and consumption of meat products, whether beef, pig, chicken – or horse.
The scandal was worrying for two immediately obvious reasons: the British public culturally has never regarded horse meat as an acceptable part of its everyday diet, and would not knowingly eat it; and some horses have been treated with 'bute', an anti-inflammatory agent, which is harmful to human beings.
However, the issues raised by this go way beyond the question of knowingly or otherwise falsifying meat products, representing horse as beef. Three major questions need answering: why is it happening, how can we be sure that what it says on the can is actually in the can, and what are the conditions under which it is actually produced?
More than food
The first one was indeed answered by the international expert Lord Christopher Haskins, former chair of the conglomerate Northern Foods and author of several parliamentary inquiries on food production. He told the BBC last week that 'leave aside all the other issues, this is essentially about driving costs down' – that is, the search for ever greater profitability, whether it be in production, processing or retailing. This is why processors are currently objecting to proper, flexible labelling systems – because it impacts on their profitability. But this issue goes much wider than meat, or even food in general.
Much has been spoken in recent weeks about the notion of a 'supply chain', and one helpful spin-off from this scandal may be that people begin to understand the complex process by which finished goods end up on the shelves of our retailers and supermarkets.
The case of Gap provides a good illustration. A few years ago they were accused of using child labour in the harvesting of cotton, the raw material for many of their products, in countries such as Uzbekistan. The company came under enormous consumer pressure and, in response, examined the processes by which raw cotton came to end up as the finished article in their stores. These involved growing, harvesting, spinning, weaving, cutting cloth, dyeing, sewing, finishing, ornamenting, transportation, warehousing and retailing. These elements together constituted the supply chain. Gap found that many of them involved poor or even slavery-like conditions and brought many of them in-house, saying this meant they could supervise them.
In the same sector, however, we might continue to ask how it is that some high street shops sell clothing at what seem to be unbelievably low prices. What are the conditions under which their clothes are produced? The recent fire at a Bangladeshi clothing factory in which 30 workers died provides some of the answers. What responsibility do retailers who buy these clothes – such as, in that case, C&A – have for allowing those conditions to exist?
A 'foreign' problem?
The meat pie in your butcher goes through a similar supply chain process, although it may be longer or shorter depending on the type of product and where meat is sourced. When the scandal first broke, complacent commentators in the UK argued, sometimes with rather racist formulations, that the problem lay with countries on the margins of Europe with poor or non-existent food regulatory regimes.
The investigations at meat production facilities here in Britain have blown that particular theory out of the water. What we are currently facing are complex supply chains in part of a globalised system covering every country in West, East and Central Europe. The scandal implicates, in one way or another, some major local manufacturers of packaged food, such as Findus, and retailers – Aldi, Tesco, Burger King and the Cooperative – but connects to many other countries, and there is no reason to believe that companies not yet specifically named are not also likely to be implicated. The effects of the scandal are having an impact on food available to schools, hospitals and in baby food, and the product range itself is widening to include pies, pasties, meatballs, bolognaise sauce, burgers and halal food (found to contain pork).
How, then, can we be sure that what it says on the can is actually in the can? Clearly the answer lies in part with effective regulation and policing, particularly, where, as seems to be the case, criminals exploit weaker regulation. Whatever the government may say about existing regulatory systems, they are only effective when adequately resourced. Organisations such as the Food Standards Agency can only do an effective job when given sufficient resources, and clearly now they do not: under the cover of the so-called 'Red Tape Challenge', many regulatory bodies have seen their powers become weakened, and the impact of across-the-board public expenditure cuts has reduced their staffing levels. Local councils will take on public health responsibilities this April but will be quite unable to do an effective job.
This process is demonstrated recently in the experience of the Gangmasters Licensing Authority, which – since the 2004 Morecambe Bay disaster when 23 cockle-pickers were drowned whilst working for a highly exploitative gangmaster – is supposed to regulate working practices in the food production sector. The authority has recently lost one third of its staff and is quite incapable of monitoring more than a very small fraction of companies working in this sector.
Chain of exploitation
Our research team exploring the issue of forced labour in the UK has found many examples of agencies employing workers (most of them here absolutely legally) under what can only be described as slavery conditions – working very long hours for poor or even no pay, having their documents removed and used as a threat of deportation to workers unaware of their rights, subjected to violent physical and sexual abuse, and living in hovels. These agencies supply some of the most well-known high street retailers with fresh food which we buy every day.
Some retailers claim they have no power to control what happens in the supply chain delivering the products to their shops, but this is patently untrue. The power of major high street supermarkets has been so concerning that the government has recently been obliged to appoint a sort of Ombudsman – the grocery adjudicator – to monitor their activities. As Yorkshire dairy farmers know to their cost, supermarkets' power is such that by driving down the price of milk, farms were closing recently at the rate of one per week.
This power does not have to be in the form of a cartel: if one supermarket forces its suppliers to reduce the wholesale price of milk, then others will follow suit in order to protect their market share. The reduced cost of milk of course is rarely reflected in consumer prices but in profitability. And this power can be exercised in more covert ways. In our investigations of forced labour, we came across the case of a food processor supplying salad greens to a well-known high street retailer. The retailer manipulated the supply process so that it became the only customer of the food processor. The retailer then demanded lower prices and when the processor objected, the retailer cancelled the contract: the factory was forced to close with the loss of several hundred jobs.
Questions to answer
So this is not an issue about poor supervision in faraway countries; it is much more likely to be about worker exploitation in those countries and here in the UK. Nor is it just about meat products. The issue of what we consume (as food, drink, clothing and so on) is an issue for all of us – we all have to be vigilant.
We have to ask: How can supermarkets possibly sell cut flowers sourced from East Africa at such low prices? How can clothing shops sell us such cheap clothing? Who pays the costs for such low prices (such as the child labour used to produce iPads)? Are goods properly and clearly labelled, and are we satisfied that those producing them are acting responsibly towards the consumer and their workers, rather than simply pursuing their own profits? Your local Fairtrade shop may provide some answers, but don't take claims to be ethical on trust: look at the labels and ask the questions.
Gary Craig is professor of social justice at the Wilberforce Institute, Hull and at the University of Durham, researching worker exploitation and ethical trading. A version of this article was first published in the Yorkshire Post.