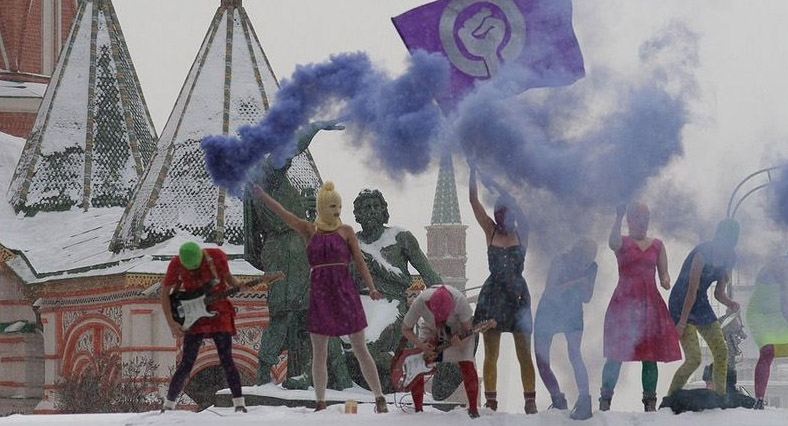 Those well-paid humorists at The Times nominated as 2013's International Person of the Year Vladimir Putin, partly in recognition of his release of the detainees in three famous legal cases – namely: the Arctic Sunrise eco-activists; oligarch Mikhail Khodorkovsky; and Masha Aliokhina and Nadia Tolokonnikova, the two remaining Pussy Riot prisoners.
The green protesters are familiar western types and of only incidental interest to observers of Russia. Khodorkovsky, ex-Young Communist leader and reformed kleptomaniac, is certainly to be admired for his bravery, but the figure of the virtuous plutocrat is perennially implausible, particularly in the context of 1990s Russia. Tolokonnikova and Aliokhina, however, are a different matter.
Even the contrasting ways the three Russians were released is telling – Khodorkovsky flying to Berlin by private helicopter and plane, Tolokonnikova forced to make her own way home from distant Siberia, and Aliokhina deposited at Nizhny Novgorod train station, moneyless and in convict garb.
Pussy Riot are a performance art/punk group that specialise in unannounced, site-specific provocations. They are libertarian socialists and feminists. On 21 February 2012 they staged an intervention at Christ the Saviour Cathedral, Moscow, following which they were arrested and charged with 'hooliganism motivated by religious hatred'. Then the authorities made a great mistake – they decided to film the trial, presumably to record for the electorate the humiliating recantations of the accused. The opposite ensued.
What in fact is captured is the entire arsenal of Russia's clerico-capitalist alliance unsuccessfully directed at three young women. The faces say everything. On one side, the judges: their set expressions, furiously abstracted from the human realm, betray an extraordinary truth – they are frightened. The background radiation of Russian autocracy has contaminated their very flesh.
On the other side, the defendants. They smile, grimace, sigh, they never stop improvising; we see them become fully themselves at their lives' great crisis. Critically, they refuse to accept their role as the accused. Instead, the state is hauled into the dock. As Aliokhina says: 'The trial wears a grotesque mask. It's the face the government wears when speaking to its people.' No wonder the documentary gleaned from the court footage (Pussy Riot: A Punk Prayer) is banned in Russia – it records the group's finest perfomance, a carnivalesque arraignment of Putin conducted by Mistresses of Misrule.
They were each sentenced to two years in a penal colony, not a lenient ruling in a country historically and currently a world leader in penitential brutality. Katia Samutsevich's sentence was suspended on appeal. In jail, Tolokonnikova was punished for trying to organise a prisoners' union. Both she and Aliokhina went on hunger strike in protest at prison conditions. Aliokhina was repeatedly subjected to unrequested gynaecological examination. Tolokonnikova's health deteriorated so severely she was sent to hospital – in Siberia. But, as Alexander Herzen, the socialist thinker banished by the czarist regime in 1835, wrote: 'The scars of power are honourable.'
The Russia Pussy Riot oppose is an autocratic plutocracy, a graveyard of dreams, whose ideological legitimacy is buttressed by a clerisy of medieval vindictiveness – hence the choice of a cathedral as a protest venue. In such closed societies dissidents are often forced to operate through culture – formal politics has been murdered: the parliamentary 'realists' are co-opted and, in a reversal of the conventional wisdom, only intransigents, visionaries and utopians can engineer change. In this case, because of Pussy Riot's steadfastness, thousands of women, beneficiaries of the collective amnesty, will spend 2014 with their children.
Pussy Riot derive from this idealistic tradition, a particularly potent one in Russia, where, as Slavoj Žižek has noted, the ethical work of art has been a central force. They also belong to the absurdist/surrealist strain in Russian culture. Their lyrics are angry and ironic but simultaneously daft, vulgar and joyful; their outfits are gaudy and comical. Tolokonnikova says they are Holy Fools. Above all, they are not stars – Pussy Riot are anonymous, a collective which in theory anyone can join. They're the opposite of a rock group. They exemplify the argument an Estonian friend advanced in the 1990s, that in the west punk was mere entertainment. I demurred, but now am not so sure.
Insofar as it's possible to determine, the Russian public's attitude to Pussy Riot has been generally unsympathetic. The assassinated journalist Anna Politkovskaya would have been unsurprised: 'A serf-like psychology has once again taken hold of the country, and rounds on anyone less servile.' However, it's understandable when a people who have suffered so much in the last century retreat periodically into quietism, and now they have fresh horrors to endure. Beyond St. Petersburg's Nevsky Prospekt and Moscow's glittering centre the Soviet infrastructure is disintegrating and there is universal immiseration. Russians want to survive, so they swim with the tide – but it's a tide of lies, and they're drowning. Their silence will be punctuated by explosions.