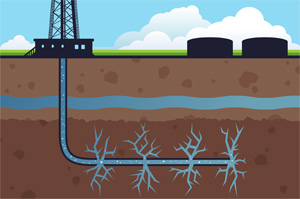 Imagine a man knocks on your door, wanting to dig under your house and lay miles of highly pressured pipe under your property. You'd likely not be rushing to the kettle to make him a tea with four sugars while he gets his spade out. In all likelihood, you'd tell him to get off your land, and with current laws you'd be well within your rights to do so.
However, that man is David Cameron, and he has a surprise in store for you. As you stand firm, happy in the fact your lot is protected by law, he merrily reveals a paper copy of the current trespass legislation; scribbles on some alterations; shows it to business minister Michael Fallon, who peers over his shoulder with a wry smile; and winks to energy secretary Ed Davey in his JCB who then begins to pull the earth from under your property.
The coalition is proposing to overhaul the law to allow fracking companies easier access to drill under private land, leaving landowners with no lawful say and only minimal compensation. Having failed to win the argument on fracking, it now seems ministers wish to ride roughshod over our rights.
Although a final decision is yet to be made on the whether the government will act to further aid the fracking business, the changes look set to be proposed as part of an infrastructure bill during the state opening of parliament on Wednesday 4 June 2014. 'It is not a done deal but a huge amount of work has been done,' one government figure told the press.
Cameron has decided to go 'all out for shale', a move he hopes will mirror the fat profits made from shale gas fracking over the water. It's up to us to put on the brakes. Fracking is not only harmful to the environment and not yet proved to be safe, but it also draws attention away from clean energy solutions, defying experts' opinion that two thirds of known fossil fuels need to remain in the ground to avert a climate catastrophe.
Fracking's advocates make the counter-argument that it will reduce fuel prices in Britain. But this has already been disproved by a PR man working for none other than fracking firm Cuadrilla, who admitted that the impact on fuel prices from shale gas will be 'basically insignificant'.