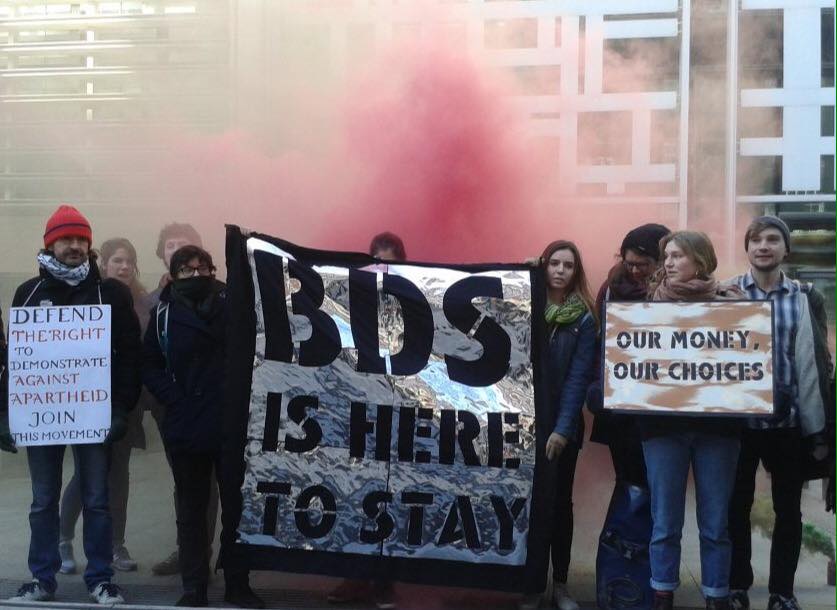 In November 2015 the government announced a proposal to block local councils in England and Wales from deciding how to invest their pension funds. This attempt to restrict councils made a mockery of any claim the government had to supporting local decision making and human rights. This move by the government was also a clear threat to our right to organise divestment campaigns to stop councils from investing in human rights abusing companies.
When the government's new policy was put out to public consultation, the response was extraordinary. There was a massive public outcry to what people saw as a clear attack on local democracy. Some 98 percent of respondents, including over 23,000 members of the public and several hundred trade union branches (including UNISON which represents local authority pension holders) rejected the government's anti-democratic plan. Yet instead of being applauded for caring about human rights, they were ignored and treated with contempt by the government.
The new regulation came into force on 1 November 2016. The government now had the power to veto investment decisions it didn't like in relation to human rights, arms trade, fossil fuels and much else.
This case went to court because no other option was left.  Our friends at the Palestine Solidarity Campaign filed a Judicial Review and War on Want alongside Campaign Against Arms Trade (CAAT) and Quakers submitted witness statements. We made it clear how important divestment campaigns had been in getting companies like G4S to end their complicity in Israel's violations of international law. Last week the judge handed down his verdict: the government had acted unlawfully.
The regulation was an explicit attempt to clamp down on the growing strength of the grassroots Boycott, Divestment and Sanctions (BDS) movement which aims to end government and corporate complicity in Israel's violations of Palestinian rights. The Conservative Party revealed as much when its press release, announcing the plan, labelled it a response to the "spread of militant divestment campaigns against UK defence and Israeli firms."
The government tried to pass this through using technical language and complicated regulations that would have made it hard to fight. Yet this cynical attack on local democracy would have slipped through the net if it were not for a coalition of groups coming together and working tirelessly to shine a light on an arrogant, anti-democratic government playing the public for fools.
In a time of increasing public engagement in politics, this shows how important it is to scrutinise political decisions and pressure the government to be accountable.
Opponents of BDS have tried hard in the past few years to depict BDS as unlawful, and they've done this using trumped up legal cases and media spectacles to achieve a chilling effect. This is the second court win for BDS in the High Court in a year. It proves again that BDS tactics are totally legitimate. They are legal ways to hold government and companies to account, and they are being fought so hard because they are so effective.
Indeed, in the 1980s, local councils across the UK took part in the anti-apartheid movement, divesting from companies which continued to do business with South Africa's apartheid regime. At the time, Margaret Thatcher tried to stop them too, using the same arguments and tactics used against the BDS movement today. But the local councils stood firm and played a major part in helping to topple the apartheid regime. When it comes to taking on abusive regimes, it is clear that local council divestment works.
This victory will give new energy to our movement to stand up for human rights and justice.