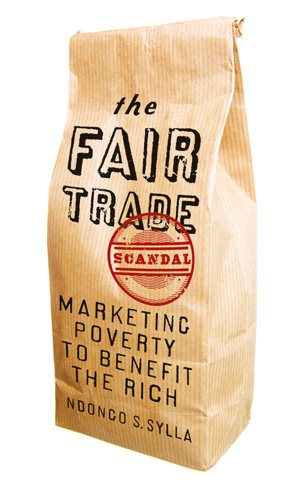 UK consumers spent £1.5 billion on Fairtrade-branded products in 2012, and globally the figure is several times greater. Yet the approach it represents has been subject to so little critical analysis, aside from ideological attacks from the likes of the Adam Smith Institute. The Fair Trade Scandal is a welcome contribution in an important but almost non-existent debate – and all the more so coming from a Senegalese economist rather than a northern NGO or commentator.
Ndongo Samba Sylla's chief argument is that the benefits of the Fairtrade certification system have mainly flowed to better-off farmers in richer developing countries, particularly in Latin America, who are able to jump through the hoops required to be part of the Fairtrade system, rather than the poorest producers in the world's least developed countries that are most reliant on the export of agricultural raw materials. Meanwhile, the incomes of the organisations in the global north that licence the companies that sell Fairtrade products, such as the UK's Fairtrade Foundation, have grown with the system.
Sylla further points out the money spent on marketing Fairtrade products in Europe and North America is comparable with the amount that flows to farmers. This is insightful analysis, but it is only reached in the closing chapter, and is somewhat more nuanced than the subtitle of the book, 'marketing poverty to benefit the rich', suggests.
While the way in which Fairtrade is situated within and exposed as having an affinity with (justified by and yet working with) the neoliberal global trade system is good, the arguments made by those behind the Fairtrade system – that the end of greater sales justifies the means of working with global agribusiness – are not explored or critiqued.
But perhaps the biggest limitation of Sylla's work is its failure to engage or take the reader on a narrative journey. Its objective standpoint and inclusion of economic theory that is neither accessible to the newcomer nor educational for those familiar with this area mean that only the committed are likely to make it to the end. For an issue in need of more debate, and analysis that contributes to it, it could have done more.