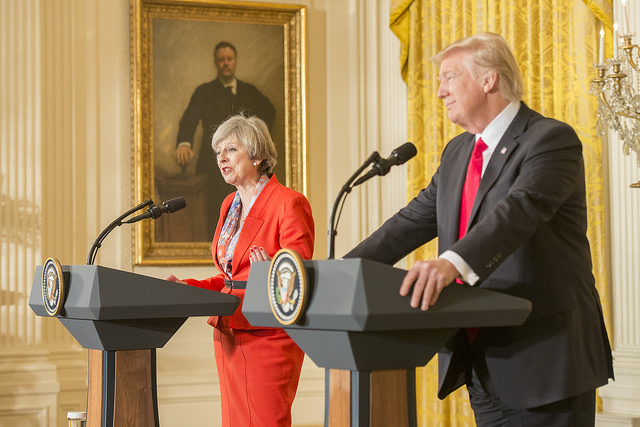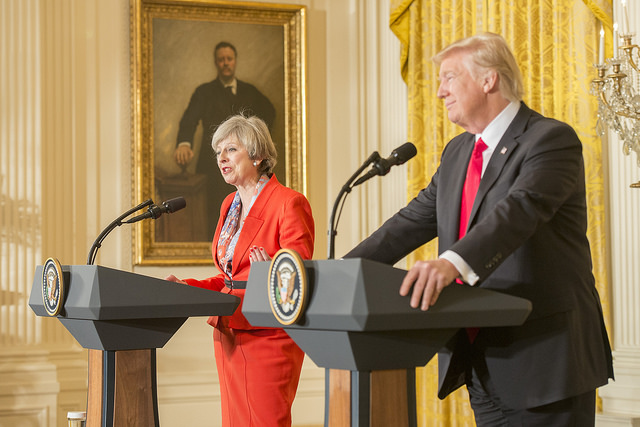 The first half of Theresa May's week was one of the hardest of her premiership, but it hasn't got much better. Even ahead of his NATO visit it was obvious what Donald Trump wanted. Before leaving the US he turned to Twitter to demand "NATO countries must pay MORE, the United States must pay LESS. Very Unfair!"
Needless to say, military spending has been high on the agenda. Trump has proposed an eye-watering £686 billion military budget for the US, and is demanding that non-US NATO members increase their spending too.
He's complemented this with proposed reforms to make it easier for US companies to sell arms around the world. It's an industry that Washington already dominates, with the US already accounting for one third of all arms sales in the world.
With the summit turning into the diplomatic car-crash that many have been expecting, May doesn't have anywhere to hide. As soon as it's over she will be returning to the UK with 'The Donald' in tow for the start of his controversial UK visit.
The visit promises to be met with mass protests and opposition, but it will also serve as a showpiece for Trump on the world stage. Reports suggest he will meet with May in Chequers and be greeted by The Queen at Windsor Castle before heading to his mother's home country of Scotland.
His message of untamed militarism and increased spending has found champions in the UK. The most outspoken is the Secretary of State for Defence, Gavin Williamson, who has called for a £20 billion increase to the military budget. He's been backed by much of the military establishment, with reports that he's even tried to co-opt the Royal Family into his efforts.
All of this lobbying ignores the fact that the UK already has one of the biggest military budgets in the world: hugely outspending most European countries and NATO members. Successive governments have been happy to put these weapons to use, with disastrous results. It's a point that people in Afghanistan, Iraq, Libya and beyond know all too well. They have paid a terrible price for it.
That hasn't stopped US defence secretary James Mattis from warning that the UK's influence is "at risk of erosion." It's the same thinking that has led to terrible wars around the world, and the promotion of the idea that the only way to have an influence is via the barrel of a gun.
Despite being elected on a promise of curbing US participation in foreign wars and interventions, Trump has escalated them. Within months of taking office he had dropped 'the mother of all bombs' on Afghanistan and increased the US military presence.
Likewise, US airstrikes in Yemen have increased sixfold under Trump, and the impact has been deadly. 30 civilians were killed in a particularly bloody raid last year. It is a similar story in Iraq and Syria, where US airstrikes have killed hundreds of civilians since Trump came to office.
At present, Trump is ratcheting up political tensions with Iran. His stance reminds many observers of the dangerous rhetoric and manoeuvres that preceded the catastrophic invasion of Iraq. His recent appointment of former Bush adviser John Bolton has done nothing to alleviate concerns that he will follow the same catastrophic path as his predecessors.
Like many of her successors, Theresa May has worked hand in hand with the US president (literally in her case). At no point has she publicly questioned or challenged his foreign policy or the terrible impact it has had. On the contrary, she has said that the "key focus" of her meetings with him will be the military relationship between the two countries.
With Brexit around the corner, the UK is at a crossroads: there is a choice to be made about what kind of country it wants to be on the world stage. Will it be one that stands for human rights and democracy around the world, or will it be one that continues to offer uncritical political and military support to an unpredictable and dangerous President that has shown total contempt for both?
Andrew Smith is a spokesperson for Campaign Against Arms Trade (CAAT). You can follow CAAT at @CAATuk.