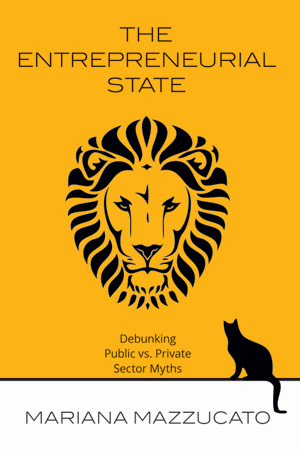 In the hands of pro-austerity dogmatists, the economic crisis has provided cover for an assault on the gains made by working class people in the 20th century. A dramatic refashioning of the state is underway.
Progressive movements have resisted by emphasising the central role of state investment in ending the crisis. The latest to enter the fray is Mariana Mazzucato, whose new book The Entrepreneurial State reframes the state as innovative and dynamic at a time when it is derided as clunking and bureaucratic.
Mazzucato wants to marry the Keynesian recognition of the importance of an activist state with Schumpeter's view that innovation is the driving force for economic success. The Entrepreneurial State argues that a proactive state directing funding and research into new technologies is an essential engine for growth. State investment banks, such as those in China and Brazil, are made central to explaining those countries' better response to the global crisis.
The strongest chapters reveal the role of state funding in capitalist success stories, in particular the massive debt that Apple owes to US research and development. All the key technologies that make up the iPhone – Siri, GPS, the internet, touchscreen technology – were funded by US government agencies until the rewards for private profit were certain. This is a parasitic relationship, replicated throughout the capitalist world. It's refreshing to see a spotlight on this process. The role of venture capitalists is scrutinised and the claim that they are critical for innovation and growth soon rings hollow.
Any progressive case for state intervention into the economy is welcome, but The Entrepreneurial State will disappoint readers who want more radical conclusions. Several chapters examine the scandalously low rate of tax paid by many of the private corporations that benefit so much from public funding largesse. But the major problem this raises is left unarticulated – Mazzucato does not question the existence of private ownership.
By limiting her critique in this way she curtails her argument. The state isn't just capable of leading innovation – it could also own the industries that benefit, for the good of all.