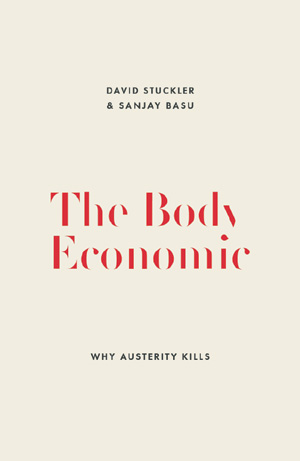 Economic crises are bad for your health, right? Wrong. They may be very bad, or they may even improve your health. It all depends on government policies, how your health system was organised before the recession hit and what kind of support is offered when you become unemployed.
That in a nutshell is what David Stuckler and Sanjay Basu argue in their fascinating and highly readable book looking at the human costs of financial crisis across Europe and North America. As public health specialists they are deeply concerned with what happens to the body – and the mind – under the impact of austerity policies. They are arguing that the body is economic, since the politics of austerity cause unnecessary death and suffering; 'Economic forces determine who is more likely to binge on alcohol, catch tuberculosis in a homeless shelter, or spiral into depression.'
The authors have ploughed through mountains of data to ask why some economic crises across the world since the 1930s have made people sicker and others have actually improved people's heath. In Iceland after the 2008 crash, for example, the health of the population improved due to better diet (McDonald's pulled out), less smoking and drinking, and sustained universal healthcare. But in Greece, a country that used to have one of the lowest suicide rates in Europe, has experienced a 60 per cent increase since 2008. There has also been a very sharp rise in HIV infections due to cuts in HIV-prevention budgets and an increase in intravenous drug use – a key symptom of increased homelessness and youth unemployment.
The authors point to many more cases and draw two key conclusions. The first is that how you organise your health service matters. If it depends on ability to pay, then a health crisis rapidly develops as people lose their jobs in a recession. If it does not, and the government maintains its support, then health is largely protected. The second is that if governments sustain universal access to healthcare and active support for those losing their jobs, economic crises need not be bad for their bodies economic. But if they go for austerity, cutting back on social protection, abandoning the sick and the unemployed, then the health of the population deteriorates fast.
Recessions might hurt, but austerity kills. It is down to a political choice whether or not economic crises result in poorer public health.