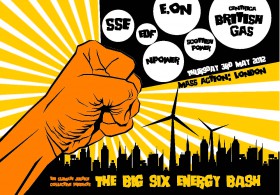 The UK Energy Summit, due to take place in the fortress-like Grange Hotel in the City of London on 3 May, will bring together 'top policy makers, industry executives and influential thinkers' under the premise of 'securing a sustainable energy future.' Sessions include debates on energy security and 'engaging with and influencing the energy consumer.' Talk of sustainability is entrenched firmly in the lexicon of the market, and the default model of big business is underlined by featured attendees – from the Big Six energy companies including EON, EDF, and Scottish Power, and fossil fuel giants Shell and BP. It is clear that the summit, with its prohibitive attendance costs, is an arena in which to play the exclusive game of Big Energy – behind closed doors
As this elite group discusses how to 'keep the lights on and the transport moving,' concepts like energy security evoke just the opposite, underlining the degree of their control over the UK energy system and acting as an implicit threat to those who might refuse to play by the rules they dictate
The vicissitudes of a complex global energy market (with all the politics it contains) combined with opportunism of energy corporations, which by nature are focused above all on maximising profit, have led to dramatic rises in domestic fuel prices, to the extent that between 7.8 and 8.9 million people in the UK are expected to live in fuel poverty by 2016. And the subtext of energy efficiency drives seems to be to force consumers to pay increasingly more for less – perhaps the kind of 'influence' summit attendees have in mind.
The massive and continuing growth in Big Six profits makes a mockery of government talk of austerity, and adds the energy industry to the parade of big corporations for whom 'recession' is simply an opportunity to increase wealth; the 99 per cent / 1 per cent split, underlined daily.
The Big Six and other energy giants continue to use climate-wrecking fossil fuels as the mainstay of energy production for one reason – profit. Fossil fuels are simply the cheapest source of centralised energy: for all the rhetoric about renewables, the numbers just don't stack up. Big Energy is turning to ever-more environmentally destructive methods of fossil fuel extraction including tar sands, fracking and deep sea oil drilling, as well as other unsustainable energy sources like agrofuels and nuclear power. In short, Big Energy is diametrically opposed to sustainability, from source through to production and transmission
One solution is absolutely off the table at the summit: a democratic energy system. A wide-ranging network of locally run, community controlled renewable energy projects like those springing up in Bristol, Brixton and elsewhere would mean real choice for you and me
The Big Six Energy Bash will descend on the UK Energy Summit, combining party and protest to take action against Big Energy as well as proposing democratic energy futures. Themed blocs will converge to create a carnivalesque space, satirising the business of dirty energy and taking power back to the people. Through direct action, music, theatre, workshops and speakers, we will create the community sorely lacking in the summit.
If the UK Energy Summit is a symbol of energy dictatorship, The Big Six Energy Bash will symbolise energy democracy; standing up to those who control popular access to a living essential and, in doing so, continue the race towards global climate catastrophe.
On 3 May the Climate Justice Collective (supported by UKUncut, the UK Tar Sands Network and Fuel Poverty Action London amongst others) will be playing a different game – celebrating the potential of energy in our hands, and actively resisting the stranglehold of the 'free' market approach.
Come and play!
facebook.com/climatejusticecollective
follow us on Twitter @cj_collective hashtag #big6bash