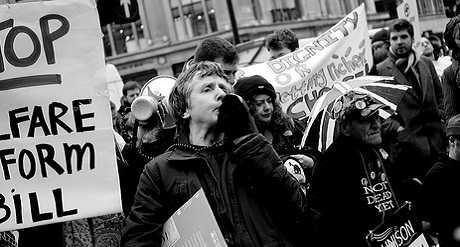 Photo: Disabled People Against Cuts
The public were told that disabled people will be protected from the 1 per cent annual increase freeze on benefits. This is not the case at all. In the coalition's own Equality Impact Assessment (July 2012) it states:
'Of the households who lose from this policy, based on internal modeling, we expect roughly half will contain somebody who is classed as disabled under the Equality Act'. As the standard of equality impact assessments from this government go, this is an alarming revelation compared to the usual lacklustre attempt which routinely announces little impact for those policies so obviously set to cause additional devastation to disabled people's lives and independence.
Before the coalition came to power, disabled people already faced some of the greatest levels of poverty in the UK. That had always been the case because of all the barriers to employment that we face. Cameron said he would protect those who are most 'vulnerable' and Miller, ex minister 'for' disabled people, said the coalition would support those with the highest needs. Esther McVey, the current minister against the disabled, has repeated the same hollow mantra.
Yet, we have seen attack after attack. Before Christmas the coalition announced that the Independent Living Fund (ILF) would close completely by 2015. This fund has for many years, supported people with the highest level of needs: who either need round-the-clock availability of assistance, sometimes including elements of nursing care, or help with the majority of physical actions.  It had already been closed to new applicants in 2010. For many the complete closure of the ILF will mean support is withdrawn as they will become dependent on local authorities, which, after billions of pounds worth of coalition cuts are unable to sustain adequate support. Some local authorities, such as Worcester and Wiltshire, say they may institutionalise disabled people as a cheaper option. All say that people will not get the same level of support from their local authority as they did under ILF.
The coalition assertion that disabled people will be protected is also shown to be an outright lie in other ways. The Employment and Support Allowance (ESA) that is claimed to be protected is not; only the support component of this is. The support component exists only for the smallest minority, representing around thirty pounds per week – the rest of ESA is subject to the freeze – thus the majority of disabled people on it will be affected, rather than protected.
The impact assessment does not manage to identify that disabled people are not a homogenous group, but fall into other groups affected too – nor indeed does the government rhetoric, preferring to portray us all as merely passive benefit recipients. Disabled people in work will be affected as tax credits are frozen. In addition, single disabled women will be more affected, as will single women who are also parents or parents of disabled children; there will be additional issues if they are from a black or minority ethnic group (since they already suffer from relatively poor levels of service in comparison to the rest of us).
Then there is the projected 500,000 people knocked off Disability Living Allowance in the changeover to Personal Independence Payment.  Did you know that AFTER the consultation exercise on this, the government quietly changed the qualifying criterion in relation to distance you are able to move (in a manual wheelchair or otherwise) to a mere 20 metres, from 50 metres? And that had already been halved from the criterion under DLA, which was 100 metres!
Already the much maligned Work Capability Assessments carried out by Atos have caused homelessness, suicides, and early deaths. In 2011, within just 6 weeks of the WCA, 10,600 sick and disabled people died. We await in trepidation, the 2012 figures. If the one percent freeze disproportionately affects the poorest (because they have to spend all their money and basics like food are rising steeply) then for disabled people it represents an even harsher blow, another cruel cut in real terms for subsistence existences. Expect the return of disabled people forced to beg on the streets.
The cumulative impact is huge; added to other draconian cuts it's the most devastating attack on disabled people by any government in post war Britain – the same government that gives those earning more than £150,000 a year a 5 per cent tax cut.
And all because these cuts are necessary? No. Regular readers will know that the deficit never was as bad as we've been told and could easily be remedied by tackling tax avoidance, building homes and creating jobs. To support our cause, please spread this information far and wide.
For more information please go to: www.dpac.uk.net or follow on Twitter: @Dis_PPL_Protest