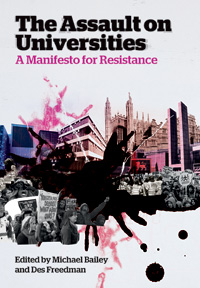 The increasingly neoliberal university system in Britain has played a key role in shaping and undermining the debate about students, academics and universities. The contributors to this book aim to expand our imagination about education beyond the narrow confines touted by the government.
With essays devoted to the crucial role of education in democracy and the wider public good (not limited to education in science and technology but including the arts and humanities), this book debunks the myth that university education should be seen merely as a commodity from which private individuals gain by earning higher wages later in life.
Contributions from Michael Bailey and John Rees stress the role of academics and students respectively as truth‑tellers and progressive political communities in wider society. The latter feature of student life has only been present since higher education was opened up beyond elites after the second world war. With a large number of British universities – naturally not those that educate mostly the children of the wealthy – at risk of closure as a result of government funding cuts, this collection does well to fuse historical and philosophical perspectives with a sense of urgency and a grounding in real, current issues.
The LSE-Libya scandal, referred to by several contributors, is held up as emblematic of a number of symptoms of an unhealthy higher education system. One that is scrambling for funds and frequently feels it cannot afford to be picky about donors; and one in which some academics have begun to abandon any sense of an ethical facet to their vocation. Broadsides against the closure of interdisciplinary courses, academics who exist in 'ivory towers' and the devastating reversal of previous social mobility gains that will inevitably follow the tripling of university fees and the scrapping of the EMA, foreground the social context of the cuts.
This willingness to discuss the relationship between funding cuts and other aspects of life and learning is the joy of the book. Without bluntly or repetitively seeking to hammer home a single slogan, the essays offer a holistic analysis, and collectively they demonstrate eloquently why higher education matters.