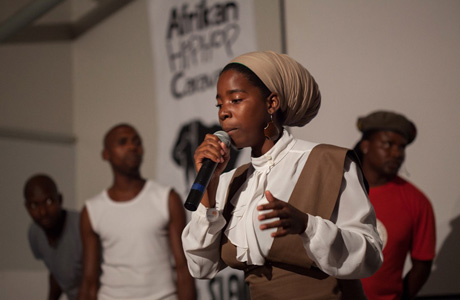 Performing with the caravan. Photo: nmarais
The Afrikan Hip Hop Caravan, a collective of conscious hip hop artists and activists, is currently making its way across Africa. Its mission: to use the genre of hip hop music to address social problems and 'build continental-wide movements' for social change.
It has visited six major cities around the continent, giving two performances in each, one in a working-class community and another in the city centre. The movement will also provide a symposium for debate on the relevance and contribution of hip hop to community struggles. The final caravan will finish at the 2013 World Social Forum in Tunisia this month.
The potential power of rap music for social change has long been forgotten. In the USA, mainstream hip hop, like mainstream cinema, is very much in the hands of the industry. Gone are the freedoms of the 1980s and early 90s when the movement had had its very own 'auteur' era. During this period rap artists held relatively limitless creative control and their music was both organic and unique. Image and sound was dictated by the artists and resulting themes were often politically conscious. Watchers of mainstream television YO! MTV Raps could see left-field, jazzy acts A Tribe Called Quest, Latin and rock influenced Cypress Hill and boom-bap street-music Gang Starr all on one channel.
Despite originally ignoring the genre, towards the end of the 1990s US major labels claimed hip hop for themselves. The majority of mainstream rappers were either bought out, or their albums were shelved for not conforming. Here was an industry, with a growing global market and susceptible youth audience, that corporate America would not miss the opportunity to buy out.
Politics sidelined
As a result, political content was sidelined, sexism was bolstered and violence was encouraged. The movie-gangster persona created by early artists Kool G Rap and Big L, or the street-conscious voices of Nas and Guru were rebranded, as the classic-liberal drug-dealer model, currently glamorised by rapper Rick Ross.
Tupac's 'thug life' mantra was remarketed as an advocation of thuggery, appealing to racial stereotypes of black people as violent and over-sexualised, when in reality 'thug life' was a movement fiercely against this depiction. Labels took advantage of a large white, middle-class fan-base and general male desires for cathartic violence and crime fantasies and also exploited poorer listeners' escapist dreams of wealth and fame.
However, hip hop is much more than the plastic-rapper you see on the TV, or hear on the radio. The culture runs deep – it is one of musical anthologising, camaraderie, competition, debate, escape, innovation, poetry, representation for the unrepresented, showmanship and wordplay. At its core is an environment that in nature encourages unity. It is totally meritocratic: it ignores class boundaries, gender and racial differences and usurps continents – as long as you have the skills you can collaborate. It is a genre so globally appealing that a fan from Eastern Europe will know every single (New York based) Wu-Tang Clan lyric and a movement so powerful that a rapper from Egypt can encourage thousands of people to stand up for democracy with one song.
Hip hop and the market
Sadly the majority of current mainstream hip hop music sounds like a combination of an urban Fifty Shades of Grey and a nouveau riche shopping list – largely a result of undisclosed product placement deals and weak 'sex sells' agenda, mirroring much of Hollywood cinema. Funnily enough, the American right never ceases to criticise rap music but is also quite happy to profit from its billion-dollar revenues. The hip hop market is a carefully constructed industry that uses the rapper as a shield for negativity; criticism falls upon the mainly black/working-class performer, and as result black/working-class society, whilst rich white label owners cream off profits behind the scenes.
Ironically the unfortunate aesthetic of mainstream hip hop, a result of the above corporate intervention, has actually allowed the genre to remain one of the most popular music genres amongst young people. Despite being some 30 years old it still retains its young audience, which is largely because adults find it offensive. Whilst other once-political musical styles punk, folk etc became accepted as an artistic force and accordingly lose their edge, hip hop remains cool.
What the Afrikan Hip Hop Caravan is doing in Africa, the native soil of all black music and a continent symbolic of corporate greed and exploitation, is a revitalisation of hip hop's original political power. We have already seen its influence on many of the North African uprisings, with numerous young people citing local, political rap music as the inspiration in their fight for democracy. In Kangemi, Kenya, for example, more than 2,000 hip hop fans turned out.
Evidently hip hop is a language that young people understand and an effective medium of political communication and engagement. As the caravan tours a number of schools, community centres and public spaces across Africa, the foundations are being laid for a new generation of politicised youth and social activists.
To read more about the caravan and for updates on its progress see afrikanhiphopcaravan.tumblr.com