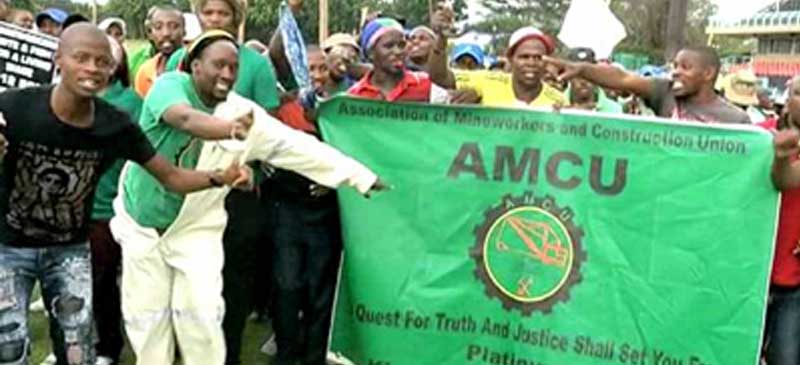 The largest strike action in South African history may be reaching an end, with fresh reports of an agreement between the Association of Mineworkers and Construction Union (AMCU) and the country's three largest platinum miners: Anglo American Platinum, Impala Platinum and Lonmin.
President of AMCU Joseph Mathunjwa, speaking to a Johannesburg radio station, said: 'At least there is light at the end of the tunnel, which is not the light of a goods train.'
Around 70,000 mineworkers have been on strike since January after negotiations over pay broke down. Rumours of a resolution have been circulating for some time, but the process has been delayed by disagreements over the duration of any new deal.
Mathunjwa's public statement suggests a breakthrough, and an informal proposal setting out the principles of the settlement will now be put to AMCU members before any final decision is taken.
'We are in quite a sensitive stage of trying to resolve this and reach an agreement. We won't do things haphazardly,' Mathunjwa added.
Fight for a living wage
This current strike represents the culmination of two years of action in pursuit of a living wage for all those whose labour contributes to the industry's success. AMCU has been seeking guarantees of a basic salary of R12,500, equivalent to £715 per month, more than double the established rate.
The strike has made a significant impact on global markets and the wider South African economy, which saw a 0.6% contraction in the first quarter of the year.
The country is home to at least 80 per cent of global platinum deposits and it is the second largest source of export revenue. The rare metal is most commonly used in catalytic converters for vehicles or for jewellery production.
Mining companies have lost an estimated £1.25bn since January, but the costs to those on strike have created urgent need for support. Workers have foregone around £563m in wages and benefits, meaning poverty and hunger have intensified in affected communities.
Although a deal would likely mean an immediate return to work, once agreed, mines will be subject to safety checks and restoration procedures, causing further delays in pay for many employees. In the mean time, mineworkers' hardship will continue.
Filmmakers from the Human Rights Media Trust are seeking financial assistance for food parcels and distribution throughout the country. Donations can be made here.
The campaign is led by the producers of Miners Shot Down, a new documentary focusing on the wildcat strike at Marikana mine in 2012 and its aftermath.
The South African platinum industry caught global attention when 34 striking AMCU members—employed by the UK-listed Lonmin—were shot dead by police on 16 August 2012 in Marikana. The film debunks several myths about the event, highlights evidence of collusion between the South African police, Lonmin and key figures in government, and gives a voice to the families who lost loved ones.
A series of UK screenings is planned for the coming months, and Red Pepper will be publishing details soon.