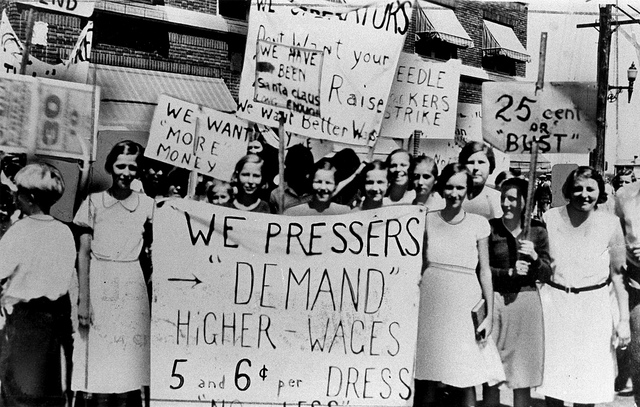 Photo: Kheel Centre/Flikr. Workers of the International Ladies Garment Workers Union on strike.
In the run up to and during next week's strikes and the TUC demo (October 18), Plan C are asking people to #strikeup conversation with other people about what it means to be on strike. These could be one line questions or a whole dialogue.
'Ask on the school runs or the picket lines, ask over Facebook or in person, and publish on social media using the hashtag #strikeup. Alternatively, email your answers (and photos!) to info@weareplanc.org'
Plan C have also suggested a number of relevant questions, including but not limited to:
– Why are you on strike?
– Why is it/ isn't it possible for you to strike?
– What have you had to do differently with your day because you are on strike?
– What do you hate about work?
– What do you think work will be like in the future?
– What would you like the future of work to be like?
– How close to your full desires is 'we demand a pay-rise'?
– What do you think will change as a result of the strike?
So #strikeup and speak up.