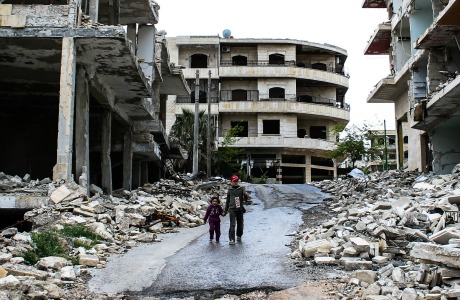 Think of Syria and what images come to mind? Wrecked buildings, refugees, a stoical Bashar al Assad? Ask most activists in the UK what they think is going on in Syria and the majority response is 'I don't know' or 'It's been taken over by al-Qaeda now, Saudi Arabia and the USA' or 'Assad is better than imperialism'. Two of the most popular are: 'There's nothing we can do' and 'Revolution? What revolution?'
There is still an ongoing revolution and broadly speaking, the left/anti-war movement in the West is undermining those struggling to keep it alive by focusing on political posturing and lobbying rather than practical solidarity. An ongoing map of grassroots social resistance as compiled by Amnesty International shows the breadth and creativity of some of these movements mostly unheard of in the West. Together, it's worth noting that participation in these groups outnumbers those participating in armed resistance groups, which challenges the idea that all resistance to dictatorship and imperialism in Syria is militarised.
The popular narratives about Syria hand responsibility to 'the big boys' to sort out the 'mess' – the USA, UK, Saudi Arabia, the EU, Israel, Iran. These big powers control the message and representation of the Syrian struggle; they demonise, confuse, order and alienate any kind of solidarity with the Syrian people. When states tell those watching the conflict in Syria that 'there's nothing you can do' what this really means is 'keep back, leave it to us'. 'Everybody wants to eat from Syria' is a common phrase inside Syria. But not enough people are feeding the grassroots struggles for self-determination.
If we on the UK left believe in people's capacity to self-organise then we need to find examples of this capacity and support them. That's why I travelled to Syria in May with a German activist friend I've known for ten years as part of a nascent international solidarity initiative called 'Witness Syria'. So far, since January 2013, a Turkish comrade, two Danish activists and ourselves have been over to identify what is possible solidarity-wise. We are part of a wider group of around 20 activists from Poland, Palestine, Syria, Lebanon, Sweden, Germany, Denmark, America and the UK who have experience of longterm solidarity activism in the Middle East over the past twenty years and want to support Syrian liberation struggles.
The living
Since the beginning of the Syrian uprising, which began in March 2011, over 100,000 people have been killed. According to the Syrian Observatory for Human Rights, it breaks down as 37,000 civilians including 8000 women and children; 43,000 Assad regime military personnel including special forces;13,539 rebel fighters; and 2,015 defectors from government forces. The figures could be much higher given that combatant sides prefer to downplay losses.
The media obsession with 'what bleeds leads' doesn't really tell us what leads people to resist. Without context, texture or self-representation by Syrians, the uprising has been spun into a civil war, with barbarians in the lead, needing civilisation and discipline by an experienced West or a Strong Man dictator. Sectarianism is getting stronger, and factional and communal fighting is a reality but this is being encouraged and orchestrated by vested interests. There is a story behind the story, daily revolutions behind The Revolution which are being told by Syrians themselves, usefully and necessarily to one another around the country and in the diaspora. Facebook is the big info point internationally, and on the ground there's a boom in underground newspapers and newsletters, explaining the latest protests not just against the regime but now against austere, authoritarian militias, Free Army corruption, local new government unaccountability, militarisation…
Much has been written about Syria, mostly in Arabic, by Syrians. Myself and Katrina* are sitting in a breezy flat in Reyhanli, Turkey, with some of our new friends there. They're six young men from all walks of life crammed together in a small flat, removed from their families and partners. They work 24/7 to support refugees and communities inside and on the borders of Syria. They seem to sleep at their computers. Take-away boxes pile up in the kitchen.
One is a film-maker, one is an NGO co-ordinator, one is a writer with thousands of Facebook followers, another was a labourer for years around central Europe, and one plays the Oud intently in the corner, I didn't learn what he does. All are in contact with other Syrians working to sustain the revolution. They're weary of the postures and positions of much of the European Left. Debate and discussion between them is vivid, passionate and persistent. One tells us, 'Last night we were actually on the verge of calling it a civil war'. Another explains: 'My struggle is now evolving on two fronts, both against the regime and against the armed groups that are trying to control the society.' They long gave up watching Al-Jazeera and mainstream media, and they long gave up on most of the anti-war European and US Left. Their allies are other Syrians and Arabic activists, in Lebanon, Jordan, Egypt, and the Gulf.
A German friend, who pioneered our visit to Ma'arrat al Numan, shakes her head as she re-tells the stories of speaking at Syria events back home. 'I had people come up to me afterwards and shout in my face, that I am naïve, Assad is better, I am supporting imperialism'. A Syrian woman activist living in another Turkish town was assaulted at a lefty anti-war gig by a group of Turkish women because she was wearing a knitted Free Syria wristband. Our German friend continues. 'I met this Swedish woman at one talk and she was like "What, you mean there are cool Syrians out there?''' Mohammed* is riled but calmly dismissive. 'Why should I care if some activists in Europe think I am cool or not? All I care about is developing my society and rebuilding my country with justice'. Fickle grandstanding and misapprehensions as well as recent 'Peace delegations' are brushed away as ignorant and irrelevant. There is no justice, just us…
*Some names have been changed
This is the first part of a six day serialization of Ewa's trip to Syria, It accompanies Jon Sack's graphic reportage from the Syrian border: The Physio.
Ewa Jasiewicz is a journalist and campaigner. She is part of a small international solidarity initiative working to support grassroots groups in Syria. Please support these organisations:
https://www.facebook.com/JmaetBsmtAml
Karama Bus children's relief project in Kafranbel