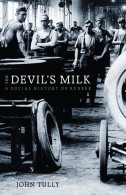 Socialist historian and novelist John Tully's well-researched history of rubber shines a spotlight on a material most of us take for granted. The result is an accessible, well-written and absorbing account of rubber's blood-soaked history, from the plunder of the Amazon and the Congo basin to slave labour in Nazi work camps. At first glance, a 360-page book on a single commodity might put off a potential reader. However it soon becomes clear why rubber is such a worthy subject. An essential commodity in the development of industrial capitalism, the drive to acquire rubber was central to European imperialism – with its catastrophic effects for indigenous populations.
Later, rubber manufacture in 'rubber's home town', the US city of Akron, became a site of workers' struggles. Rubber giants such as Goodyear and Firestone were some of the world's first transnational corporations.
The book is brought to life by Tully's humanist approach. By drawing on primary sources such as the poems and songs of the 'coolies' who tapped rubber on plantations in Indochina he makes vivid the violent reality of such colonial regimes. He achieves the same personalisation of the perpetrators: from the quiet scientist who oversaw the death camps at Monowitz, to the British upper-class plantation assistants whose days mixed brutality, boredom and alcoholism in the heat of the jungle. The chapters on workers' attempts to unionise in Akron have a more typical academic tone and it's only here that, although still interesting, parts become slightly bogged down in acronyms.
Needless to say, this book is not an uplifting read. The tales of the inspirational campaigners who had the forward thinking to challenge racism and colonialism – such as Roger Casement, who documented British atrocities inflicted on Indian rubber workers in the Congo – provide the only brief interludes of hope
in a story characterised by shocking cruelty.
The whole book serves to corroborate Tully's assertion in the epilogue that: 'There is no room for morality or social responsibility in the corporate boardrooms.' This statement on the inhumanity of such capitalist accumulation, and the prioritisation of resources over human life, is a powerful point still relevant today.