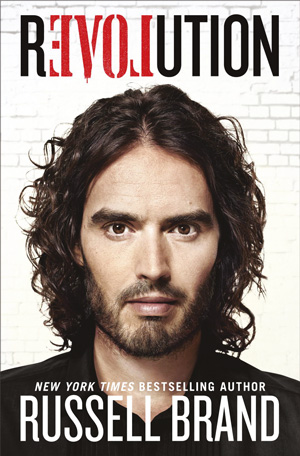 What happens if we take Russell Brand's book seriously? Bear with me, I know it's a novel idea. I know a curiously large proportion of Britain's esteemed journalists have selflessly dedicated their time and columns to a book they deem worthless, to save us the trouble.
Except… I just can't shake some nagging doubts. Suzanne Moore said Revolution is 'ghostwritten sub-Chomskyian woo'. But no ghostwriter could use commas, like Brand does. His voice comes through in every sentence, especially with the audiobook on. Could it be that our cultural wardens are up to something?
Revolution, it's true, is haphazardly structured and too long. Brand's conversational style makes it easy to zoom in on loose phrases. But if you actually read it, an outline of his political philosophy emerges.
Its foundation – and this might put you off – is spiritualism, the idea that everyone is linked on a frequency of consciousness accessed through meditation. This establishes the universal – not the Blur song (let's not revive another of theirs) but the unity of all life, rendering inequality and hierarchical power illegitimate. I confess I don't really understand the spiritual stuff because I'm a very soulless person. It's tempting for me to uncouple Brand's political conclusions from his spirituality, but that would do him a disservice.
I was complaining to my friend Jamie, a clever political thinker, that the first 70 pages of Revolution are mostly about yoga, when he unexpectedly declared Brand right to connect spirituality and radical politics. The Eastern traditions are onto something by saying the 'self' is an illusion – knowing this encourages compassion, he said, cruelly crushing my 'self' with his rebuke.
Anyway, Brand thinks spiritual and political revolution is imperative, not just to right injustice but to arrest climate change. Updating Rosa Luxemburg's 'socialism or barbarism' slogan, he says people have to decide whether to ditch capitalism and save the planet, or ditch the planet and save capitalism.
'But what's your solution?' Brand's interrogators ask, pretending the question isn't rhetorical. Well, he's an anarcho-syndicalist who finds the 1936 Spanish revolution 'so fucking inspiring'. He wants a federation of autonomous collectives to supplant the nation state.
He favours direct democracy – 'let's call it real democracy' – over the system Paxman famously scolded him for not blessing with his vote. He cites the participatory budgeting of Porto Alegre in Brazil to show it can work. Electronic communication makes large-scale direct democracy possible, he says – look at the voter turnout for The X Factor (which sounds silly but echoes Robert Paul Wolff's 'Proposal for Instant Direct Democracy').
The workplace needs real democracy too, with workers' control in industry, co-ops instead of corporations, and local, organic food production in place of agribusiness.
These views are characteristic of the turn-of-the-millennium anti-globalisation movement, whose protests Brand attended. (I think I saw him at one. I definitely remember someone being naked, and the chances are it was him.) His politics is infused with that of Reclaim The Streets, a rebellious, fun, anarchistic, horizontal, slightly hippy spirit.
There's an omission from the book, though: feminism. If the revolution will overthrow all power structures, emancipation from patriarchy demands discussion. Brand has publicly recanted his sexism, but missed an opportunity by not taking a chapter to confront his past behaviour head-on.
Revolution is weakest on how to win (although, in fairness, so is the rest of the left). Like Gandhi, Brand rejects political violence; like Gandhi, he wants to confront the powers that be by getting all transcendental on them. If everyone has to attain Gandhi-like spiritual awareness, that's a high bar.
Brand's real-life political action is more instructive. For the grassroots organising he promotes, take the New Era estate campaign. Last year 93 families were threatened with eviction after a New York property investment firm bought their estate in Hoxton, London. Brand threw himself into the fight, prompting a Sun front page accusing him of hypocrisy because of the tax affairs of his landlord, which made so little sense the paper might as well have called him a hypocrite for being a vegetarian while supporting West Ham. Brand's notoriety helped the tenants win an inspiring victory. The trouble is, most community campaigns don't have Russell Brand living down the street. Contrary to appearances he can't be everywhere.
Brand believes spreading knowledge will provoke public action. (The same philosophy underlies WikiLeaks, but worryingly, despite WikiLeaks risking all to release information, in the West the public has been a letdown.) Brand does his bit with his YouTube series The Trews, highlighting issues such as international trade agreements and groups such as Keep Our NHS Public. In Revolution, he amplifies the ideas of others, including Naomi Klein and David Graeber. It's difficult to think of how better to use a celebrity platform.
Russell Brand is learning politics in public. It turns out that's an effective way to take people with you, more appealing than pretending to have all the answers. Revolution is aimed at people coming to politics fresh, but it's also like smelling salts for those whose outrage has been numbed by time. Maybe that's what makes all those hacks uneasy.