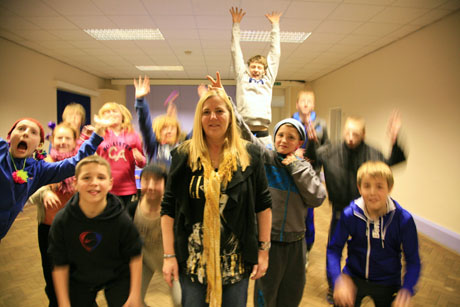 'We began in 2006 with a small grant of just £5,000. We were able to get a van and employ six young people – that's how it all started,' reflects youth worker Sylvia McDowell on the early days of the community social enterprise Positive Moves based in Salford, Greater Manchester.
'A lot of elderly people in the community needed help with household jobs. There were also a lot of young people who had little to keep them occupied, few employment opportunities and were getting involved in anti-social behaviour.' In response McDowell started up her social enterprise and used her expertise to target certain hard-to-reach young people, motivating them into community work for the benefit of the elderly.
'After starting Positive Moves I also got a job managing the Irlam and Cadishead youth project that was initially run by the charity Spurgeons. Due to the size of Spurgeons – a large organisation with international outreach – the charity prioritises larger bids and decided eventually to drop the youth project as it did not fit into their business model. I wasn't going to let the work we had done simply disappear, so I decided to take the project on along with the Positive Moves service.'
Sylvia McDowell's own experience fires her determination. She was expelled from school at 13 and sent to a 'disruptive children's unit'. 'I had met some really inspirational people who had a positive impact on me and this is one of the key reasons why I want to make a difference and understand the issues that affect young people today brought up in poor working class communities.' It was this sense of a vocation that led her to spend one of her most challenging years, working 9am to 9pm most days, applying to various public funds at the same time as managing the project.
Positive Moves has thus evolved into a diverse front-line service employing 15 staff and volunteers and providing a plethora of skills programmes and activities for hundreds of young people and children in the area.
This is the 'Big Society' in operation – McDowell saw an unmet need in her community that the state did not provide for and was able to help meet it. The coalition has said that it will reward such behaviour, yet for Positive Moves and many other small community groups the future looks tougher than ever.
'There are huge threats on the horizon,' says McDowell. 'First and foremost, cuts to local authority budgets will mean cuts for the voluntary sector. Many public pots of money, money that we rely on, will simply vanish.'
Her experience doesn't fit with David Cameron's caricature of local government. 'Salford's (council) neighbourhood team recognises the importance of what we do. They'd like to continue supporting us,' she says.
The neighbourhood manager, Ushi Sossla-Iredale, confirms this: 'We've long supported the voluntary sector to meet the gap between the general youth service and the needs of young people who cause us concern in terms of anti-social behaviour. Elected members from all parties share this view. If it wasn't for Positive Moves the young people in Irlam and Cadishead would have to travel 10 miles for support. So we've been working on the project together. We are on their management committee. Now the pressures on our devolved budget are becoming impossible to bear.' A civic-public partnership then. But one that cuts in government spending are in danger of undermining.
'How will small and relatively new community groups like ours compete for contracts with large national charities and with the private sector?' McDowell asks. 'Recently a large public fund was made available to provide holiday provision for children in the area. We had to compete against large charities with better resources and personnel, yet who had little working knowledge of the area. Unfortunately, we lost the bid. The charity that won then had to come and ask us to put them in contact with the young people they hoped to target.'
Indeed, as a small enterprise Positive Moves has significantly lower overheads, money remains in the community and the group has built up an intimate knowledge and trust with the locals it works with. This work has helped to solve wider social problems such as youth crime.
'Unfortunately, two young people who we had worked with for over a year and had built a sound relationship with were arrested over that holiday period. Many children were simply confused as to why we were not running the holiday activities and were uncomfortable going off with strangers.' With continued funding cuts small community groups will struggle to survive and their unique contributions, valued by the community and by the local council alike, may well be lost.
Sylvia McDowell won't give up. But, she says, 'I'll be spending all my time in the office on bids rather than working with young people, which is what I'm good at.'