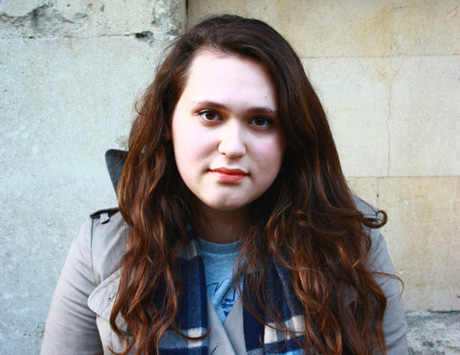 Why did you decide to take action now?
Before this I wasn't particularly politically aware, as I never felt the need to be. However, when the cuts were announced I felt as if they were a personal attack on me. Through necessity I started reading up on the situation.
I saw this as a brilliant opportunity to show the world that the youth of today are aware and active people who understand what they stand for – and are willing to fight for it.
Your campaign is targeted at the government, so why did you decide to occupy your school?
We felt as if it was something we had to resort to. The government were not listening to us when we wrote letters to MPs. And when we marched in large numbers, the media were only focusing on the criminal damage and violence.
We felt it was time to take nonviolent action that could not be distorted and warped by the press to portray us as yobs. We tried to make it absolutely clear when talking to the school and journalists that this was not an attack on the school, but on the cuts.
How did you get other students involved and spread the word?
Initially me and my friend Tascha approached people in our year and the year above who we felt would be passionate about doing this and could be relied upon.
This group met every day, at lunch breaks and after school, to discuss ideas and plan.
We used consensus decision-making, so that every fault would be picked up.
We visited the UCL university occupation many times to get tips on how to make our occupations successful – they even had a 'So you want to set up a occupation?' meeting for us, and they also provided us with useful legal advice on occupations.
We had to be very careful with getting the word around without the school finding out, so we decided word of mouth would be the safest way to do it.
How many of you took part in the sit-in at the school?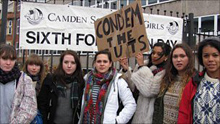 Probably about 80 of us stayed overnight. Our numbers were greater at the beginning, about 130, but many went out to buy food and came back to find the gate locked – though quite a few managed to climb back in over the fence.
How do you think the scrapping of the education maintenance allowance (EMA) will affect students in sixth form?
At least half of the students in the sixth form receive EMA, and really rely on it to pay for books, travel and school trips. It is vital for those from less wealthy backgrounds – it helps with all the basic necessities.
How did your school react to the occupation?
At first the reaction was negative, as they were concerned with our safety overnight and how it would affect the school's image. Threats were made, and they did contact some parents saying that the police would be called.
But we had an emergency meeting and we concluded that we would stand our ground and would not move until the 24 hours were over.
What advice would you give to students at other schools who are wondering about what to do about the education cuts and may be thinking of doing something similar?
You might think that you're only a kid and nobody will listen to what you say, but if enough of you shout loud enough for long enough, they won't be able to ignore you.
Take the initiative, and go to your local anti‑cuts meeting – they can give you advice on how to protest, and will support you with whatever you choose to do.
How can students keep the pressure on now that MPs have voted yes to the education cuts?
I still haven't given up hope. Even though the vote passed, the protests against the poll tax in the 1980s are my inspiration. After the holiday, thousands are going to come back and protest on the streets of London again against the cuts.
It has to be made clear that no action taken against us, be it kettling or police brutality, will stop us reaching our goal.