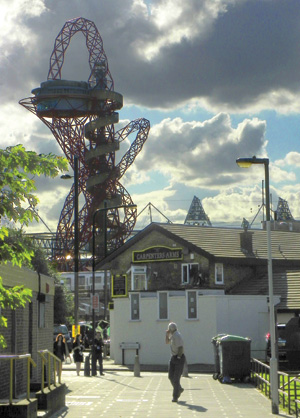 The Olympic Orbit towers over the Carpenters Arms pub on the Carpenters Estate
Turn off by one of the new budget hotels on the traffic-clogged dual carriageway heading east from the Bow flyover in east London and you'll find a Newham council estate that takes its name from the City of London's Worshipful Company of Carpenters. It had once been Victorian terraces for factory workers before the area was flattened by air raids during the war. Now, after years of neglect by the local council, the working-class residents of Stratford's Carpenters Estate have been fighting a new threat: the demolition of their community as part of a regeneration scheme supported by local elected mayor Sir Robin Wales.
The sudden interest in the estate is a result primarily of its location – it sits right next to the new Queen Elizabeth Park, home to the 2012 Olympics, and within walking distance of the vast new Westfield Stratford City shopping complex. The council claims it is too expensive to renovate and has overseen the 'decanting' of residents from 400 of its 700 homes, homeowners as well as tenants. Many of those remaining were born on the estate and want to remain in Stratford, particularly after putting up with years of massive construction work taking place around them for the Olympics.
What east London – and Stratford in particular – needs is far more affordable housing. Instead, campaigners argue, Newham council seems more interested in gentrification, not simply by attracting more affluent residents who displace working-class communities but by completely reshaping the area's urban space.
A key element of the council's strategy has involved attracting academic institutions. Birkbeck College has a new campus opening in Stratford soon and the local authority wanted to hand over the Carpenters Estate to University College London (UCL). In November 2011, UCL management announced that it had begun discussions over acquisition of the land. The plan was sold as revitalising essentially empty or 'waste' land, rather than a space valued by local people. UCL's formal proposition was finally published in October 2012 and, like the messages used for the Olympics, it emphasised the creation of construction jobs and new opportunities for local employment. No mention was made of what would happen to the Carpenters Estate's residents.
Almost immediately the plans ran into opposition within UCL, first from staff in its planning department. They argued the college faced a significant risk of damaging its reputation if it aided in the forced displacement of an established community and instead should actively involve residents in plans that retained social housing. UCL's management tried to stall discussing these concerns and to marginalise resident opposition organised through the Carpenters Against Regeneration Plans (CARP) campaign group. According to one academic, the college's community relations officer dismissed them as 'a handful of disgruntled and unrepresentative individuals'.
However, UCL student representatives had learned more about the proposals and in March 2012 UCL Students Union (UCLU) passed a motion in solidarity with Carpenters Estate residents, establishing regular contact between CARP and its student supporters. In October last year, when detailed plans were eventually released, UCLU held an open meeting addressed by residents from the estate.
When I spoke to Joe Alexander from CARP, he was clear about the importance of these allies: 'The involvement of the students' union was absolutely vital in helping to put pressure on the council and UCL and the friends we have made have remained with us, even after UCL finally backed down.' In May, after a year of campaigning, this pressure seemed to have hit home: Newham Council and UCL announced that negotiations about the estate had 'ended without agreement'.
This important victory demonstrates how the student movement can make genuine alliances with local community struggles, but still leaves residents facing an uncertain future. A council statement in May said: 'A number of parties have expressed an interest in working with Newham council to help regenerate the Carpenters Estate.' While the council must now repopulate the estate, Joe Alexander fears new residents will face short-term housing tenancies, ensuring they are easier to remove if a new developer is found. Nevertheless, students from UCL continue to support CARP through the Just Space network of grassroots organisations aiming to improve public participation in planning decisions and the campaign is now working on its own community plan.