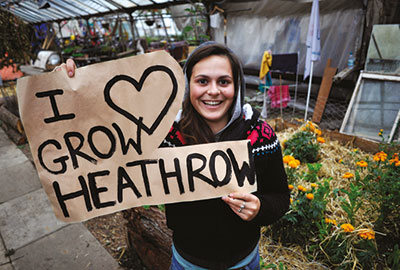 The Grow Heathrow squat on the site identified for a third runway at London's Heathrow airport celebrated its fifth birthday at the end of February. A weekend of activities around the theme of 'past and present struggles' ranged from seed sowing and swapping to 'umbrella upcycling' and political theatre. There were also cakes and speeches and live music into the early hours.
The longevity of Grow Heathrow is due to the remarkable efforts of a dedicated local, national and global community. Its roots lie in the climate camps. Climate Camp 2007 drew attention to the Heathrow villages struggling to defend themselves from the tarmac tsunami of the airport's proposed third runway. Touched by the local community's campaign, six friends moved into the village of Harlington in 2009 and joined the fight to save the villages from airport expansion.
Grow Heathrow has developed over time to also stand up against society's experiences of disempowerment – for example, by offering short-term respite for homeless people who pass through the area, or caring for burnt-out activists who have been brutalised by bailiffs. As with any other squatted community, we know that no matter how much love and labour we put into the land we live on to heal a history of neglect, someone else owns our homes. Indeed, the white noise of court cases has long mingled with the drone of the surrounding motorways and aeroplanes churning the sky. The legal arguments culminated in a possession order issued through the Court of Appeal in 2013. This was followed with an eviction notice that was due to be enforced in August 2014 but hasn't yet.
Since then, Grow Heathrow has entered a new era of activism, filling the autumn and winter with exciting workshops in our multi‑themed education and activity‑centred 'Shazzam' programme. The sheer energy and diversity of Shazzam allowed us to refocus on promoting a positive message about sustainable living. Whether it was web design, constructing things from hemp, building a bike‑powered washing machine or lessons in permaculture, visitors were able to learn about sustainable living and attend otherwise unaffordable courses for free, with the cost of materials as an optional donation if we are unable to upcycle materials.
Grow Heathrow's gate opens for any friendly visitor. We enjoy the magic that each new person brings. Innovative buildings pop up like blossoms reflecting the initiative taken by new people moving onto the site. The ingenious ways people build give an artistic flair to the spontaneous designs. Grow Heathrow did not begin life so pleasing to the eye; the community cleared all the pollution and litter to make the space clean for humans and nature. Now, preserving the natural habitat is a priority and building plans are carefully implemented to respect this.
Our fifth birthday party was a celebration of our own work and an expression of gratitude to the historic struggles that have contributed to the freedoms we enjoy today. We will continue to fight to save the land, our home, and this place of peace and education as a tribute to them.