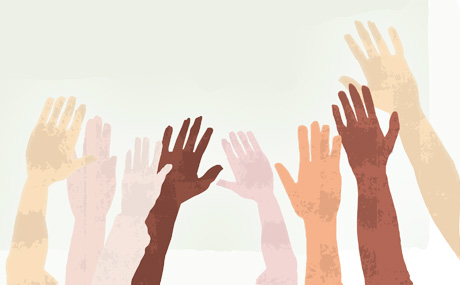 Barcelona, early September. It's a beautiful warm evening in the local square. Thirty or more old people are sitting on benches, people-watching. Dog-walkers mingle with commuters and shoppers. But there is no sign of my neighbourhood assembly, which should be meeting here right now. So I wait. A few people in political T-shirts walk by promisingly, but continue walking. I take a stroll around the block. A Chinese restaurant is offering a 'crisis menu'. A clothes store has a closing-down sale. Half an hour elapses. I finally spot the assembly: 15 activists standing around chatting. Shortly afterwards, the group reconvenes in a local squat.
A non-event of a meeting is hardly a surprise to anyone accustomed to left and radical organising. But the same square played host to weekly assemblies of 200 to 300 people little more than a year ago, as neighbourhood assemblies sprung up in towns and cities across Spain as part of the massive mobilisations that began in central squares on 15 May 2011 and became known as the indignados or 15M movement. With more than a quarter of the Spanish workforce unemployed, and austerity cuts biting ever harder, it's fair to ask: what happened? Is this typical of their fate?
Dying of boredom?
The assemblies have definitely lost momentum, according to David Marty, a Madrid-based activist who recounts to me the state of the movement as it first burst to life. 'In the beginning when people formed assemblies, the first thing you noticed was a huge crowd, and the second was that it was an unusual mix, all sorts of people – even those you would usually identify with more conservative ideas,' he explains. 'Now the assembly movement has been reduced to small groups. The feeling everyone has is that it's dead.…
'[But] it's only that bad if you look at the assemblies,' he continues. 'If you look across movements, the 15M has really ignited something new in the activist community in Spain.'
Carlos Delclós, a sociologist at Pompeu Fabra University in Barcelona who is also active in the 15M movement, agrees that many neighbourhood assemblies have dwindled. The work of the assemblies requires a lot of dedication, he explains, so it's inevitable that participation gets whittled down to those who can make the time to fully participate.
For Marty, this dwindling has been accompanied by a narrowing of the movement's political base. He recalls how, at first, when people formed neighbourhood assemblies, 'it was always very personal and moving. It would usually start nervously, but with sincere feelings about this amazing thing that was happening, this solidarity'. But the assemblies became increasingly dominated by 'trained' speakers, he says, speaking from 'a rehearsed ideology'.
Delclós has a more benign explanation, suggesting that the decline of some assemblies is simply a sign of the emphasis of movement organising moving towards platforms that cut across local neighbourhoods and municipalities.
Others are more optimistic. Marta Sánchez has been involved in the 15M movement in Madrid from the outset, as well as researching the movement for a project of the Centre for Human Rights in Nuremberg. She recognises that some of the assemblies that sprang up after the birth of the movement are no longer active, but gives many examples that are 'growing even stronger, better organised and supported by the commitment of a lot of people'.
Why assemblies matter
'Assemblies are not just a means to an end but as well an end in themselves, since participatory democracy, or direct democracy, is deeply rooted in the movement's discourse and ideas,' say Sánchez and fellow 15M activist Pedro López Herraiz, a postgraduate student at the Universidad Autónoma de Madrid.
The organisation of assemblies, they say, 'has facilitated the politicisation of a lot of people, who wouldn't have engaged in political struggle through the conventional and corrupted political parties and trade unions.' They have engendered a great deal of 'self-confidence'. Although Sánchez and López disagree on the current state of the assemblies – about which it's hard to gauge an overall picture – their assessment of the importance of participatory organising is quite similar. As a result of the 15M movements, says Marty, 'a lot of people who were never active in that sense now feel they are actors' in political and social struggles.
The spread of 'horizontal practices' is a vital part of the 15M movement's contribution, providing not just a model through which groups can arrive at democratic decisions, but also a means to 'catalyse indignation into meaningful action', says Delclós. They have prepared a new vocabulary for articulating the social and economic situation, he adds, so that even emerging public sector trade union actions are not drastically different to the 15M movements.
Action platforms
The Plataforma de Afectados por la Hipoteca (PAH), convened by people facing eviction as a result of the country's mortgage crisis, offers a clear example as to how the movement has catalysed action. The Platform, which was created in 2009, received a massive boost from the new wave of activists politicised by the 15M movement, says Marty.
Neighbourhood assemblies have provided a practical infrastructure in support of the Platform's 'stop forced evictions' campaign, says Sánchez, by collecting information on evictions planned locally and organising activist mobilisations on the eviction dates. As a result, around 200 evictions were stopped over the last year.
Although most actions and organising platforms don't cross the media radar, they have become more deeply embedded. As well as blocking evictions, Delclós catalogues the emergence of collectives to confront police racism against immigrants, offer more ethical banking options, create time banks, and consumer and producer co‑ops. Similar initiatives have sprung up in Madrid, report Sánchez and López, and their extent is not limited to the country's largest cities.
Cristina S Marchán, a 15M activist in Santiago de Compostela, reports that although most of the assemblies there are no longer active, the movement remains alive in many forms. As well as a thematic assembly focused on labour issues and unemployment, the city has seen the creation of various new co-operatives.
A hot autumn
The legacy of the 15M movement to date extends beyond practical organising, however. 'Maybe the movement's biggest contribution has been to problematise economic and social misery as a problem requiring more democracy and not less,' says Delclós. 'What 15M has done with a lot of success is to provide an interpretive framework that is easily understood and very quickly signals the guilty parties in this scam that the grey, Eurocratic technical fetishists and their kleptocratic elites like to call an "economic crisis".'
As social and economic conditions become worse, most activists are gearing up for further protests against austerity. Education and health cuts – including recent measures to limit care for immigrants and unemployed people – are at the centre of these protests, while housing remains a key issue. But the movement's debates and mobilisations are also focused on a more systemic critique of austerity.
That might also lead to increasing militancy, starting with a 25 September demonstration which was planning to encircle parliament and demand that the government steps down. 'That will be followed by general strikes in Galiza and Euskadi [Galicia and the Basque country],' says Delclós. 'And the mainstream unions are also talking about a country-wide general strike relatively soon. So we are definitely in for a very, very hot autumn!'