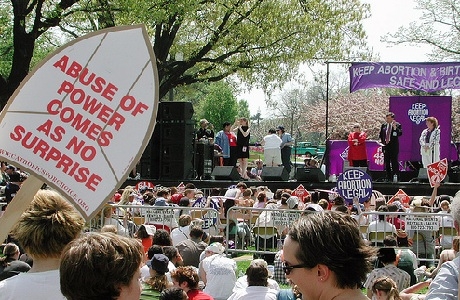 Photo: American Life League/Flickr
For most of the first decade of the 21st century, improving women's rights to control their own bodies – access to contraception and abortion – and even maintaining existing rights, has been a desperate, difficult struggle, one that all but specialist, dedicated organisations have put in the 'too- hard' basket. When George W. Bush reinstated Ronald Reagan's so-called Mexico City policy in 2001, banning US aid for foreign family planning agencies that promote or give information about abortion, many excellent, committed grassroot groups around the world either had to forgo a critical source of funding, or compromise their work.
When President Obama reversed the decision after taking office it was a big step forward. And with the major global conference on family planning in London this month looking to greatly boost funding of contraception, there's cause for cautious optimism on the global scale.
Ironically, however, within the US, women are facing an increasingly difficult and desperate struggle to maintain access to the basic rights to abortion and even contraception. As of writing, Mississippi's last abortion clinic has received a last minute reprieve and will remain open, but it's long-term future doesn't look promising, with the governor and legislature clearly determined to close it. This will almost certainly mark a return to a significant number of dangerous backstreet abortions, in a poor state, most of whose neighbours have restrictive laws such as waiting periods, that make the services unaffordable for many. (The UK is also seeing an upsurge in US inspired opposition to abortion – although rights here are helped by strong, consistent public support for women's access to abortion.)
But taken on a global scale, while there's real cause for optimism some important questions about the best way forward need to be debated.
There's a temptation to take the easy route – focus on contraception and simply ignore the abortion issue. The latest figures suggest 222 million women around the world would like to be using contraception but currently cannot. As a result there are 80 million unintended pregnancies every year, with 45 million ending in abortion. And it's a bargain for those who think in economic terms – for a cost of $8.1bn, the Guttmacher Institute has calculated that all unmet need could be catered for. It would prevent 79,000 maternal deaths and 1.1 million infant deaths. (That's what the UK will spend on nuclear weapons in five years, by the way.)
But the need for abortion wouldn't be ended – and it's the poorest and most vulnerable who are always going to need it most, and find it most difficult to access – as American women are increasingly finding.
An excellent exploration of Uganda's huge problems sets out how many women would prefer to use long-term injectable contraceptives, but cost pushes them to the oral contraceptive, with its much higher failure rates, in part, but not solely, due to the relative difficulty of use. And the many teenagers' (half of Ugandan women give birth under the age of 18) general lack knowledge, power and practical ability to access contraception, means that this group is always likely to have a relatively high demand for abortion.
There is a further, even more controversial issue, which was outlined last month by The Guardian – for girls and women to be able to use contraceptives, they need power over their own body and choices, money, mobility and rights. In many countries making these claims to women's rights is even more controversial than claiming access to abortion.
Workers on the ground and service providers will almost certainly have to compromise in this debate. If you were told you could provide 100,000 women who wouldn't otherwise get them with contraceptives for a year, but weren't allowed to open an abortion clinic, it would be hard to turn that down. But it's important that feminists and rights campaigners continue to push for an inclusive, comprehensive debate that addresses the genuine reproductive needs of all, but particularly the poorest and most vulnerable. That means pushing for access to safe, legal abortion everywhere, and pushing for the advance of women's rights more generally.