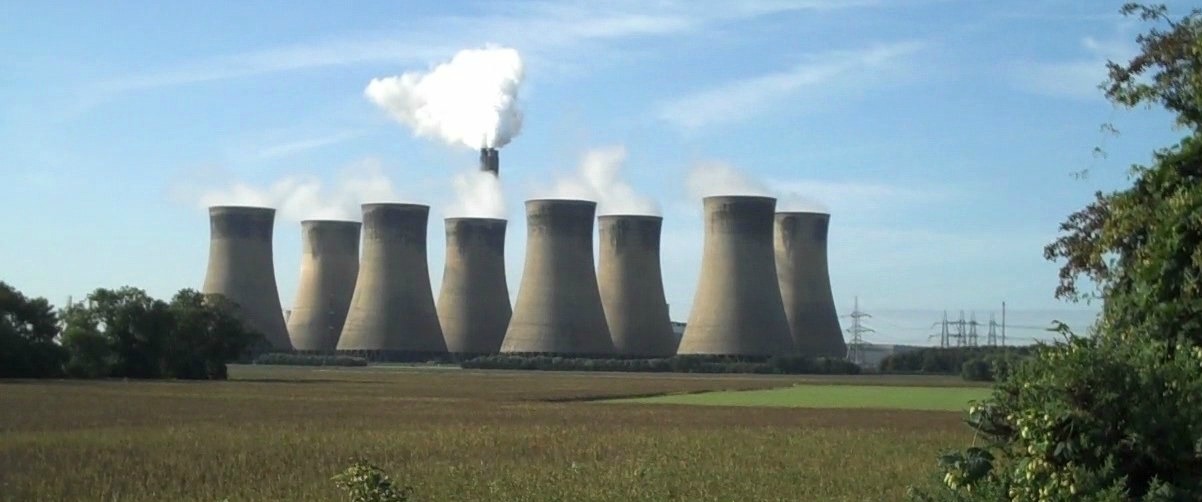 Ten years ago, the UK's single biggest emitter of CO2 – Drax power station, was chosen as the target for Climate Camp. Sadly, Drax remains as relevant to the struggle for a safe climate as ever. It still burns around 6 million tonnes of coal a year – largely from opencast mines in Russia and Colombia, which have fuelled evictions of indigenous people from their land, water shortages, malnutrition and health problems in local communities.
However, in a bizarre twist, Drax is receiving around £1.3 million a day in 'renewable energy' subsidies from the UK government. In the eyes of the government, Drax's 'renewable' kudos comes from its burning of biomass wood pellets.
Last year, Drax burnt pellets made from around 12 million tonnes of wood – slightly more than the UK's entire annual wood production. Much of this wood comes from biodiverse forests in the southern US, or from monoculture tree plantations that have commonly replaced these forests as they are cut down. This is considered 'carbon neutral' because a tree can grow back; however, a new tree takes decades to grow and reabsorb the carbon that is released from another tree being burnt. If a forest has been clearcut, this will take even longer – or never, if the land is converted to a plantation – as the whole ecosystem has to recover. For the climate and for biodiversity, biomass is a disaster.
Biomass subsidies make it possible for Drax to keep burning coal when it would otherwise have to shut down. Drax's profits in 2015 were £46 million – a fraction of the £470 million it received in subsidies in the same year for burning trees. At the same time, subsidies for genuinely renewable power such as wind and solar have been slashed.
On 19 October Coal Action Network, Biofuelwatch and others will be demonstrating outside the new department for Business, Energy and Industrial Strategy, calling on it to turn over a new leaf and stop subsidising fake renewables. We will be joined by guest speakers who are touring the UK from coal mining areas of Colombia. On 22 October we will go to Drax itself along with local campaigners to celebrate ten years of climate action since the 2006 Climate Camp and to name the work still to be done for a safer climate – including shutting down Drax by axing its subsidies and replacing it with something genuinely sustainable.
Building on ten years of climate action
The world's first Climate Camp at Drax saw over 600 people gathered in the shadow of the coal-fired power station to learn about climate change, its contributing factors and some potential solutions, and to take direct action against one of the root causes. This helped inspire an international wave of climate camps over the next few years, with similar events taking place in Belgium, France, Scotland, Wales, Ireland, Australia, New Zealand, the US and Canada.
Like many activist plans, the camps were ambitious and demanding of time and energy, exhausting many who were involved; the advantages and the draw backs of the mobilising model have been debated in detail since. Although far from perfect, the Climate Camp inspired many people to take direct action for the first time in a relatively supportive environment, gathered thousands of people together to learn about climate change and alternatives to our current destructive way of life, and got climate change and actions addressing it into the mainstream media.
The impact of our actions is hard to quantify. However, there have been some significant victories for climate action in the intervening years, even as new challenges arise. A proposed third runway at Heathrow, now in the pipeline again after another Tory U-turn, was scrapped in 2010 after a campaign involving legal challenges, community agency and direct action including a long-term land squat. Five proposed coal-fired power stations, to be 'ready for' the unproven technology Carbon Capture and Storage (including one at Kingsnorth, site of the 2008 Climate Camp), did not get built as a result of a broad-based campaign involving various sectors of society.
Tar sands, fracked gas, coal bed methane and underground coal gasification, almost unknown ten years ago, are rapidly becoming new focal points for climate action – but thanks to the work of thousands of activists, the word 'fracking' for many people is synonymous with water pollution, earthquakes and the undermining of democracy.
The success of getting climate change acknowledged as a major threat has contributed to a new problem. Governments and industries now pay lip service to the concept of sustainability, offering false 'carbon neutral' solutions while simultaneously using ever more extreme methods of extracting energy from the planet, whether through fracked gas, nuclear power or biomass. Despite all the words spoken about sustainability, the earth is still getting hotter and the injustice that goes hand in hand with extractive industries is as rampant as ever.
Climate change has been a crisis since before we started acting on it – we are deeper into the crisis than ever and there is no better time to get involved.