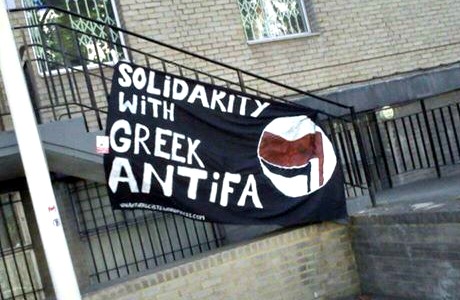 Last Saturday anti-fascist activists lobbied the Greek Embassy in London, ahead of tomorrow's trial of Savas Michael-Matsas and Constantinos Moutzouris on trumped-up charges brought by a Greek judicial system keen to placate the fascist Golden Dawn.
Savas is a Jewish scholar internationally renowned in the field of philosophy, Marxism and literature, as well as General Secretary of the Greek EEK (Revolutionary Workers Party). He is charged with 'defamation' and 'incitement to violence and discord' for uttering the slogan 'smash fascism', as well as 'disturbing the civil peace' for mobilising for an anti-fascist demonstration, following a vile anti-semitic campaign from supporters of Golden Dawn.
His fellow accused, the former rector of the National Technical University in Athens, is charged with allowing the independent news portal Indymedia to be run from the university campus!
These charges are a result of a legal complaint against all the parties of the left – including the Communist Party of Greece (KKE), the left alliance SYRIZA, the anticapitalist alliance ANTARSYA and also the EEK – as well as immigrant associations and independent activists – made by Golden Dawn back in 2009 following the left's active response to their attacks on immigrant communities.
The complaint was then resurrected by the right-wing Samaras government in 2012 and the police began interrogations of those named in the complaint. In June 2013, of the 80 people accused, just two were selected.
Resisting fascism is not a crime. Solidarity with the Greek anti-fascists!