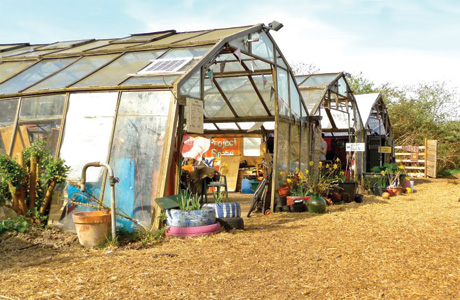 A third runway at Heathrow is back on the agenda. In 2010 the Conservative/Lib Dem coalition made a formal agreement that plans for a third runway should be scrapped. Yet there have been persistent murmurings from the British Airports Authority (BAA), big business and the chancellor about the need for an expansion of capacity. The issues of climate crisis and the tarmacking over of communities in the name of 'development' are being sidelined.
But in Sipson village, one of the places that would be bulldozed were the runway to go ahead, there sits a patch of land where those issues are very much alive. It is home to Grow Heathrow – a community space and growing project that exists to oppose runway expansion. 'We don't know what is going to happen with the third runway but the point about this place is that we are ready to resist it and we're not going anywhere,' says John Allen, who has been living and working at the space since April 2012.
Grow Heathrow began in 2010 when a group of people from Plane Stupid and Climate Camp moved into the local area to support residents in their resistance to the third runway. Having established relationships with the residents during the 2007 Climate Camp in a nearby field, the plan was to create a project that would be a continuation of this. The campaigners spotted an abandoned junk yard, which was home to three large greenhouses from its past as a plant nursery, and made plans to turn it into a community space. After receiving support from the local residents' association, they squatted the site and went about transforming what had been a 'sea of cars' into a beautiful and inspiring project organising around climate change, food sovereignty, community resilience and squatting.
Their takeover of the site was welcomed by local residents, who were relieved to see the back of the scrapyard. But more important was the support that Grow Heathrow extended to the residents in their struggle against the third runway. As residents watched their village empty after bullying from BAA and the government, the fact that Grow Heathrow has stuck around means a great deal to them. This constant in a landscape of flux and uncertainty gave them 'a sense of hope' and made them feel supported, one resident told Allen.
The local residents were in turn quick to stand up for Grow Heathrow. In the early days when the police used to harass the people there, a telephone tree was used to contact a 'flashmob' of elderly women who would turn up and demand that the police leave 'our activists' alone.
Grow Heathrow is also an experiment in sustainable living. A wind turbine, constructed from scratch on site, and solar panels provide the energy it needs. There are planters full of vegetables at the front and in the greenhouses. The entire site is a maze of incredible eco-contraptions made on the spot from reclaimed materials. There is a clay pizza oven, providing pizza in four minutes flat – 'the secret is a thin base and lots of ingredients' – alongside stoves made from gas canisters, compost toilets, a compost mound that provides hot water, an outdoor wood burning shower, and a hay house that is currently in development.
'What's been great about this is that people with skills, and willing to share those skills with passion and energy, have come together to make all of this and that's why I was attracted to it,' John Allen explains.
Admiring the half-built hay house and listening to their future plans it is hard to imagine that their project and their right to a home is under threat. Yet inevitably the owners are taking them through the courts. In what is a landmark case, Grow Heathrow will argue against their eviction under Article Eight of the Human Rights Act, which guarantees the right to home and family life. While Article Eight currently applies to public landlords, it has not yet been determined whether it applies to the private sector. If the courts were to find that it did, this would have significant implications for privately renting tenants and squatters.
Grow Heathrow's activists have many fights on their hands, but they've also got lots of support. John Allen describes how he was cycling through the town one day and passed a pub with a group of drunken men outside. They shouted at him as he cycled past: 'Hey! You're doing brilliant work!'