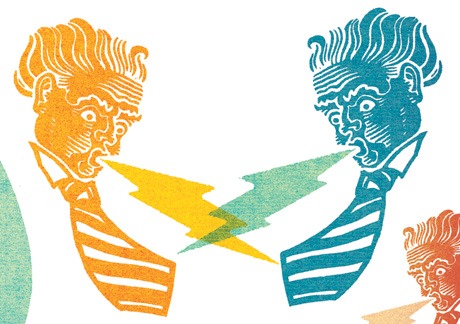 Illustrations: Matt Littler
Last autumn I was sitting atop a chimney in EDF's newly commissioned West Burton gas-fired power station in Nottinghamshire. As I watched the smokestacks of the neighbouring coal-powered station, I was reminded of a tricky question I'd been asked a few days earlier: 'There's a coal power station right next door. Coal is a lot dirtier than gas. Why are you protesting about gas and not coal?'
While it's true that the carbon content of coal is higher, Osborne's 'dash for gas' has placed gas at a pivotal point in current energy politics. There may be a simple issue of 'less gas, more wind', but there's also a lot more to this story. This is about the power of big business, about a crisis of democracy and the public yet again footing the bill, with the vulnerable most keenly affected.
But this can also be about reclaiming power, taking back control of the energy sector and re-remembering what democracy should look like. Gas is the new battlefield on energy and climate, and as with other battles, this is a question of power and control.
How we got here
The energy sector was privatised by the Conservatives in 1990. As a network consisting of a single grid distributing only one 'product' (electricity), the sector posed a problem to the government. They got round this by creating three types of companies: suppliers, generators and distributors. Supplier companies quickly found that being at the mercy of the market for your energy supply was far too risky for profits. They solved this through 'vertical integration', bringing together generator and supplier companies so that both entities could rely on a steady price and profits could be guaranteed.
Through acquisition and vertical integration, the UK energy sector quickly became an oligopoly, with the 'Big Six' (EDF, British Gas, E.ON, nPower, Scottish Power and SSE) controlling 99 per cent of the energy market. Because they have a stranglehold on both supply and generation it is almost impossible for any other player to gain a foothold.
In this business model the only cost risk the energy companies cannot control is the price they pay for gas and coal. As we've seen over the past few years, the Big Six have responded by simply increasing the prices they charge their customers as global prices of hydrocarbons rise (they have been slower to reduce them on the occasions when prices have fallen). The consumer has assumed the risks of fluctuating global energy prices, while the Big Six enjoy risk-free profits.
Osborne's 'dash for gas'
We are at a critical juncture. Around a fifth of current power stations are set to close over the coming decade, while demand for electricity is expected to double by 2050; there are 3.5 million households in England in fuel poverty; and the UK has legal requirements to reduce its carbon dioxide emissions by 80 per cent on 1990 levels by 2050.
With the current energy system in need of an overhaul we have an opportunity to tackle runaway climate change and build a system based on equality. Due to the practicalities of energy production, any decisions taken now will lock us into whatever system is decided for a generation.
With such high stakes, what has the government's response been? Scandalously, chancellor George Osborne and energy minister Ed Davey have drafted an energy bill that prioritises a gas-fired future over clean renewable technology and sets no targets for reducing carbon emissions. The bill has been heavily criticised by the government's own advisory committee on climate change, industry experts and environmental groups.
Why is this the government's response to the energy question? Some say it's to do with appeasing Tory backbenchers and their anti-wind constituents. Another theory is that this is about big business attempting to hold on to its power over the energy market.
The Big Six versus renewables
Let's start by going back to the Big Six's cushy business model. They control 99 per cent of the energy market, with the only risk being fluctuating gas and coal prices, which can be absorbed by increasing energy bills.
Climate change represents a challenge to this harmonious picture of corporate welfare. The immediate risks of climate change are 'externalised' and will not greatly impact the big energy companies. Instead they will be largely felt by other people, other species and other generations. However, the changes we need to make to manage climate change do represent a risk to the Big Six's oligopolistic business model.

We are looking at a transition away from established technologies in which the Big Six have so much knowledge and expertise that no other players can seriously challenge their dominance. With renewables they can be far less certain of maintaining their privileged market position. An energy sector made up of community-owned power generation, ranging from household solar in Kent to large wind farms in Dumfries is the Big Six's worst nightmare.
Additionally, an energy sector based on renewable power generation poses a threat to the current demand-matching model of electricity generation, which secures profit for the Big Six. At present the idea is that consumers will turn on appliances as and when they need them and power stations will feed electricity into the national grid to match the demand. Renewable generation can't easily be scaled up and down in this way. The solution to this is to reduce demand through energy efficiency, spread out renewable generation sites over a large geographical area, build more connections from the national grid to other countries and start building a smart grid. Smart grid technology gives consumers more control over their power usage and represents a fundamental shift away from the old model.
From this it is obvious why the Big Six are so keen to denigrate renewables and maintain that we need supply-matching power plants as 'backup'. The current system is highly profitable and it is in their interest to maintain the status quo.
Success for corporate lobbying
With community-owned renewable power presenting a real threat to the power of the Big Six, what are they doing to keep hold of their influence?
A number of freedom of information requests by Caroline Lucas MP have revealed glimpses of corporate influence within key government departments. At least 50 employees of companies including EDF Energy, nPower and Centrica (owners of British Gas) have been placed within government to work on energy issues in the past four years. Staff are provided free of charge and work within the departments for secondments of up to two years. None of the staff on secondment in the Department for Energy and Climate Change (DECC) came from renewable energy companies or non-governmental organisations.
The DECC has declared 195 ministerial meetings with energy companies and lobby groups, compared with 17 meetings with green campaign groups, between the 2010 general election and March 2011. As Caroline Lucas points out, 'These corporations obviously don't lend out their employees without expecting something in return.'
However, a more insidious government takeover by anti‑wind climate sceptics, keen to look after their oil and gas interests, is also being played out.
There have been a number of resignations of key ministers and civil servants promoting the renewable sector over the past year. The most affected department has been the DECC, which has lost Chris Huhne MP, permanent secretary Moira Wallace and three senior advisers involved in drafting the energy bill. Reasons for resignation range from unrelated scandals to what has been suggested in the media as frustrations with the Treasury over renewables policy.
Alongside this exodus of senior figures has been the appointment of controversial figures into key positions in government. Three key examples are the appointment of Peter Lilley, John Hayes and Owen Paterson to the climate change select committee, the Cabinet and the position of environment secretary respectively. Lilley was one of only five MPs to vote against the Climate Change Act in 2008 and is a director of oil and gas company Tethys Petroleum Ltd. Greenpeace has footage of Peter Lilley saying that Paterson was placed by Osborne as part of the plot to undermine clean energy policy and green growth. John Hayes is a vocal anti-wind advocate.
There has been an intentional programme of moving into positions of influence people who will block progress on climate change and make energy policy work in the interests of big business. In this context it becomes easier to answer the question of how the energy bill could have got it so wrong.
Energy austerity
As with the political response to the economic crisis, the response to the energy crisis has been to maintain business interests, while the public foot the bill.
The increase in consumer bills by an average of around £150 between March 2011 and March 2012 has been directly linked to gas price rises. The elderly, disabled people and those on a low income are most at risk. According to the World Health Organisation, there were more than 7,000 deaths due to cold homes in the UK during the winter of 2011/12. More of us are being forced to make choices between paying rent and heating our homes – between eating and keeping warm.
However, it is crucial that we remember that a renewable energy sector controlled by the same players will not shift the fundamental causes of fuel poverty. This is about who is in control and whether the sector is designed to benefit private or public interests. The energy system could be designed for the common good, just as education and health are supposed to be. It is here that an opportunity lies. In some countries the growth in renewable energy source co-operatives (resco-ops) has been dramatic. In Germany 600 resco-ops have appeared in the past three years alone. Community-controlled renewable generation has the potential to fundamentally reshape our energy system and take the power back from the Big Six.
Making the transition
With a substantial chunk of our current energy infrastructure due to go offline and our ageing energy grid in need of reform we have a unique opportunity to make the transition to a renewable, decentralised, smart energy grid system. Decisions being made now could lock the majority of us into a dependency on the Big Six and a fossil fuel future. It's for this reason that we need to fight this now. Real energy democratisation, the resco-op movement or something similar needs to be mainstreamed; it can't stay on the margins.
The fossil fuel future that Osborne's energy strategy envisages is particularly ugly as more extreme forms of energy extraction are becoming commonplace. The rise of energy-intensive and risky extraction techniques such as shale gas, underground coal gasification and coal-bed methane present a frightening future scenario as conventional fuels such as natural gas run dry.
This is a battle that is being fought by people across the UK. There has been a dramatic rise in local opposition to fracking sites. The valiant community of Rossport, Ireland, has stood up to a Shell gas pipeline for more than a decade. This summer, from 16–21 August, No Dash for Gas supporters inspired by last October's occupation of West Burton power station are organising a participatory action camp, to 'Reclaim the Power' and stop the dash for gas.
We are in a state of economic, political and environmental crisis. But in crisis there is opportunity; the question is whose opportunity will it be?
Thanks to Dave Cullen for his support and contribution to the article. More information on the Reclaim the Power action camp at www.nodashforgas.org.uk