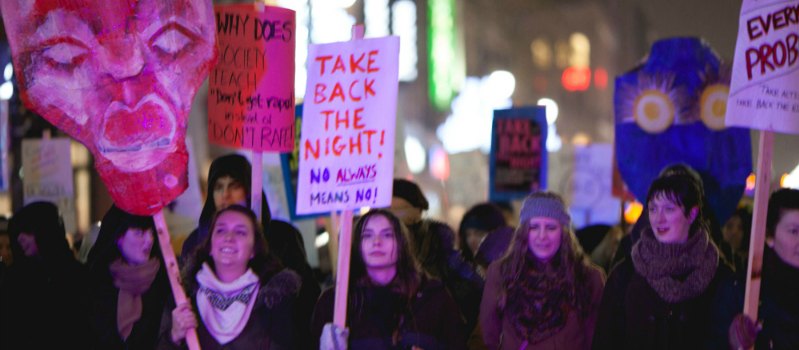 Reclaim the Night is a women-only* march that shouts NO to rape and all forms of male violence against women. Participants march for the same reasons today as in the seventies.
In January 2013 it was reported (by the Ministry of Justice, the ONS and the Home Office) that approximately 85,000 women are raped on average in England and Wales every year; that over 400,000 women are sexually assaulted; and that 1 in 5 women has experienced some form of sexual violence since the age of 16. The report also stated that around 90 per cent of victims of the most serious sexual offences knew the perpetrator.
Jo Bagshaw, a Reclaim the Night organiser, said: 'The problem is endemic in our society and is often hidden behind closed doors. The march is important because we bring it out into the open.'

The Reclaim the Night march aims to give women a voice and insists women should be allowed to feel safe in the streets, especially at night. A survey by the young women's magazine More in 2005 found that 95 per cent of women feel unsafe on the streets at night and 65 per cent during the day.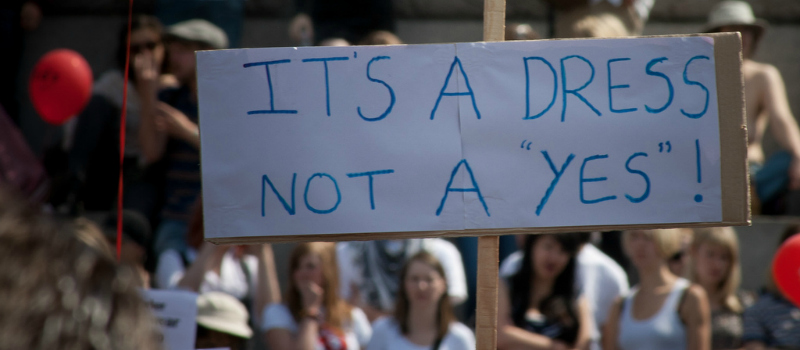 (image by roga muffin on Flickr.com)
Sarah Bell, also one of the organisers said: 'Traditionally women are expected to only take to the streets at night with a male chaperone. RTN totally rejects this and provides a safe women only space and demands this be the norm.' 

Now in its 10th year in London, the event will take place on 22 November at 6pm, starting at Whitehall Place and marching to the Camden Centre where there will be a rally and a party. Although the event is for self-identifying women only, men can support or join the final mixed rally.
Bagshaw added; 'Sadly the problem does not seem to be getting any better as conviction rates are still low, victim blaming still happens and women suffer abuse daily in this country and abroad. Misogyny is rife on the internet which will only perpetuate the problem as young men learn the behaviour of abusers.'
'As feminist activists we will not stop until women are free from the threat of male violence and sexual violence.'
* The march is open to self-identifying women; all colours, cultures, ages, disabled and non-disabled, heterosexual, lesbians, trans women, bisexual women, refugee and asylum-seeking women welcome.
Marches are planned for London, Newcastle, Belfast, Dundee, Sheffield and more, find your nearest March.
Top image by Howl Arts Collective on flickr.com