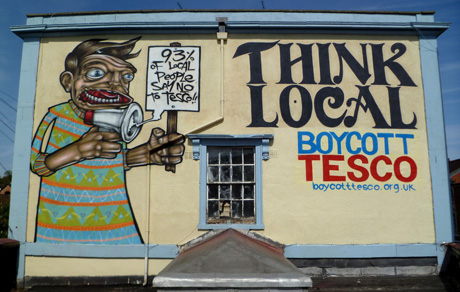 Bristol has been at the heart of radical movements in the UK for centuries. Historically it has been known as a location whose populous would act, often in riots, when they were pushed too far by the ruling class. The Bristol Bridge and Queens Square played host to large-scale riots in 1793 and 1831 respectively. The 1831 riot is one of the most famous in the lead up to the 1832 Reform Act, one of the first major steps to universal suffrage.
The riot is usually cast by mainstream historians as a raging drunken mob. However, there is clear evidence that the rioters carefully targeted symbols of the establishment, burning down three prisons, looting the customs house in Queens Square and attempting to destroy both the council houses and the cathedral. For the past five years the Bristol Radical History Group has been opening up the local history of ordinary people. If you are lucky, you can catch one of their radical history tours, which lead you through the various struggles Bristolians have engaged in.
The recent pro-local, anti-Tesco riots in Stokes Croft again demonstrate the simmering anti-establishment feelings that lie close to the surface in Bristol's political culture. However this episode, largely provoked by the police, should not be viewed in isolation from the dense network of community-focused radical groups and institutions active in the city. Nor should Stokes Croft take sole ownership as the only radical hotspot in the urban jigsaw puzzle of 'radical villages' that make Bristol such an interesting place to live and visit. A range of social, environmental and political projects give areas such as Montpelier, St Werburghs, St Pauls, Easton, Southville and Bishopston an inspiring spirit.
To start with, a large chunk of the city's radical culture is characterised by its fascination with music and art. The city bubbles at the forefront of Britain's artistic radical talent. Indeed, just as the mainstream music giants envelop dubstep, a sound mined out of the Afro-Caribbean dub and reggae influences, the city has already moved on to new uncharted musical territory. The same feeling goes for graffiti, for even though Bristol is known throughout the liberal classes for the works of Banksy, it is the likes of 3Dom, Sepr, Rowdy, Andy Council and the collective known as St Just mob, whose vibrant paintings reclaim the streets with bright and political murals.
This graffiti gives Bristol a chameleon skin that is constantly in flux. There is an age old battle over visual space, where corporate symbols, rolled out by the council for quick cash, are constantly subvertised. It is a continuous cause of satisfaction that billboards that were once celebrating Coca Cola's 125th birthday or Vans new urban shoe now host a range of well thought out political messages. Indeed, in some parts of the city, notably Stokes Croft, artistic 'vandalism' is so set in that the council is helpless against the tide of creative talent. Here you can wander around and see graffiti artists freely take turns at painting the boarded up derelict buildings, bringing to life an area that could so easily look run down if left to the council alone.
The people of Easton
Our radical tour should start in Easton, an area that has been denied the investment set aside for improvements in the white middle class areas of Redland, Clifton and Hotwells. This village is dotted with community-owned projects and typified by the plaque on the wall of the Easton Community Centre which reads 'This stone was laid by "the people" of Easton'. This centre is no usual community centre and often plays host to anarchist fundraisers, cross-socialist conferences or refugee events. Every Sunday, the community gathers for a food handout with a twist, Bristol Foodcycle, a community initiative that reclaims food that supermarkets throw away and cooks up tasty meals in an effort to bring people together around healthy eating.
The area is also home to a community sports venture, The Easton Cowboys and Cowgirls. This group strives to build social ties between the diverse ethnic backgrounds in the locality. Walking down Chelsea Road, you reach the community permaculture project of East Side Roots . This project has transformed Stapleton Road railway station from a seldom used suburban railway link into a community hub where people can grow food, share gardening skills and most importantly talk and build community links. Along with its sister project at the Trinity Centre , on the other side of Easton, East Side Roots provides vital volunteer work and meeting space for disempowered refugee populations in projects also coordinated by Bristol Refugee Rights.
Down St Marks Road, you reach the anarchist social centre on Robertson Rd, the Kebele Community Co-op . The centre aims to provide a living example of the anarchist ideals of collective decision-making, non-hierarchical structures, cooperation and mutual aid, and direct action. It hosts a number of activist groups and collectives covering issues ranging from squatting to immigration, animal rights, permaculture and bike workshops.
On foot from Easton, you can reach the largely Jamaican community of St Pauls . This is the location of the UK's first riots in the 1980s, where locals attempted to raise their voice against police oppression and the social injustices exacted by Thatcher's government. Now it is the host of the St Pauls carnival, a yearly expression of Bristol's vibrant and multicultural community. On Portland Square, St Pauls, is the squatted social centre The Factory . This is one of the most famous squats in Bristol, offering space for activist meetings, film nights and community meals.
Stokes Croft
From here, it is only a five minute walk to the now-famous Stokes Croft , an area in a constant struggle against corporate developers and the inevitable gentrification. Even so, there is a high density of social centres and radical shops. At the start of the road you will find the Freeshop , a long-squatted building that attempts to question the dominance of consumerism by giving its products away for free. Next up is Hamiliton House, a building that has recently seen a large transformation and now gives space to both The Canteen and Coexist . This was once abandoned and coveted by only street drinkers, but now it hosts a buzzing bar and socialising space for the city's progressively minded. It also acts as a decent venue for events such as the successful Anarchist Bookfair.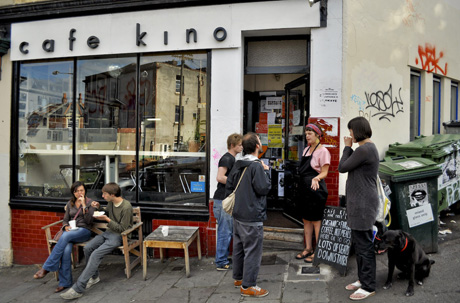 Further up is the workers' co-op that is Cafe Kino . This serves delicious, ethically sourced vegan and vegetarian food and is the meeting point for many radical groups. Away from the main road is one of the most interesting spaces Bristol has to offer.
The Cube, a collectively-run radical cinema, is a great place to go for documentaries and discussions on climate justice, food sovereignty and other global issues. It has also been running a cinema space over in Haiti, in an effort to build community and provide entertainment to a population under constant social stress.
In its entirety, Bristol is an incredible place to live. It acts as a stronghold for activists and social projects. At the same time, it provides a cultural outlet for one of the country's most diverse artistic communities. Home to a great many radical thinkers, artists and activists, it is no wonder Bristol is considered the nation's most accessible melting pot for radical activism.
www.brh.org.uk (Bristol Radical History Group)
www.foodcycle.org.uk/bristol.php