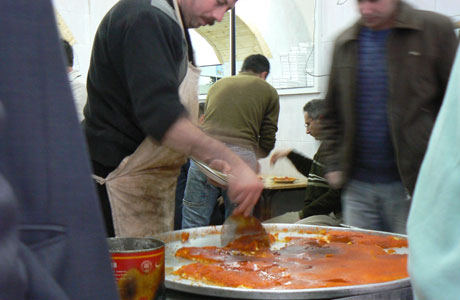 Serving kanafe in Nablus Photo: Sarah Irving
What does it mean to be a 'radical city' in Palestine? And for the visitor, what is radical travel? Not so long ago, foreign visitors to the West Bank tended to be activists, journalists, NGO workers or perhaps pilgrims. But the comparative quiet of recent years has seen the New York Times exploring Ramallah's lively nightlife and the Daily Telegraph's travel section covering Christmas in Bethlehem (albeit in an article that termed the vicious, land-grabbing Jordan Valley settlements 'villages').
Leaving behind Ramallah and Bethlehem, with their expat communities and religious tour groups, what of the West Bank's other cities? Sleepy desert Jericho? Hebron, struggling to maintain its culture and economy under the weight of soldiers and fanatical settlers? Jenin, with its pioneering fair trade organisations, understated and beautiful old city and the defiant Freedom Theatre in the heart of its refugee camp? Invited to pick a 'radical city', I chose Nablus.
Nablus, in the northern West Bank, is one of Palestine's largest cities. It was once an important stopping-point on trade routes between Jaffa or Jerusalem and Damascus. It was especially famous for its soap, made using olive oil from the surrounding villages. In the 18th and 19th centuries major local families such as the Abdul-Hadis, Tuqans, Arafats and Shaka'as (whose names will still be familiar to any student of Palestinian politics or culture) built ornate palaces, partly on the profits of the soap trade. Nowadays, two factories open sporadically, and are most likely to welcome visitors in the morning. Inside, the liquid soap is poured onto wide floors to solidify, before being cut, stamped and stacked into high, intricate towers to dry.
Nablus's historical roads through the Levantine hills have been cut by international borders, the separation wall and a series of Israeli checkpoints. This sense of isolation was reinforced in 2002, when a massive Israeli invasion of the West Bank cut off Nablus from outside contact. The old city was besieged and placed under curfew, while Palestinian fighters were chased through its crowded homes by the simple tactic of blasting holes in wall after wall. Next to the site of the Al-Shu'bi
home , a plaque on the wall commemorates the nine members of the family who were crushed to death by Israeli military bulldozers. The old city's walls are still plastered with martyr posters – some of young fighters brandishing their weapons, others showing the children and old people who just as easily become victims of the Israeli military.
Nablus's history isn't just that of the Israeli occupation, although the two are closely meshed. Locals may point out the
old city window from which Yasser Arafat is said to have leapt sometime in the late 1960s, fleeing Israeli soldiers. At the magnificent Orthodox church of Bir Yaqub (Jacob's
Well) , Father Justinus happily shows visitors the architectural glories of the building he has painstakingly renovated over the last 30 years – but also indicates the charred spot where his predecessor was hacked to death and burned by settlers in 1979. At Tel Balata , massive Canaanite walls and temple foundations attest to Nablus's antiquity; just beyond the archaeological site is the huge, overcrowded Balata refugee camp.
But Nabulsis are also keen to emphasise the less political attractions of their city. Beautifully-preserved Roman coffins are on display at two sites on the edges of the city, and the Roman theatre is set into the side of the hill next to the Ottoman souq. The churches and mosques of Nablus are a mix of Byzantine, Mamluk and Ottoman architecture, and the old city's bustling
Market (where you can buy everything from fake designer trainers to herbal remedies, precisely prescribed by a man who studied his craft in Southampton) is peppered with intriguing little shrines and tombs of half-forgotten local Islamic saints and teachers. The famous Al-Aqsa bakery serves hot, fresh kanafe (the opulent sweet for which Nablus is famous) to an unseemly scrum of customers. And for the true pleasure-seeker, Nablus is home to two traditional Turkish baths.
The 17th-century Hammam Ash-Shefa occasionally hosts music nights and even Palfest literary events in its luxurious lounge. The rest of the time male or female customers (depending on the day of the week) can enjoy shisha, Arabic coffee and pastries, before or after steaming themselves and being pummelled by an over-enthusiastic masseur. Nablus is even home to Palestine's first slow food convivium, the Bait Al-Karama ('House of Dignity') cookery school run by a local women's NGO in a beautifully-restored building in the old city.
Golda Meir told the Sunday Times in 1969 that 'there is no such thing as a Palestinian people', and in December 2011 Republican presidential hopeful Newt Gingrich repeated the line, calling the Palestinians an 'invented' people. Perhaps, then, to visit Palestine is in itself a radical act. To recognise Palestinian culture for what it is – a rich, vibrant, living indigenous tradition in this land – is to defy the project of the settlers and of the military occupation, with their aims of wiping Palestine and its people off the map, or of appropriating convenient pieces of Palestinian culture for their own ends.
---
Practicalities
Nablus can easily be reached by bus or shared or private taxi from Ramallah (or, via Ramallah, Jerusalem). A range of accommodation is now available in the city, from medium/upper range hotels such as the Yasmeen (www.alyasmeen.com), in the heart of the old city, or the Al-Qasr in Rafidia (www.alqaserhotel.com/firstie), to budget hotels like the Crystal (Hotel Crystal Motel on Facebook), or youth hostel-style options such as Damascus House and the International Friends Guesthouse (www.guesthouse.ps).
Nablus has little public nightlife, although Nablus The Culture (www.nablusculture.ps) runs occasional concerts and literary events and the park near the city centre sometimes hosts family concerts. Eating out ranges from high-end choices such as the Qasr Al-Jabi, Saleem Afandi or Saraya restaurants to street stalls serving kebabs or felafel. The Rafidia area and streets around An-Najah University are also home to plenty of cafes.
Dream Tours (www.dreamtours.ps) and West Bank Tours (www.westbanktours.com) are local companies that can organise day trips, longer visits and accommodation and have fluent speakers of English on their staff.
Sarah Irving is the author of the Bradt Guide to Palestine. Red Pepper reader offer: use the coupon code RP35 at www.bradtguides.com to receive a 35% discount off the retail price of £15.99 (p&p free to UK addresses). Sarah Irving also runs palestineguesthouse.com, which lists small-scale and community tourist accommodation in Palestine