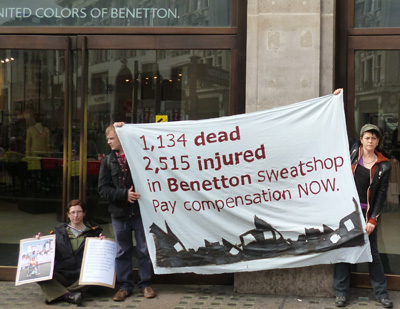 Today, on the anniversary of the Rana Plaza factory collapse, the largest garment industry disaster in history, the doors of the flagship Benetton store on London's Regent Street have remained shut. That's not out of respect for the 1,134 workers who died in their Bangladeshi factory exactly a year ago, but because a handful of people have decided that they will not allow the store to turn a profit today, when they still have not paid any compensation to those affected.
Benetton's excuse for not paying compensation is based upon the fact that they have given some money towards supporting a charity called BRAC, which amongst other things provides micro-loans for survivors of the Rana Plaza collapse. This does not constitute compensation. Many of the survivors and the families of those killed have received little or no support since the disaster, and some are struggling to provide basic necessities for their family on a reduced income.
At 9.30 this morning, shortly before the store was due to open its doors, a handful of people with bicycle D-locks attached themselves to the door and made sure that it could not be opened. I accompanied them to hand out leaflets and speak to people. Three hours later we were still there and the doors remained shut. The pavement outside the United Colors of Benetton's flagship store has been turned into a memorial, with photos of victims and testimony from their family members and survivors. In the hustle of Oxford Circus hundreds of people pass by every hour asking about the demonstration, queuing to read the quotes and offering messages of support. One passer-by said 'Benetton buy their clothes from Bangladesh, they need to take responsibility when people are hurt'. Others offered to buy us tea.
In Bangladesh today, relatives of those killed and the families of survivors have taken to the streets chanting 'we want compensation!' These actions are echoed around the world, with the Clean Clothes Campaign directing protests across Europe, and War on Want taking action with Labour Behind the Label today on Oxford Street. The hope is that these protests will put pressure on the brands including Benetton and Matalan who have so far refused to pay into the Rana Plaza Compensation fund.
In the words of Martha Jones, who D-locked herself to the doors: 'People in Bangladesh are standing up and fighting for justice, it's time people in the UK stand beside them and hit these brands at their most prized outlets'.
Tweet to show your support: .@benetton #payup for the victims of #RanaPlaza, it is long overdue!