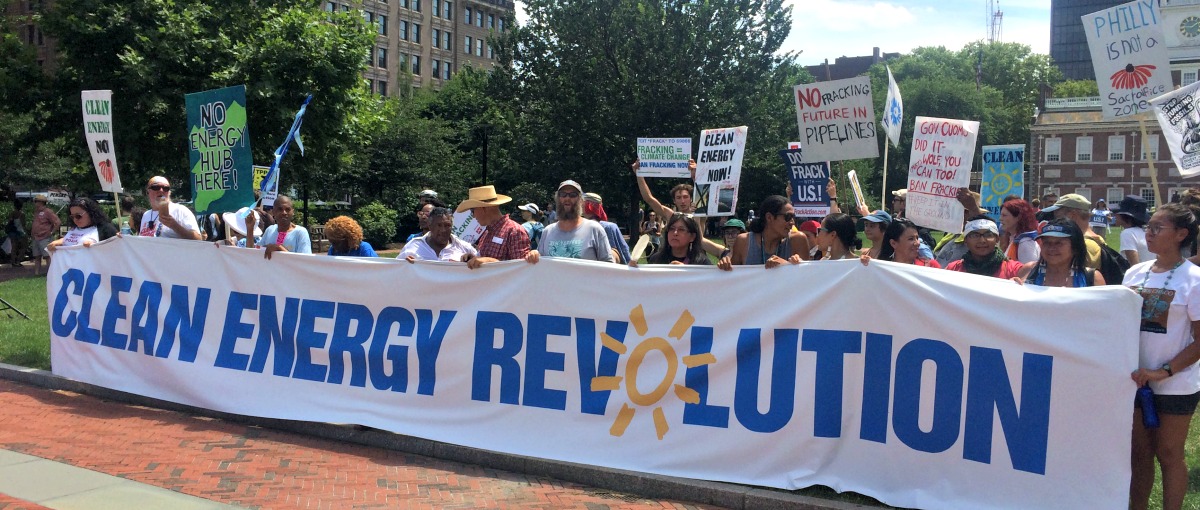 (March for a Clean Energy Revolution, Philadelphia, July 2016. Photo by Julie Maldonado)
The Protect Our Public Lands Tour, a coalition of Indigenous and non-Indigenous advocates, activists, community workers, and scholars, caravanned across the United States with a clear message: support our public lands, air, water, and health!
The 24 participants of all ages – from youth to elders – and diverse tribal and community affiliations called for a 'just and renewable energy future'. They travelled to document the lived experience and learn from the stories of frontline community members working hard to transition from toxic energy industries.
The action was envisioned to bring Indigenous community members to Philadelphia, Pennsylvania to speak at the Summit for a Clean Energy Revolution and to participate in the accompanying march, where over 10,000 citizens took to the streets in the largest anti-fracking demonstration in American history.
More than the destination, the journey was intended as an opportunity for frontline community members to learn and share their stories. As Kendra Pinto, a young Navajo community activist on the tour, asked in an article for the Huffington Post, "how are our lives not important?" Pinto had witnessed devastation to her community just days before setting off on the caravan, when an explosion at a fracking site near her home caused thirty-six storage tanks to catch fire. The raging flames, fumes and heat forced dozens of families to evacuate, leaving many with only 30 minutes to gather whatever they could save.
The tour was documented by Paper Rocket Productions, a Navajo/Hopi film crew whose members grew up in communities affected by fossil fuel extraction, and had been raised by families fighting for justice. Our strategy – of journeying, witnessing, and experiencing together to create platforms, and to support frontline community members as they tell their stories of historic trauma and current injustice – was designed to build both local and national awareness, and to demonstrate the needs for embedding justice into the transition to a clean energy economy.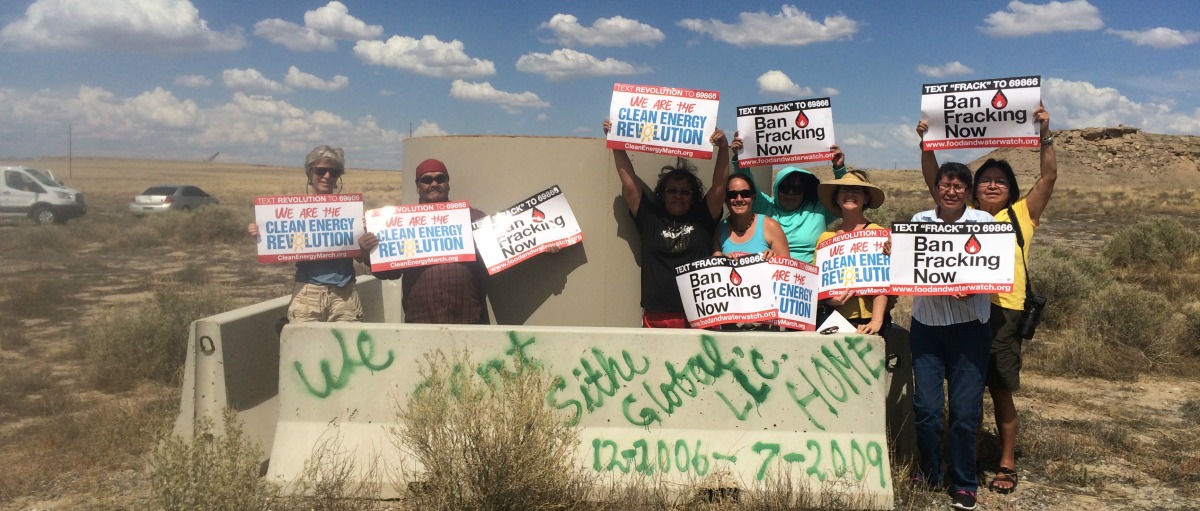 (Tour participants at the site of the proposed and blocked Desert Rock coal-fired power plant, July 2016. Photo by Julie Maldonado)
Challenges to this type of movement-building abound. Bringing people together from different cultural backgrounds, beliefs and practices, traveling far distances in limited time with limited funds and capacity, and facing systemic and overt racism across the country each took a toll. Re-telling (and in a sense, re-living) experiences of death, displacement, and cancers plaguing families and communities is emotionally demanding, and draining. These are, at heart, stories of people who continue to be brutalised and sacrificed by colonisers cloaked in the form of fossil fuel corporations.
The caravan members met these challenges with resolve and determination. As a Navajo elder participating in the caravan said to her family along the way: "I want to help protect our public lands. I'm very tired of living in the midst of the coal mine… It is now late at night, and [we are] still on the road, but it's all worth it." Public response to tour speakers affirmed her sense of achievement. After listening to tour participants speak at the summit, a community activist in the audience posted on a group Facebook page:
"I just witnessed one of the most moving and tragic tales of this country and its people I have ever encountered. A caravan of Indigenous people traveled more than 3,000 miles to come to a climate summit in Philadelphia. There was a grandma in her 90s, children and grandchildren. They were about 30 all told from many nations. Each one had stories to tell of how the white corporate structure and all the white consumers who support that structure has effected and affected them personally. They were in tears as they talked. I was in tears. The audience was in tears. And as their stories carried into what should have been the next session, no one moved to stop them, and the audience grew… We've walked out on these people too many times, and for me, nothing is more important than hearing and telling their stories."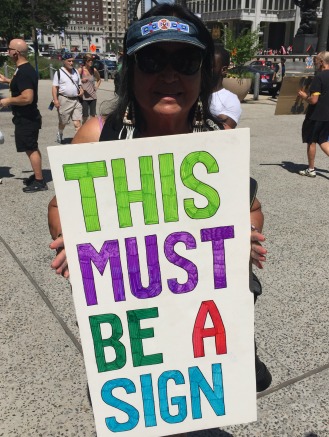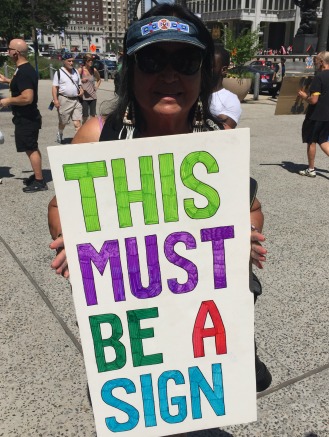 Over recent weeks and months, we have witnessed—all around the world—growing threats to our public lands, air, water, and health. Yet we have also witnessed incredible uprisings, determined to protect our most basic, vital resources from the greed of the few for the good of all. Now, it is more important than ever that we hear the voices of people who hold key knowledge and expertise on how to resist injustice, and how best to build movements to protect the water, lands, and life.
Paper Rocket filmmakers are hard at work editing footage of the Tour and capturing unfolding events—including the possible revoking of the Bears Ears National Monument historic designation—in order to finish the film. The completed documentary will show the power of working together, across communities and regions, and will tell a story of what we stand and fight for: empowerment and justice for the present and future – for all generations and relations now and for those to come. Together we can still make our voices heard!
You can support efforts to finish and distribute the film at the Kentucky Environmental Foundation (the fiscal sponsor for the project). Check the box 'this gift is in honor of' and type in 'Protect Our Public Lands Film'.
Julie Maldonado (PhD, anthropology) is the Director of Research for the Livelihoods Knowledge Exchange Network (LiKEN), a think-tank for policy-relevant research toward post-carbon livelihoods and communities. She also works as a consultant for the Institute for Tribal Environmental Professionals, and is a lecturer in the Environmental Studies Program at the University of California, Santa Barbara. Julie co-organises Rising Voices: Collaborative Science with Indigenous Knowledge for Climate Solutions. 
A coalition of groups helped organise the tour, including Livelihoods Knowledge Exchange Network (LiKEN), Food and Water Watch, the Native American Producers Alliance, the Intertribal Council on Utility Policy, and the Permanent Peoples' Tribunal on the Human Rights Impacts of Fracking.
(Placard photo by Susan Rose)