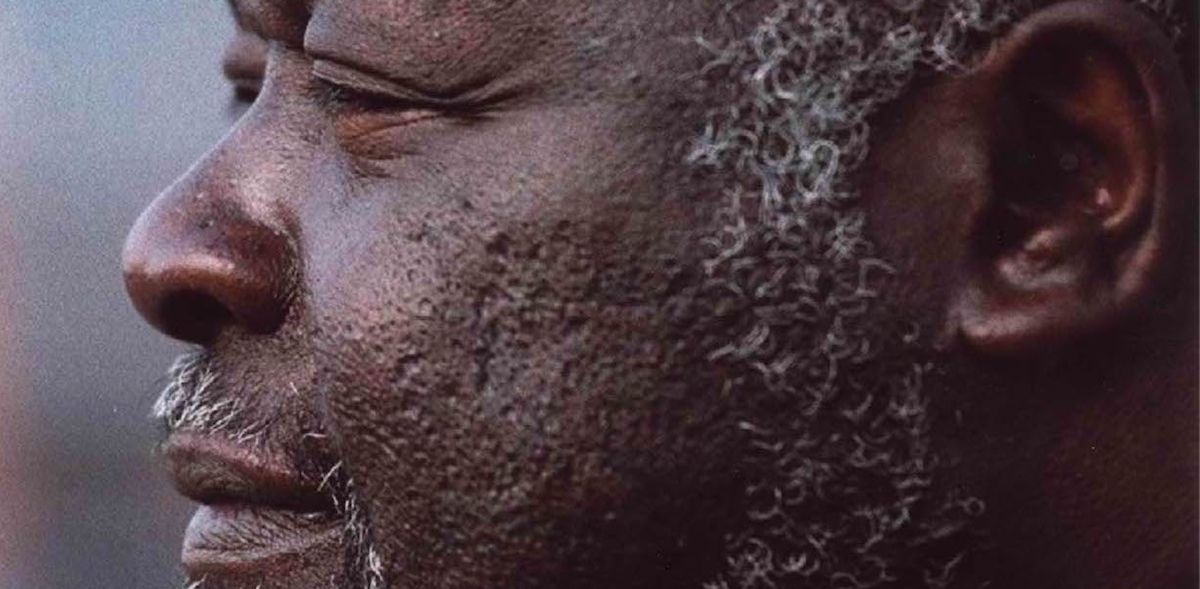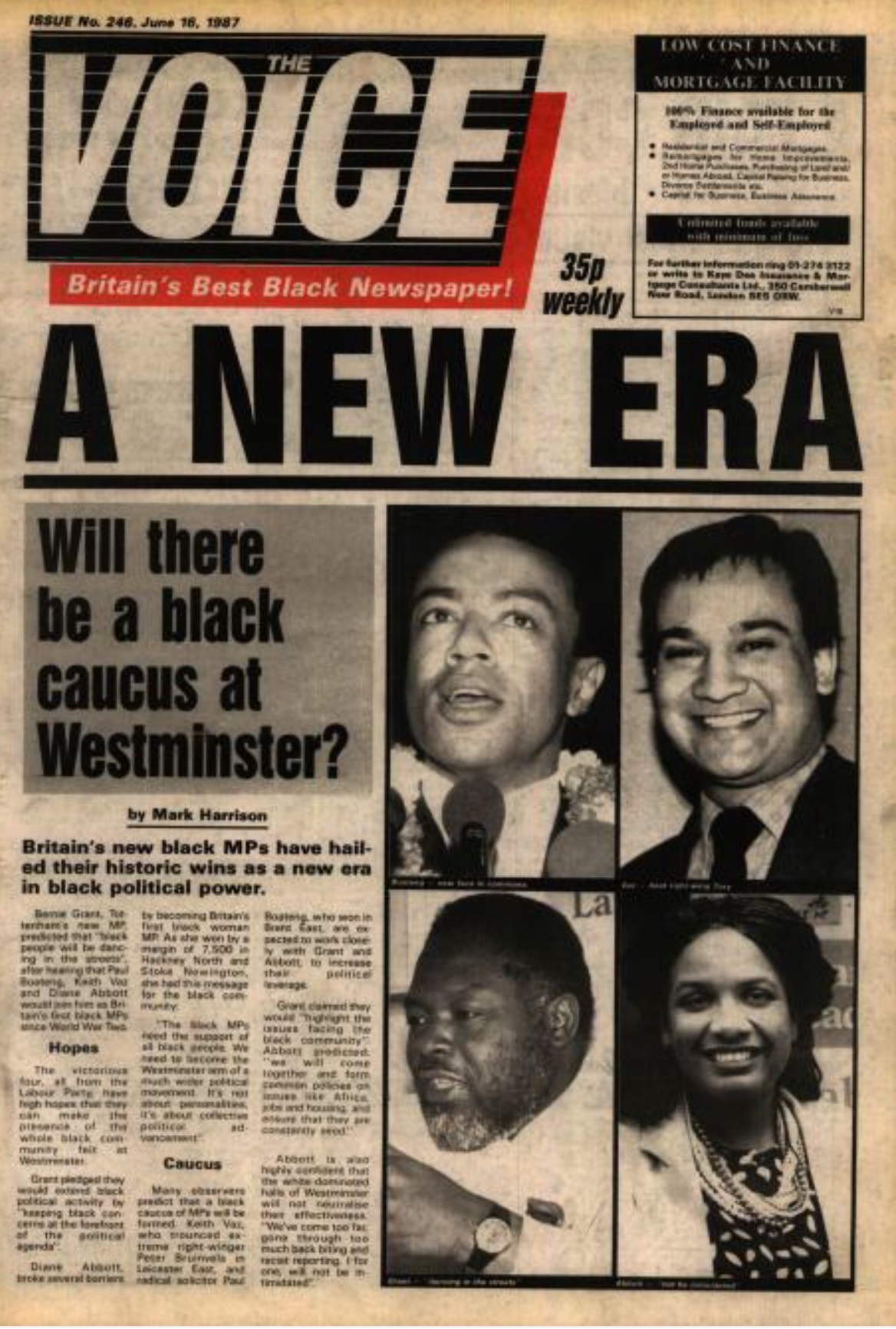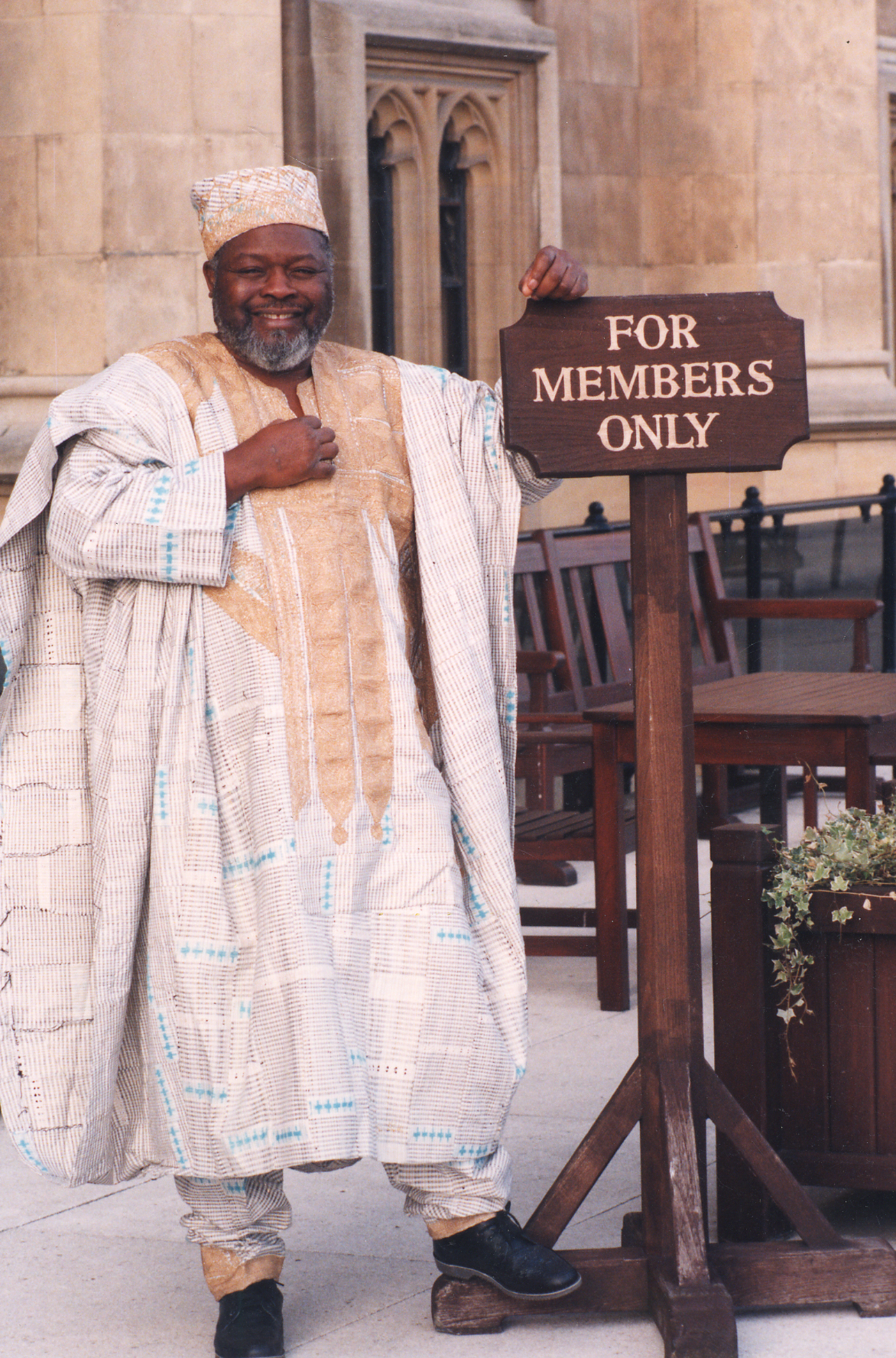 This year marks thirty years since Bernie Grant's memorable 1987 Tottenham seat win when he, along with Diane Abbott, Paul Boateng and Keith Vaz, wrote themselves into the history books as the only black MPs since the war. Wearing a hand woven, light blue 3-piece African dashiki to the State Opening of parliament, Bernie Grant was a man of style and dignity, whose love of culture and community left a lasting impression.
He was passionate about the preservation of history and after his untimely death in 2000, the Bernie Grant Trust in partnership with Heritage Lottery and Middlesex University appointed a professional archivist to catalogue the Bernie Grant Archive Collection, now held at Bishopsgate Institute in London Liverpool Street.
In 2015, I was privileged to participate in a Heritage Lottery funded project encouraging young adults into the heritage sector. We developed skills with which to creatively respond to historic and contemporary ideals surrounding democracy, politics and citizenship. As event producers, we explored how a collaboration between arts and heritage could inspire new audiences to engage with often hidden resources and how we could make them more accessible. One such resource was the Bernie Grant Archive and we were given a small budget to produce an event called 'Facing Black'.
The intention of 'Facing Black' was to get young people engaging with the archive, to find out how many people knew Bernie Grant, and discuss the importance of his role in British politics as well as what might be missing from the current representation of BAME communities.
We set up an interactive news headline workshop that looked at images like Mark Duggan's photograph, used by tabloids in a way that suggests he was a thug.
Seeing the photograph in full, we can tell he was actually by the graveside of his daughter, exposing how the media can manipulate images to project certain stereotypes and justify the discriminatory lens through which they often view communities of colour.
Along with photocopied and lamented pieces from the archive, we encouraged participants to create new headlines and paint a different picture. We also took placards and banners onto Kilburn High road, and heard live poetry about identity, racial inequality and aspirations for the future.
Attracted by the creativity, many stopped to ask what was going on and if there was a protest they should know about. We explained why we had placards with Bernie Grant's image on one side and the question, 'Who is this man?', on the other. Some recognised him immediately and recounted their memories of him speaking up for regular hardworking people in Britain whilst others, mostly of the younger generation, didn't know who he was at all.
We shared some highlights of Bernie Grant's career and many expressed the desire to, once again, see a public figure that was representative, unafraid to ask the hard questions in parliament and meaningfully engage with the community.
Bernie Grant had a reputation for being outspoken, especially at the time of the Broadwater Farm Uprising and his infamous statement, taken out of context, about the police getting "a bloody good hiding". He defended the youth who were seen as the sole cause of unrest and was dubbed by then Home Secretary Douglas Hurd as "The high priest of conflict".
Though to many parliamentarians Mr Grant was seen as a rebel rouser, to the people in his constituency and beyond, he will be remembered as a man who defended the voiceless and spoke unapologetically, in the face of prejudice.
So what were his achievements at the grassroots level and what legacy did he leave behind?
Bernie Grant was born in Guyana in 1944. His parents and many other family members were schoolteachers, respected members of the community, they were expected to be actively involved in supporting development and providing leadership. His father was a Headteacher and his uncle, Basil Blair was president of the Guyana TUC and also president of the Caribbean Teachers Union.

His mother Lily and uncle Basil were also political activists during Guyana's fight for independence from Britain. His uncle even stood for national election at one stage, but decided to concentrate on trade union activities.
In 1963, by his early twenties, Mr Grant had made the journey of a generation, joining his family to seek the promise of opportunity, employment and education that was given to the former colonies by the British government.
He attended Tottenham Technical College where he was active in his student union, organising foreign students, before attending Heriot-Watt University in Edinburgh to study mining engineering. Mr Grant left the University in 1969 in protest against the discrimination against black students that prevented them from participating in work experience in apartheid South Africa.
His brother, Leyland Grant explains, "Bernie was always interested in defending the weak against the strong. In primary school he defended a schoolmate, who was a native South American [who] faced prejudice and discrimination in his school life. When he was working in the labs for the Demerara Bauxite Company, he also took up many cases involving co-workers although he was not an official union rep."
It was through Bernie Grant's engagement with the then Socialist Labour League and then becoming a trade union official, that he found value in turning his skills to politics and by 1978 he was a Labour councillor for the borough of Haringey.
He eventually became the first Labour council leader of African descent, active at the grassroots level along with other Black Section members such as Sharon Atkin. The Black Section's role was to agitate in the political arena and bring the rights of the black community to the forefront of Labour Party discussion.
They were met by opposition and, according to media at the time, seen as "a thorn in the side of Neil Kinnock's attempt to promote a rosy image of party unity". These section members really shook up the establishment with accomplishments like the introduction of Black History Month in the UK by Addai Sebo, former policy chair for the London Strategic Policy Unit as well as the publication of the Black Agenda, which documented the needs and concerns of a community that had a long and loyal history of supporting the Labour Party.
These activists were visible at a grassroots level, supporting the celebration of African Liberation day as well as other community initiatives and were instrumental in the collective action that brought about the unprecedented 1987 victory.
On speaking to my mother, Nefertiti Gayle, who was a youth worker, poet, activist and is a friend of the Grant family, she recalls, 'He supported reparations and did a lot of work with community organisations'.
She reflects on how Grant 'had direct contact with not only African but Turkish, Greek/Cypriot and Irish communities'. He represented a wider feeling of wanting change in an archaic and prejudiced establishment. Bernie was known for asking tough questions and demanding justice, not only in the UK but internationally too. He was seen as an important figure in building bridges between Britain and the international community.
In the 1980s, Broadwater farm was in desperate need of renovation. The estate, initially built for the white middle classes, had been neglected by the local authority and quite simply, the black community was suffering. Young black men in particular, were often discriminated against, in an era when there was less information about stop and search rights and very little regulation of the metropolitan police. One such incident saw officers searching the house of Floyd Jarrett over an alleged tax disc issue, for which he was later acquitted. There has been an ongoing debate about what took place at that time but the black community strongly feel that Floyd's mother, Cynthia Jarrett, who suffered cardiac arrest during the raid on her home, was murdered. This has since been viewed as a major factor in what led to the uprising. It saw people stand up to ongoing police brutality and the dehumanisation of their community, when, after decades of building the British empire through professions like nursing and construction, they found themselves suffering poor living conditions, unemployed and at the mercy of a racist establishment.
In the aftermath of the Broadwater farm uprising, there was a need to properly assess the state of the community. At the time there was a 90% unemployment rate among the black men living on the estate. The Lord Gifford enquiry brought more tensions between the state and the black community and the estate became over-policed and under-supported.
Bernie Grant, being interested in the ideas and experiences of his constituents, spoke with many residents on the estate. They demanded that people from the estate be employed to rebuild and clean it up. 383 people did just that and in the wider community, leases were given for community spaces. Many young people on Broadwater farm had also taken over disused buildings and turned them into vital services for the community such as youth centres and supplementary schools as well as creating initiatives to feed the growing elderly population.
This action inspired Bernie to imagine more spaces that the community could occupy sustainably. In 1992 he supported local activists in attempts to bring a dilapidated school building into use. The Selby Trust was founded and the premises successfully turned into a multi purpose facility known as the Selby Centre. Given a 25-year lease by Haringey council, the centre has enabled third sector organisations and community workers to build partnerships and deliver programs that tackle poverty, injustice and inequality. Now the lease is up, there are major concerns about the council's plans to sell the centre to private developers. And Selby isn't the only building at risk.
I have been a social change strategist for three and a half years for Tottenham based not for profit community enterprise The Ubele Initiative. TUI seeks to implement innovative action-learning interventions based on leadership development and social change for African Caribbean communities within the UK.
In 2015 we released a 78 page report called 'A Place To Call Home', supported by Locality. It captured the impact and legacy of the 'Windrush Generation' in acquiring community assets for cultural, social and political empowerment. Data was gathered from 150 organisations, resulting in recommendations for central government, local authority, Locality and African Diaspora community organisations.
We found that 54% of respondents had stated the future of their buildings were insecure. Evidence shows the impact of up-scaling contracts and how under funding is leading to difficulty in community workers being able to meet the needs of the people they support and the demanding local authority.
Over the past 20 years, a number of organisations still remain with short leaseholds and in spite of proven track records providing services to the community, there is a reluctance for landlords, often in the form of a local authority, to renew or extend leases. We are losing the vital gains made by the previous generations and the services that provide much needed support within our communities. If the lack of funding, engagement and support continues and the private developers choose to prioritise trendy bars and unaffordable housing over the needs of local people, then this legacy is in danger of being erased all together.
Despite the battle with gentrification and the uncertain future of black community spaces across the UK, there has actually been success in terms of representation in parliament. There are currently 42 Black and Minority Ethnic MPs, putting diversity in the House of Commons at a record high. But what are these politicians doing today to carve out space for us, on the ground and in the bull-ring that is parliament? Who is really 'facing the black'?
David Lammy has served as Tottenham MP for 17 years. Inheriting a traditional Labour seat, it's no surprise to me that he remains but overall, his contributions don't exactly leave me excited or optimistic about the socio-economic advancement of the black community.
In 2007 Lammy was appointed as a Parliamentary Under-Secretary of State in the Department for Innovation, Universities and Skills and was was responsible for setting up the National Apprenticeship Service and National Apprenticeship Week, committing the Government to creating half a million new apprenticeships. In spite of these accomplishments, his ability to connect with constituents has been brought into question.
During the 2011 riots that sprung up across the country, Lammy said the events were due to "A Grand Theft Auto culture that glamorises violence. A consumer culture fixated on the brands we wear, not who we are and what we achieve. A gang culture with warped notions of loyalty, respect and honour."
These comments were alienating and a sign of the gap between generations. As a young person struggling to find employment in spite of my qualifications and an extensive amount of work and voluntary experience, I felt his words seriously missed the mark and didn't address the wider issue of a failing, racist establishment that had generated such a degree of apathy and distraction. There seems to be a disconnect where there used to be dialogue, and along with the rest of the nation, the youth are seen as an annoyance; disruptive, disrespectful and without reproach by the very people who should be fighting their corner.
His comments were far from that of late Bernie Grant during the Broadwater Farm Uprising. But is this a generational issue or just that he is simply out of touch?
In 2009, I was coerced into campaigning for my then local MP, Sarah Teather. I say 'coerced', because I had no intention of canvassing but Brent Floating Support staff encouraged me to partake in something outside of my housing and employment woes and, in some ways, it actually did the trick. I spent a few months with the campaign team, writing letters and leafleting, receiving councillors more interested in their image than engaging with the community. It helped to keep me active, reinstalling my passion for community work and helping me observe the many barriers in terms of participation. I had secretly wished for the success of Dawn Butler since after the Brent South and East boundary change, both her and Teather were contesting for the newly formed Brent Central seat.
For me, politics was about supporting those most likely to represent your aspirations and concerns and at the time I was not convinced the Lib Dems could do that. Unfortunately, this coincided with the expenses scandal and Butler's claim of full expenses on a second home without making her voice heard on key issues for over a year in parliament.
In 2015, Butler did manage a comeback, winning the Brent Central seat for Labour. In spite of this landslide victory, one must question whether voters were enamoured by Butler's capabilities or simply fearful of the growing support for right-wing parties like UKIP.
Like Lammy, in her early days, there was an air of hope around Butler, that her presence would help address the concerns of the black community and bring about real change. She had been appointed Chair of the All Party Parliamentary Group on Youth Affairs in 2006, and Honorary Vice President of the British Youth Council. She wanted to be "a voice for the youth" but in all the political manoeuvring over the years, I'm not sure I ever saw her as a voice for my generation. And I'm pushing 30, I'd be surprised to know how many 18- 25 year olds know who she is or what she does in the grassroots.
Grant's sister Paula Nortey says "The problem with Bernie's successors, in my [..]opinion, is that the Labour party selection process is not as it was before. The calibre of MPs is different. Radical ones may not be selected. The Labour party is therefore not attractive to large sections of young people. Most [young people] see very little difference between the parties.There is little/no sense of community these days and because the trade union movement is also weak, there is little unity over specific causes like in Bernie's day. The current Labour MPs seem to reflect this political lethargy."
Someone who has more popularity is the Blue Labour enthusiast, Chuka Umunna, who stood for the Labour leadership elections in 2015 then withdrew 3 days later. Committed to appealing to Conservative voters as well as the left, Umunna's may put the middle in middle ground, that kind of contradictory politics that doesn't ruffle too many feathers. But for all the radical posture of fighting big pharmaceutical companies and defending the shortchanged taxpayer from big bad bankers, this is also the man who happily accepts a £20,000 gift from a gambling executive despite campaigning against the spread of betting shops in his constituency and promising new powers to limit them. Is this really the man to put the preservation of community space at the forefront of his agenda?
Im not sure we will find these guys at the annual march on parliament, held 1st August, for reparations or an African Liberation day celebration any time soon.
Still, there may be some light at the end of a very long tunnel. Kate Osamor who won a seat for the Borough of Edmonton, is the daughter of community activist Martha Osamor, a former Haringey Labour councillor who was selected to stand as an MP in 1989 before being unceremoniously removed by then party leader Neil Kinnock. Last June, Osamor was appointed Shadow Secretary of State for International Development and has been vocal about discrimination against women, refugees and campaigns for greater inclusion and diversity in parliament.
In a time when gentrification is hurting black communities and a widening generation gap is pushing young people further and further from the political mainstream, it's more important than ever that politicians connect with the people they represent and be clear on what they stand for.
We are losing space but also, by not passing on the baton and empowering the youth in our own communities, we are losing prospective leaders that could make a real difference. I'm not sure how young people can be expected to engage in politics if those that represent us are not only visible, but active at the grassroots where all the hard work gets done.
With youth workers being made redundant, overwhelming cuts to the arts and education, It's not actually enough just to rock up for the photo opportunities or to say the right things when the camera is rolling. Now more than ever, this generation needs a Bernie Grant, a politician who, though he may not always please his critics, we can surely count on. A leader that actually unites different factions of the diaspora in the UK as well as building the bridges of blackness the world over. It's no small task but for our sake, by any means, it's a necessary one.
Ayo Wallace is a singer/song-writer, spoken word artist, and community activist. She tweets @GoldenCoat.
This article was commissioned by the Black Journalism Fund.